Carrie Bradshaw Wore Birkenstocks in 'And Just Like That…' Now the Company Has Paired with Manolo Blahnik and Carrie Would be Delighted
Sex and the City fans know Carrie Bradshaw does not wear flats. The famed fictional character is forever tied to her heels—specifically, the luxury heels produced by Manolo Blahnik. While Carrie isn't a fan of flats, she did begrudgingly don a pair of Birkenstocks during the HBO Max reboot, And Just Like That… Now, the iconic sandal maker has teamed with Manolo Blahnik to craft a sandal that fits Carrie's high-end aesthetic.
Carrie Bradshaw wore a pair of Birkenstocks ahead of her hip surgery
In episode 4 of And Just Like That… Carrie had to find a pair of flats. In the episode, Carrie learns that a congenital hip defect is causing her back pain. While surgery alleviated the problem, Carrie was out of heels for months.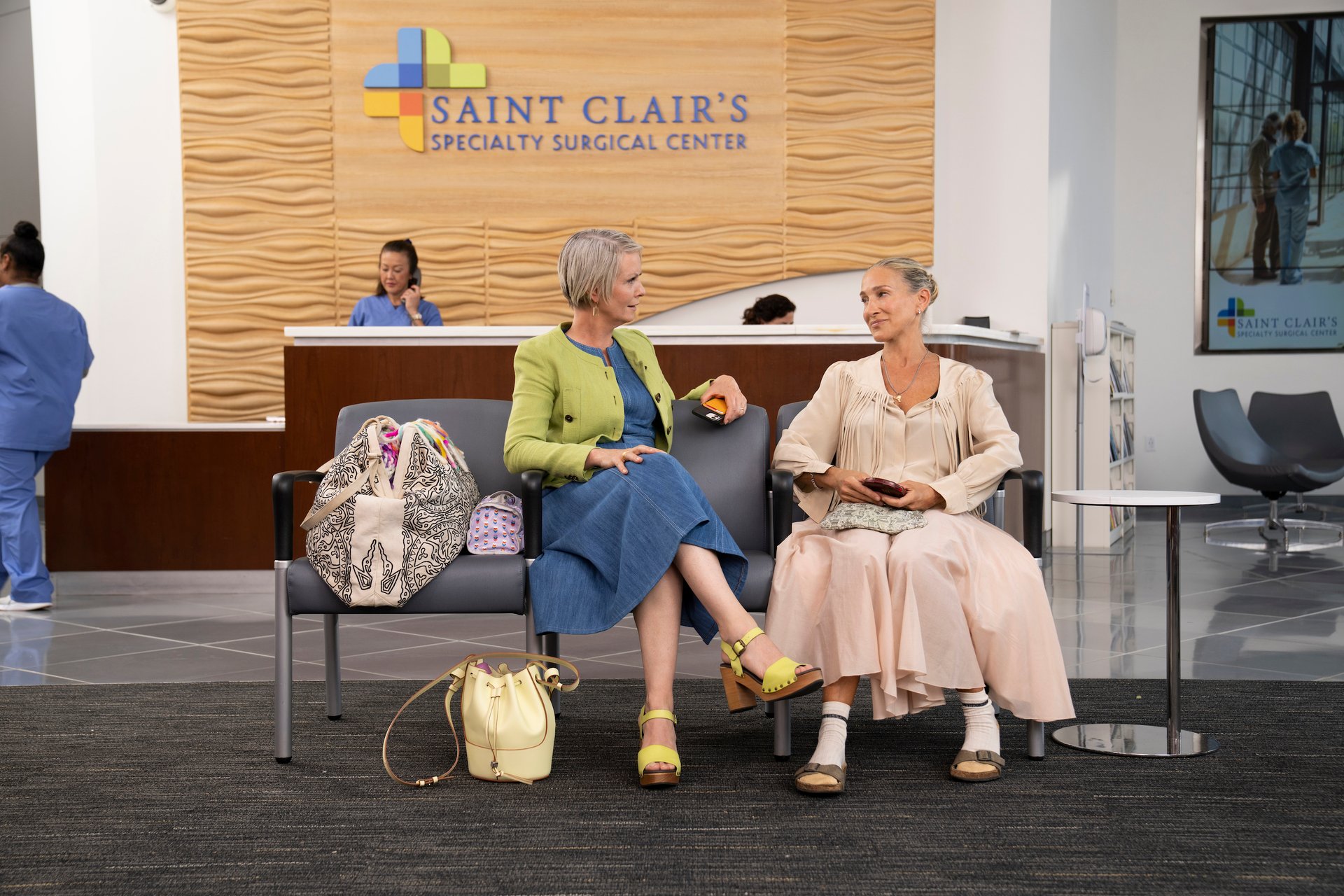 So, what did she wear instead? While she told Anthony Marantino that she owned a pair of Toms, she had at least one other pair of flats in her closet. Carrie showed up to surgery, rocking a pair of classic, brown Birkenstock Arizonas. The fabled Toms never made an appearance. 
Birkenstock and Manolo Blahnik teamed up to create a shoe inspired by Carrie's iconic wedding shoes 
Viewers can only describe Carrie's decision to wear Birkenstock as "begrudging." We think she would have been happier about her shoes if she had the options that the iconic footwear company is now offering. Birkenstock has teamed up with Carrie's beloved designer, Manolo Blahnik, to craft a flat even the high-heeled fashionista would love. 
In March, Birkenstock debuted a pair of their iconic Arizona sandals that are completely reimagined with Carrie in mind. The shoe features dazzling, cobalt blue footbed and straps and gem-encrusted buckles that Sex and the City fans will recognize from Carrie's iconic Manolo Blahnik wedding shoes. The same colorway, complete with embellishments, is available in the Boston clog for fans who prefer to keep their toes covered. 
If Carrie were to get her hands on the sandals, she'd be dulling out more than she used to pay for her Manolos. The collaboration sandals retail for $810. The velvet clogs are $750.  
While Carrie never got to slip on the velvet sandals in And Just Like That…, there is always season 2. In March, HBO Max announced Carrie, Miranda Hobbes, and Charlotte York would be back for at least one more season. HBO Max has not yet announced a production date.
How much did Carrie's shoe collection cost?
Carrie's shoe collection was among her most prized, if not her most prized, possession. The shoe obsession was an important theme for the entirety of Sex and the City. In fact, Carrie was so dedicated to hunting for the best Manolo Blahniks that she failed to save anything.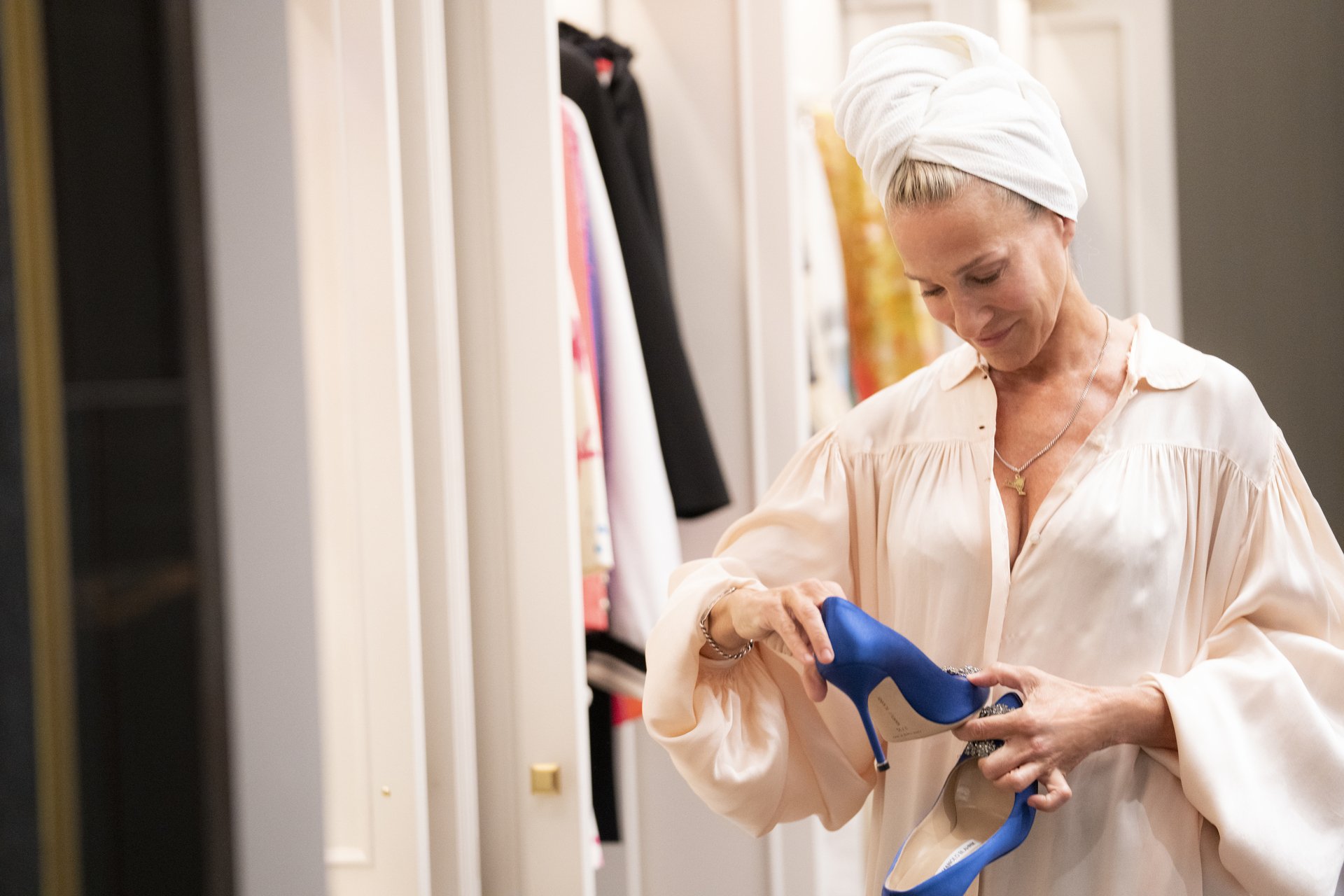 Miranda once theorized that Carrie had spent around $40,000 on shoes. Had she opted to save that money instead, she would have had enough money for a down payment on her apartment. Carrie surely amassed even more heels in the time between the Sex and the City finale and the reboot. It seems plausible that her shoe collection is now worth well over $100,000. 
RELATED: Olivia Rodrigo Has Something in Common With Carrie Bradshaw