Carrie Fisher Admitted She Would Purposely 'Distract' People to Conceal Her Affair with Harrison Ford
Soon before her death, Carrie Fisher revealed she had an affair with Harrison Ford on the set of 'Star Wars.' Here's how she kept it a secret.
Long ago on a film set "far, far away," drama was brewing on the set of Star Wars. The film's trio of leads, as fans later discovered, were caught up in a whirlwind of emotions. Despite chemistry between Mark Hamill and Carrie Fisher, the pair never dated. But Fisher did have a months-long affair with Harrison Ford during filming, which she kept secret for 40 years.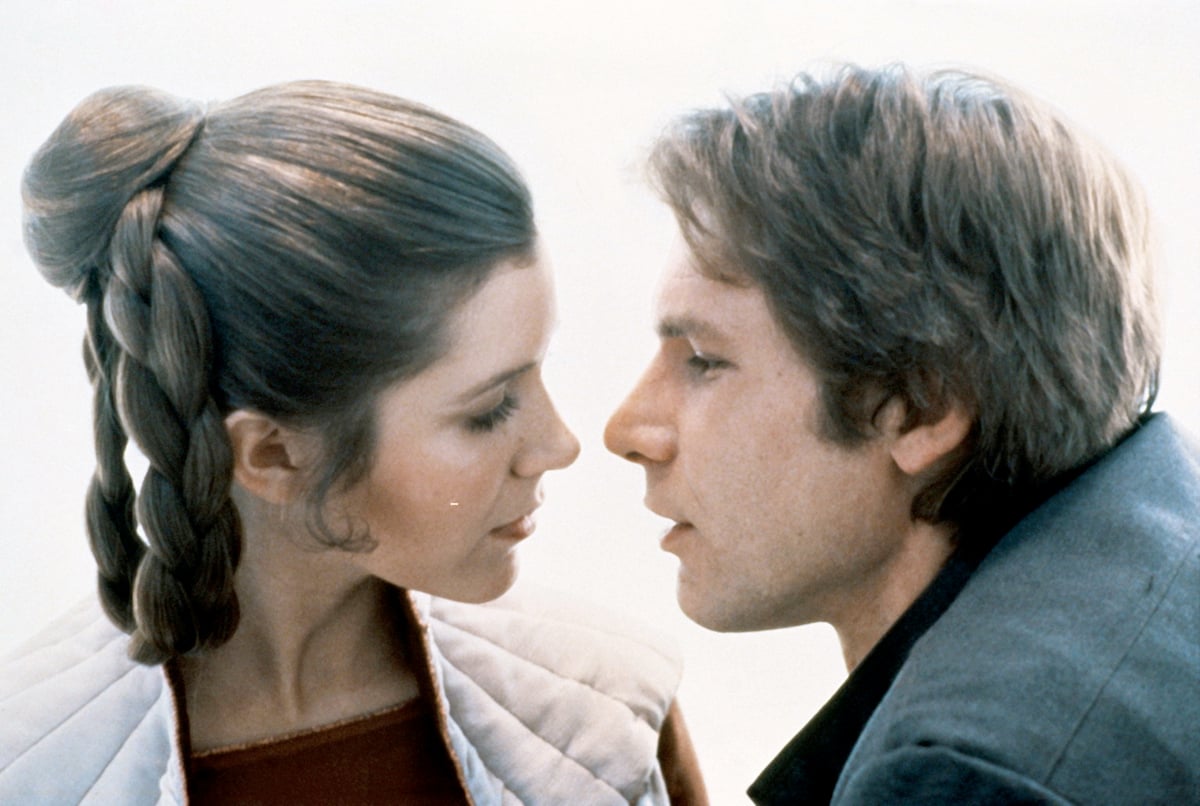 Carrie Fisher and Harrison Ford had an affair while filming 'Star Wars'
On-screen, Leia Organa (Fisher) and Han Solo (Ford) didn't fall for each other until The Empire Strikes Back. But by then, the two stars had long gotten past the point of romance. Fisher and Ford — as the former revealed in her 2016 book The Princess Diarist — had an affair throughout the filming of Star Wars. In fact, Fisher said Ford was her top priority at the time.
In a 2016 guest appearance on The Ellen DeGeneres Show, Fisher shed a bit more light on her affair with Ford. During the conversation, the actor sprinkles her signature wit in. But she does reveal the affair started after a birthday party for director George Lucas. Apparently, neither the filmmaker nor anyone else on the production was aware it was happening.
Before her death, Carrie Fisher revealed how she kept it a secret
At the time, Fisher was only 19, and Ford was married with children. So it makes sense the couple would be discreet on the set. But they were so good at keeping their secret, not even Hamill had a clue what was happening right under his nose. Fisher also explained to DeGeneres how she managed to keep the affair a secret for so long.
"I was good at [keeping the affair a secret], wasn't I?" Fisher told the talk show host. "I told other stuff to distract people. So they would never figure it out."
Of course, there's a certain amount of Fisher's trademark cheekiness here too. She was known for her playfulness. But there's likely an element of truth to her explanation. By being open and honest about so much in her life, Fisher was able to keep this one secret buried deep in her past. Then finally she let it out on her own terms.
The late actor's legacy continues with daughter Billie Lourd
Sadly, Fisher died on Dec. 27, 2016, followed the very next day by mother Debbie Reynolds. Both Fisher and Reynolds had delivered iconic performances at a young age. Decades before Star Wars, Reynolds had her own breakout role in Singin' in the Rain. And while both stars are gone, their family legacy remains firmly intact.
After all, Fisher is survived by daughter Billie Lourd. The actor made her big-screen debut in Star Wars: The Force Awakens opposite her mother. Moreover, she delivered an acclaimed supporting turn in 2019's Booksmart. And in 2020, Lourd welcomed her first child, whose middle name is Fisher after Lourd's mother.