Carrie Fisher Helped John Lennon's Son Sean 'Navigate Through the Minefield of Innate Celebrity'
Before being killed by a deranged fan outside his home in New York City, John Lennon thought of his son Sean. His last words to his wife, Yoko Ono, were, "Let's go home because I want to see Sean before he goes to sleep." Sean was only 5 when his father was shot and killed by Mark David Chapman in 1980. He had his mother and his older half-brother Julian, but there was still a hole in his life where his father was.
Being John Lennon's son isn't easy. As a kid, you don't understand fame and why everyone wants to be your friend. Thankfully, Sean became friends with Carrie Fisher, who was celebrity royalty just like him. She took him under her wing, and they started a beautiful friendship.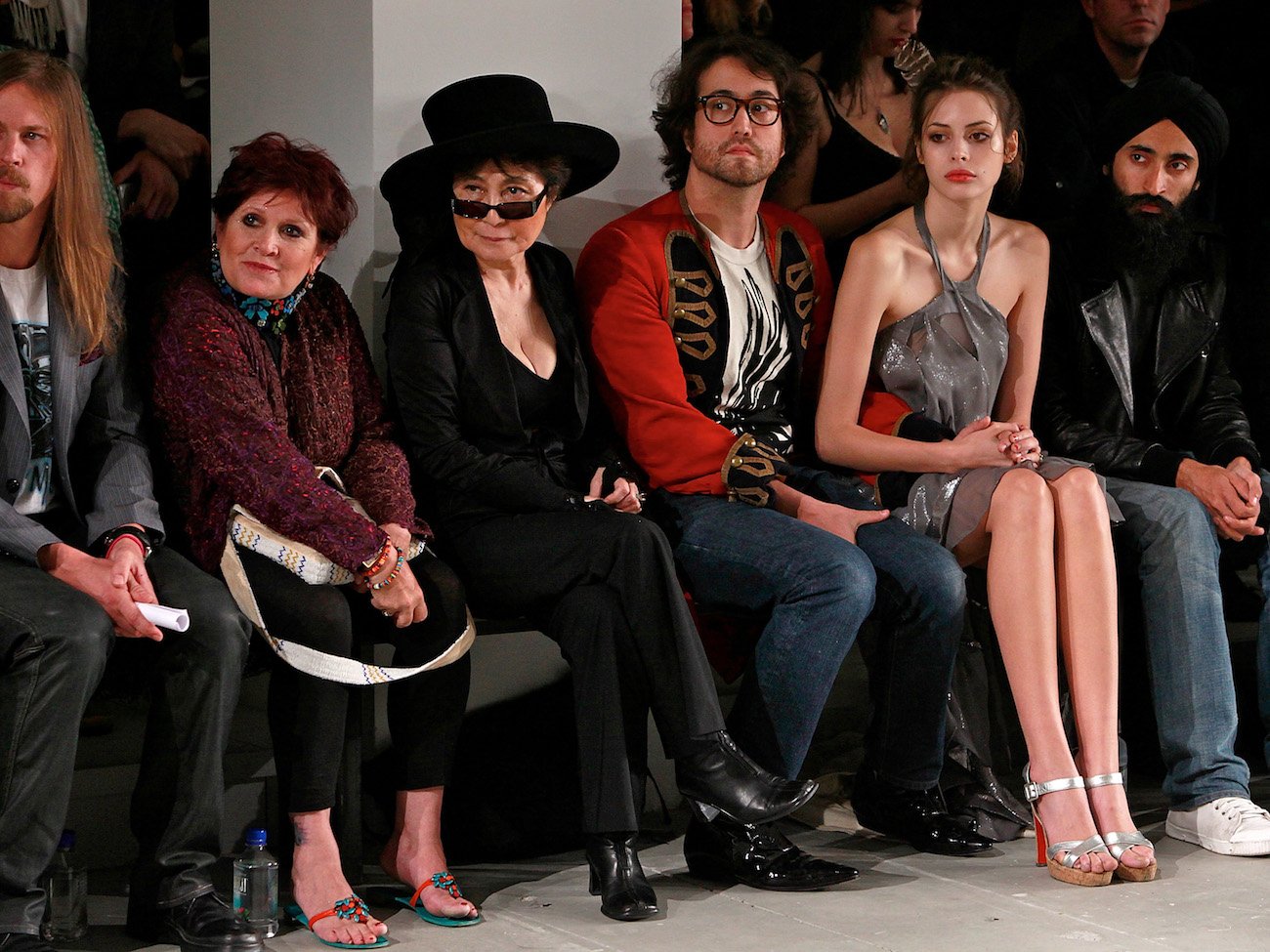 Sean Lennon met Carrie Fisher through Paul Simon's son Harper Simon
Sean occasionally crossed paths with Fisher at parties and various events as a child, but they didn't formally meet until Sean was in his 20s. They met through Fisher's stepson (Paul Simon's son) Harper. According to Vanity Fair, Fisher invited Sean to live in her guest house, and he did for months at a time whenever he was in her neck of the woods. During his stays with Fisher, Sean says they had some pretty magical moments. Fisher became Sean's mentor, and they wrote a beautiful song together.
Carrie Fisher and Sean bonded over being celebrity royalty
Speaking of Fisher to Vanity Fair, Sean "recalled a mentor who held within her the capacity for deep and personal connection. She was someone who understood the careful balance of life as a child of Hollywood, always ready with a quip like this one, Lennon's favorite: 'Resentment is like swallowing poison and expecting the other person to die.' To Lennon, her influence is indelible."
Sean says he and Fisher bonded over being celebrity royalty. Fisher was the daughter of Debbie Reynolds and Eddie Fisher. Sean is John and Yoko's only son. "She grew up as Hollywood royalty, and I kind of grew up as rock 'n' roll royalty," Sean said. "And we definitely connected on that level, having parents who are just larger than life and trying to find your way and navigate through the minefield of innate celebrity—or being born into celebrity—and living under the sort of microscope of that publicly. She sort of helped me navigate that more than anyone in the world, I would say."
"She was many things to me," he continued. "She was like a sister and like a best friend, but also like a mom and a teacher." Vanity Fair concluded, "Above all, he remembered someone who, no matter the time of night, whether in spoken word—or in song—always knew the right thing to say."
Carrie Fisher and Sean Lennon wrote "Bird Song"
During one of Sean's stays at casa Fisher in 2006, Sean started writing a song on the piano in the early morning hours one day. Out of nowhere, Fisher came up and started singing some lyrics at random to Sean's melody.
"Love comes on cat's feet; it circles the corner…" Sean recalled. The lyrics continued with, "It's all so wrong. To greet the dawn. The birds sing that awful song saying. 'You don't belong here!'"
"It was so late that the birds started singing," Sean said of writing "Bird Song" with Fisher. "And you know that kind of guilty feeling when you've been up all night, and you wish it was earlier, but the sun's coming up? You start to hear the birds… Usually you associate bird songs with something positive. But it sounded like the birds were reprimanding us."
Writing the song was a beautiful moment. To commemorate their friendship, Sean later recorded "Bird Song" with Willow Smith after Fisher died in 2016. "I didn't want to mix it and master it and put it out as a record because I didn't want to be exploitative in any way," Sean said. "Really, it was like a personal way of mourning the loss, because she was one of the closest friends I've ever had… I was in a really sad place missing Carrie, and I just wanted to play the song."
Sean said Fisher was one of the most talented lyrists he's ever known. Beyond her talents as a lyricist, though, Fisher had an even greater talent for friendship. She took Sean under her wing, and he immortalized her in "Bird Song."