Carrie Fisher Joked She 'Didn't See Men as People' on 'Larry King Live'
Larry King's career spanned over 60 years. The broadcaster died on Jan. 23, 2021, while hospitalized at Cedars-Sinai Medical Center in Los Angeles, and since the news of his death, the internet has been combing through his greatest interview moments.
One of those moments was with the one and only Carrie Fisher, who was on Larry King Live in 1990 to promote one of her books. The late star's response to a fan's question in this interview is now circulating on Twitter as fans commemorate King.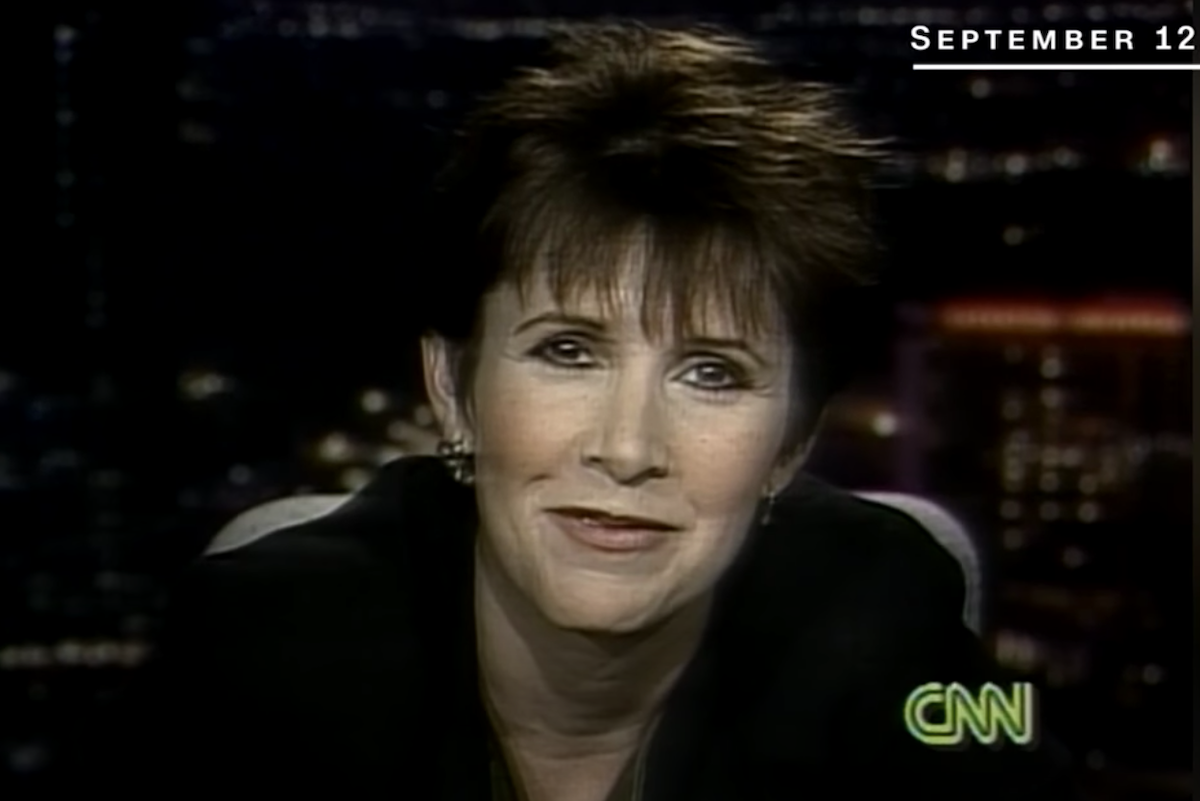 Carrie Fisher and Debbie Reynolds made iconic appearances on 'Larry King Live'
Reynolds and Fisher made their own appearances on the CNN staple. In 1996, Reynolds showed off her finely tuned Meryl Streep impression to King. Streep had played a fictionalized version of Fisher in 1990's Postcards From The Edge, which also featured a character that was loosely based on Reynolds. She was played by Shirley MacLaine.
In Fisher's 1990 interview with King, she said Reynolds actually wanted the role of Streep's mother, and she even felt a little bit of regret over her mom not getting the part.
RELATED: Carrie Fisher Was 'Fascinated' With and 'Respected' Elizabeth Taylor, Her Former Stepmother
Carrie Fisher's Larry King interview was one of her funniest
Overall, the interview was concise and thorough—exactly how King liked to keep him programs. Rather than banter and segue between questions, he got straight to the point. This interviewing style was highlighted in the statement announcing his death on Jan. 23. The statement read:
"Whether he was interviewing a U.S. president, foreign leader, celebrity, scandal-ridden personage or an everyman, Larry liked to ask short direct and uncomplicated questions," the statement read. "He believed concise questions usually provided the best answers, and he was not wrong in that belief."
RELATED: Larry King Shouted 'Somebody Get Us a Room' After Filming a Scene With Connie Britton
Carrie Fisher said on 'Larry King Live' that she hoped she intimidated men
King met his concise match in Fisher, who never gave a dull response to a question. Fisher shot back witty answers questions as quickly as the interviewer could ask them, and one of her funniest interview moments ever happened in a fan Q&A portion of the segment.
As one fan inquired, "Hi Carrie, I just think you're so witty and so smart and I was wondering, do you find that people, but men especially, are intimidated by you?"
Fisher responded with a soundbite that fans still quote today.
She replied, "First of all, I don't think of men as people."
"I hope they are intimidated by me, yes," Fisher went on before adding, "Sometimes! It depends on if they're smart or not."
She gave herself and King a good chuckle with that one. Do yourself a favor and watch both Fisher's Larry King Live interview in full. When she's not making King and viewers laugh, she's being candid about her life with addiction post-rehab, trying to build up her self-esteem, and what it was like to see her fictionalized life in Postcards From The Edge portrayed on the big screen.