Why Carrie Fisher and Mark Hamill Often Fought Over Luke and Leia
Carrie Fisher and Mark Hamill became fast friends on the set of the original Star Wars. Fisher even expressed regret over her affair with Harrison Ford, revealing she wished she'd pursued a romance with Hamill instead. Certainly, the Star Wars actors loved each other. Still, Fisher and Hamill often had the geekiest argument about their characters, Luke and Leia.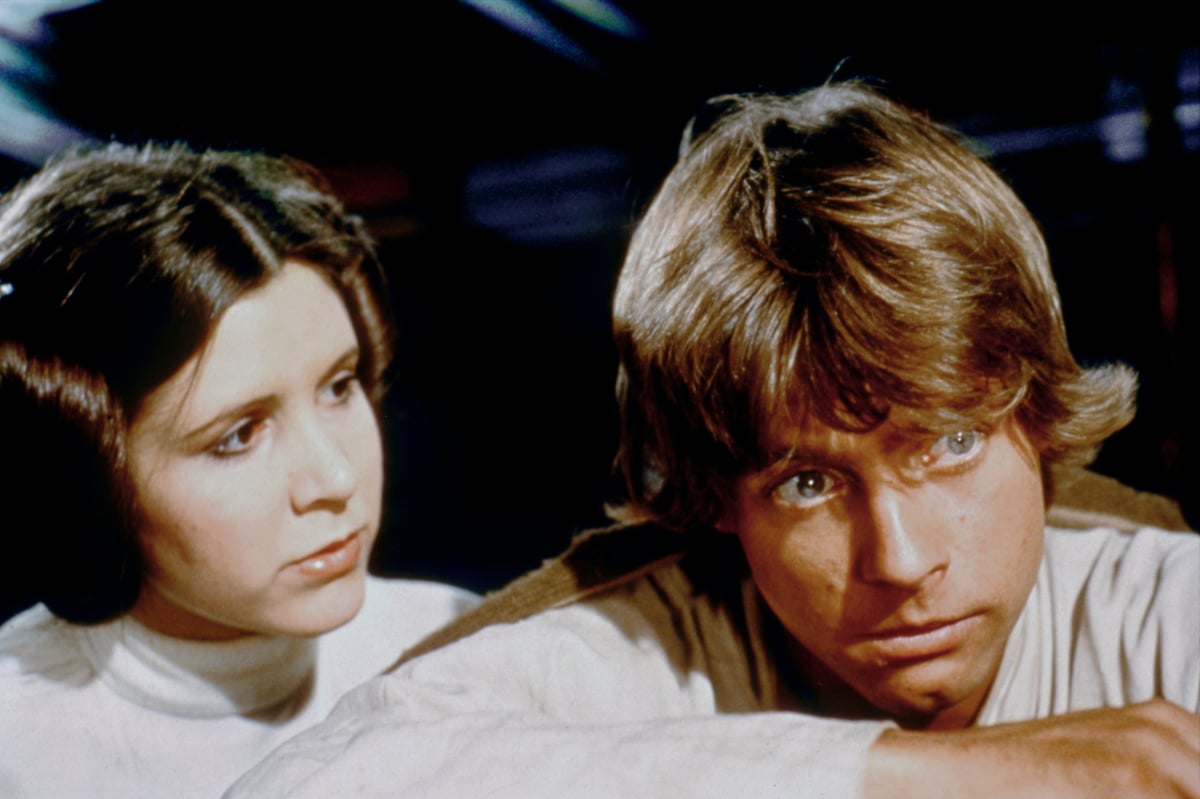 Mark Hamill and Carrie Fisher finding out Luke and Leia were siblings was a big moment
Just like Star Wars fans, Fisher and Hamill didn't learn Leia Organa and Luke Skywalker were siblings until Return of the Jedi. Early on, George Lucas had planned to bring in another female character as Luke's long-lost sister.
But after deciding the 1983 film would conclude the series — at least for a time — the movies revealed Leia as the "another" hope referenced in The Empire Strikes Back. So Hamill and Fisher finding out Luke and Leia were siblings changed a lot about their characters.
As Star Wars fans would note, it also made Luke and Leia's kiss in The Empire Strikes Back very awkward. In hindsight, it makes sense that Hamill and Fisher played siblings. After all, their complex relationship with one another over the years certainly mirrors that dynamic.
The 'Star Wars' actors argued over what this relationship meant for Luke Skywalker
Indeed, Fisher and Hamill would squabble about various topics over the many decades in which they remained friends. But Star Wars fans might be tickled to learn of one particular disagreement. In response to a fan question on Twitter in 2019, Hamill revealed his "silliest fight" with Fisher touched on what Luke's relationship with Leia meant for his status. 
"[Our silliest fight was] when they told us it would soon be revealed we were siblings," Hamill tweeted. "Me: 'Wait a minute, If Luke is Princess Leia's brother…does that make me royalty?' Her: (without a moment of hesitation) 'NO!!!' I didn't really care, but she really, REALLY did, so I never let it go — EVER."
Naturally, Fisher was very protective of her character's royal title. And honestly, she's right. Leia's "princess" status stems from the fact she was adopted into Alderaan's royal family. Likely, this was one of many running in-jokes between Fisher and Hamill. As Hamill once explained, he and Fisher could always count on each other for some laughs when they got together.
Carrie Fisher's daughter, Billie Lourd, has become 'Star Wars' royalty like her mother
To her fans and friends, Fisher was indeed royalty. Despite her death in 2016, the actor lives on in the hearts and minds of those who knew her. And in 2015's Star Wars: The Force Awakens, Fisher's daughter, Billie Lourd, made her own film debut.
Lourd continued to play Lieutenant Connix in two more Star Wars films. And she even doubled for her mother in The Rise of Skywalker. Considering his longtime friendship with Fisher, Hamill has stated he feels similar affection for Lourd.