'Cast Away's Wilson Was Inspired By a Real-Life Event Before the Tom Hanks Movie
Who could ever forget Tom Hanks screaming "Wilson!" on a deserted island? Cast Away's Wilson is a star. Some viewers might laugh, but how would they feel trapped on an island with no one else to talk to?
To some fans' astonishment, Wilson wasn't created from scratch. A real-life experience inspired him. Who came up with Cast Away's inanimate character, and how?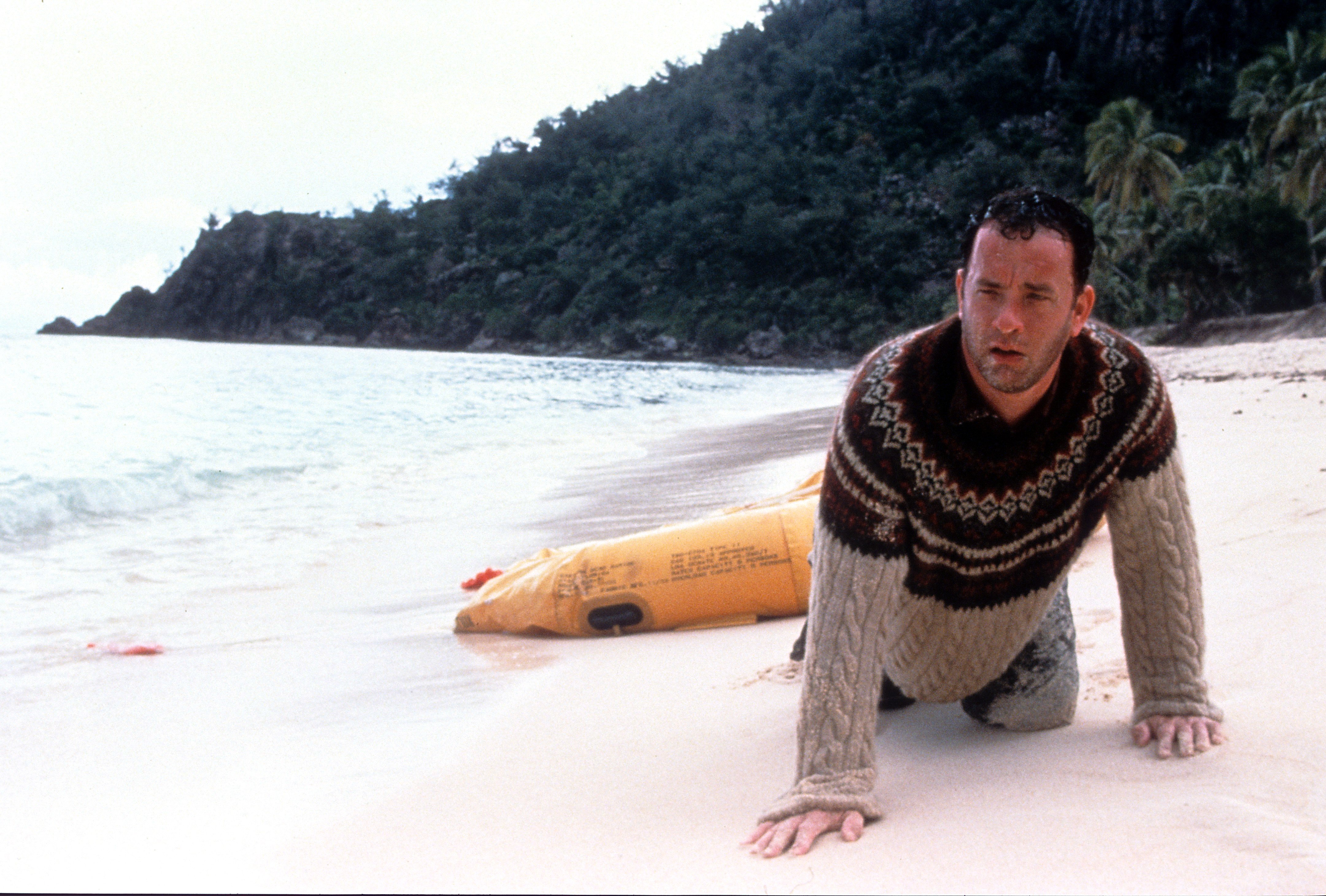 Was the entire 'Cast Away' movie based on a true story?
Many viewers recognize the film's realism. In reality, there are several plane crashes per year, and multiple people in history have been lost at sea. Moreover, Cast Away focuses on survival strategies. Some audiences even claimed that they learned basic survival methods from the movie.
However, Cast Away is not based on a true story. Instead, Hanks came up with the core plot. The Toy Story actor reportedly learned that there are multiple FedEx flights every year. He subsequently wondered if a problem was inevitable.
Robert Zemeckis directed the drama. Production spanned for more than a year as Hanks initially gained weight for the role. He then had to lose it before he resumed filming.
How was 'Cast Away's Wilson created?
According to the Austin Chronicle, screenwriter William Broyles Jr. spoke at a Cast Away screening. He commended Hanks for his lone-wolf performance on the island.
"You never get tired of watching [Hanks]," Broyles Jr. said. "I think he has an extraordinary ability to let the audience see into what he's thinking and feeling. You can really watch his mind connect the dots."
Broyles Jr. stayed at a survival camp near Mexico's Sea of Cortez as part of the screenwriter's research. The screenwriter learned the main character's difficult activities: opening coconuts and building a fire. He also delved into the survival experience by catching stingrays and eating them raw.
But where did the screenwriter's "favorite character" come from? Broyles Jr. noticed a volleyball on the beach at the survival camp, and he talked to it. Thus, the Wilson scenes were born for Cast Away.
Broyles Jr. wrote out a few lines for the volleyball. Hanks was able to repeat Wilson's lines in his head during their "conversations" throughout the film.
Tom Hanks heard Wilson's voice in his head
Thanks to Broyles Jr., Hanks could hear Wilson in his head as clear as a bell. The Forrest Gump actor thought he "went crazy" while filming Cast Away.
Hanks reflected on how he sometimes forgot when the cameras were rolling in an interview with Graham Bensinger. He pointed out that the role was physical, so he didn't focus on the camera's placement.
"[The camera] was just always set up somewhere because what I had to do was, I had to latch a raft together," Hanks said. "I had to try to open a coconut…I had to make a fire. I had to climb in or out of a cave. It was just me and the box and the lens, and the behavior."
Bensinger then asked Hanks why he believed he was losing his mind on set. "When Wilson was born, I had dialogue with him," Hanks revealed. "And I heard his dialogue in my head…I did go crazy because I never had a day off."
Viewers can stream the Cast Away movie for free on Tubi.