'CBS This Morning' Star Gayle King Recently Announced Some Big News of Her Own
Gayle King of CBS This Morning often speaks of her children — daughter Kirby and son Will — on the air. With Kirby's recent nuptials in December 2020, King just shared another reason she's in a celebratory mood.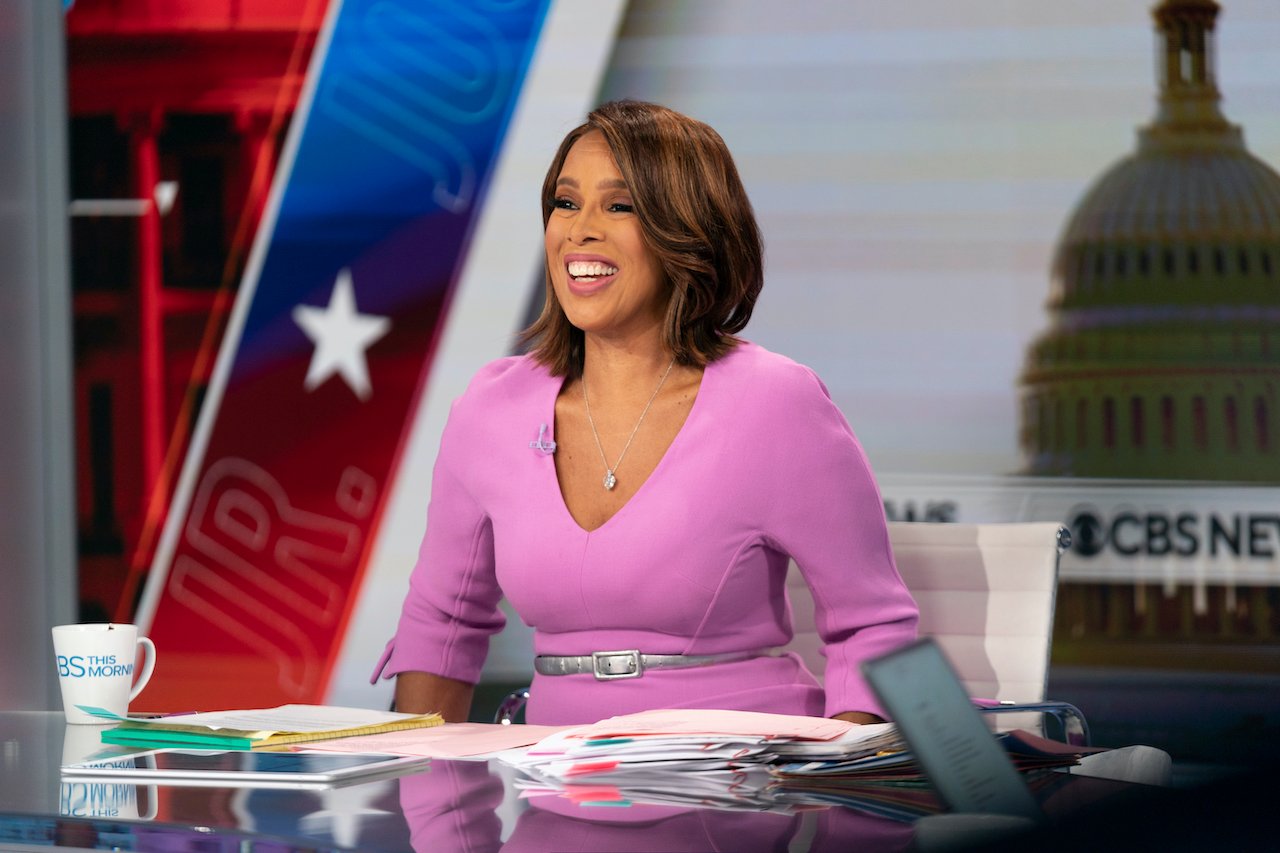 Gayle King is going to be a grandmother
The journalist posted a photo on Instagram of an adorable canine wearing a telling sign: "My parents are getting me a human! September 2021," along with a caption that teased King's major story.
"Big big news for favorite daughter Kirby and favorite son in law Virgil!" King wrote. "Now I need your help… press play to find out why… open to all suggestions!"
The image was followed by a video with King at the news desk alongside co-anchors Tony Dokoupil and Anthony Mason for their "Talk of the Table" segment. Her opening statement had everyone on the edge of their seats.
"I have no idea what your stories are, but I guarantee you, mine is best," King told her co-anchors, reminding them of her daughter tying the knot at the end of 2020. "You know how it goes: First comes love, then comes marriage, then comes Kirby with a baby carriage!" 
'CBS This Morning' star couldn't report the baby news
King had to fight her natural bent as a reporter and keep the big news to herself, as per Kirby's request.
"I've been bursting," King revealed. "I've been wanting to share this news. The baby is coming mid-September. And I kept saying 'Kirby, when can I make it my 'Talk of the Table?' … I got to tell my sisters this past weekend, and she told her friends the beginning of the week. So I said, 'Finally, can I please tell?'"
Given the go-ahead to share her new "Grandma" status, King admitted she still had to hold back on some information.
"[Kirby] would not allow me to show any pictures, America — I was a little frustrated," she told viewers, then presented the same picture from her Instagram post of her daughter and son-in-law's dog, Slater, which served as their way of breaking the news. "She did allow me to share their birth announcement."
Oprah nixed one 'Grandma' nickname for Gayle King
King revealed she prefers a more creative twist on the typical grandmother moniker. One of her ideas received a definite thumbs down from BFF Oprah Winfrey.
"Number one, I don't want to be called 'Grandma,'" she explained. "I'll tell you what I like, and nobody likes it but me. I like Gaia. That means 'Mother Earth'. Oprah thinks it's stupid and pretentious, but I like it."
A few other options were passed around, but now King is asking fans for their help.
"I thought Mumsy, but Kirby hated that," the journalist remarked. "She goes, 'We're not British.' Somebody else said 'Gammy,' but that sounds like an old lady with no teeth, so I don't like that. … So I'm soliciting!"
King's followers are already weighing in with their recommendations. "My mother goes by Nano (derived from Nana) and it's so cute and sweet," a fan wrote. "What about Mimi?" another suggested. "My grandson named me Bibi!" a follower commented.
Another fan offered an entire list of possibilities, posting, "Some ideas: G, Goggy, Gamma, Lovey, Honey, Tutu, Maggie, Grammy, Grandie and Nonni."
King's followers are eager to find out what she selects when her grandbaby arrives. Congratulations to King and her family!