Cecily Strong: Is the 'Schmigadoon' Star Leaving 'Saturday Night Live?'
Cecily Strong made a name for herself playing over-the-top characters on Saturday Night Live. Since 2012, the comedian has appeared on the show in such roles as "The Girl You Wish You Hadn't Started a Conversation with at a Party," Lin Manuel Miranda, and conservative Fox News host Jeanine Pirro. 
This past May, Strong ended her ninth season at SNL. After the 2021 finale, many fans and critics predicted Strong was one of five cast members leaving the show. Neither Aidy Bryant, Kate McKinnon, Kenan Thompson, Pete Davidson, nor Strong have made a public announcement about returning for the 47th season. 
However, a few of the possibly departing cast members have commented to the press about staying on the show, Strong being one of them. Let's see what the comedian and actor said.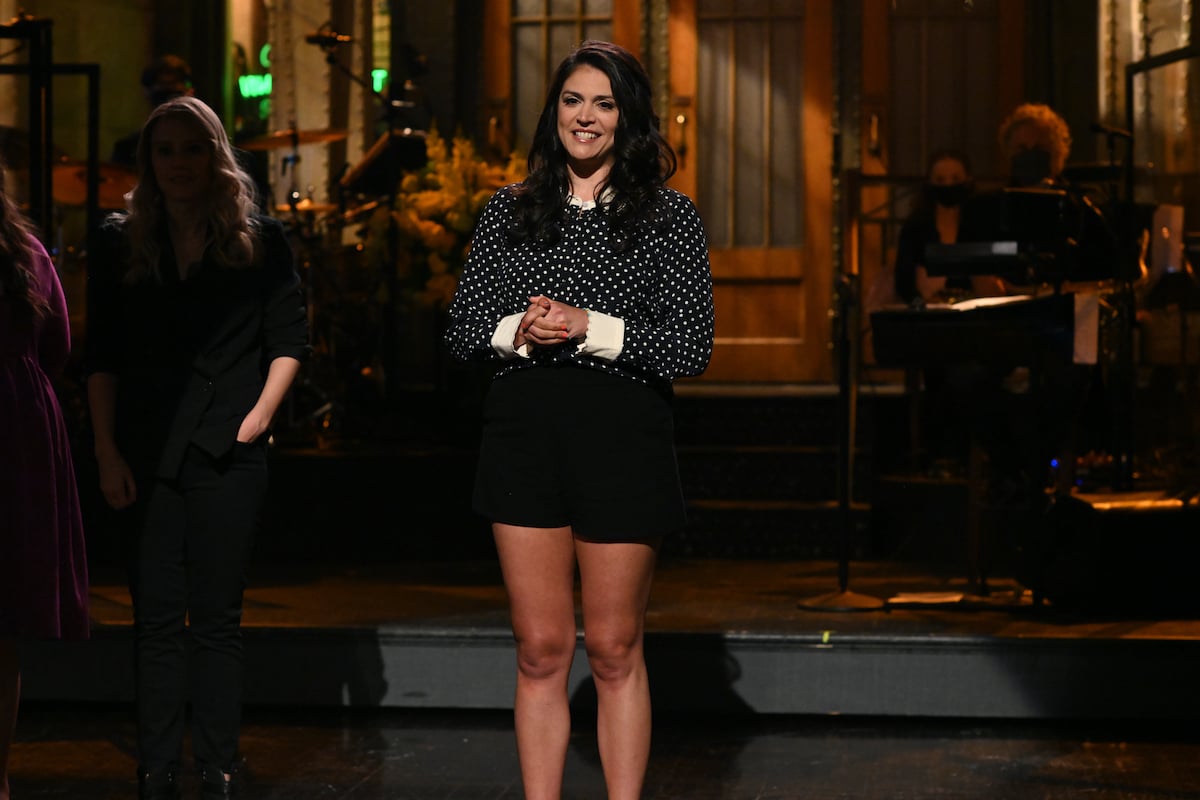 Cecily Strong had an 'SNL' send-off
When a cast member leaves SNL, they will often get a big closing sketch to say goodbye. Strong had one during the May 24 'Weekend Update' segment. She came out doing one of the best-known impersonations, Janine Pirro, yelling and sloshing her wine all over anchor Colin Jost.
The sketch ended with Strong singing Frank Sinatra's 'My Way' in a giant glass of wine. By the time she belted her final note, the entire stage was soaked. 
Senior SNL writer Bryan Tucker wrote the segment. He told The New York Times that he specifically wrote the piece as a final "victory lap" for Strong. 
"She's such a special part of the show, and I wanted to write something for her that gave her a big send-off. I thought I may never get another chance to do something like that." 
What does Cecily Strong think about returning to 'SNL?'
If Strong decides to leave the show, now would be the time to do it. This summer, the comedian starred in not only the critically acclaimed Apple TV+ musical comedy Schmigadoon, but she also released a book, This Will All Be Over Soon. She told Vulture in early Aug. she was still deciding whether or not she was going to stay at the show. 
"It's very insane, and it's not even like I'm hiding anything when I say I fully have not figured it out yet. So again, I would love to go back; I would also love to have [the season finale] be my end. I don't have an answer yet. But I'm feeling good either way, which is, you know, celebrate that when you can.
Lorne Michaels wants everyone to return to 'SNL'
In an interview with The New York Times, Strong admitted she had conflicting feelings while shooting the last season. The cast and crew continued to work under coronavirus (COVID-19) restrictions and protocol.
"Throughout the year, there were times where I felt like a fifth-year senior, and I'm just hanging around, dead weight. Then there would be moments that felt so good," she explained. "There's things I want to do, and I want to be open for these things. If I'm there, great — if I'm not there, great. I just want it to feel like the right thing."
SNL creator and executive producer Lorne Michaels believes that Strong staying on the show is the right decision. He told The Hollywood Reporter, "My hope is she'll come back," he said. "What I said to her, and what I believe, is that I don't think she's done yet." 
In that same article, The Hollywood Reported alleged that Michaels is trying to get Bryant, McKinnon, Davidson, Thompson, and Strong to stay on the show until 2024.