Celebrities Send Love to Chrissy Teigen and John Legend Following Pregnancy Loss
Chrissy Teigen and John Legend are mourning the loss of Teigen's pregnancy. The Cravings author has been vocal about her pregnancy since announcing it in Legend's "Wild" music video in August, revealing she was experiencing complications with her "weak" placenta. Those complications led to the star being hospitalized due to excessive bleeding. And on Sept. 30, Teigen shared a heartbreaking Instagram post revealing she had lost the baby, affectionately named Jack.
"We are shocked and in the kind of deep pain you only hear about," Teigen wrote in her caption. "The kind of pain we've never felt before. We were never able to stop the bleeding and give our baby the fluids he needed, despite bags and bags of blood transfusions. It just wasn't enough."
The photos in the 34-year-old's post showed her crying on her hospital bed, receiving an epidural before giving birth, Teigen and Legend embracing in her hospital room, and the tearful parents holding baby Jack after birth. She also shared the post on Twitter, which Legend retweeted writing, "We love you, Jack."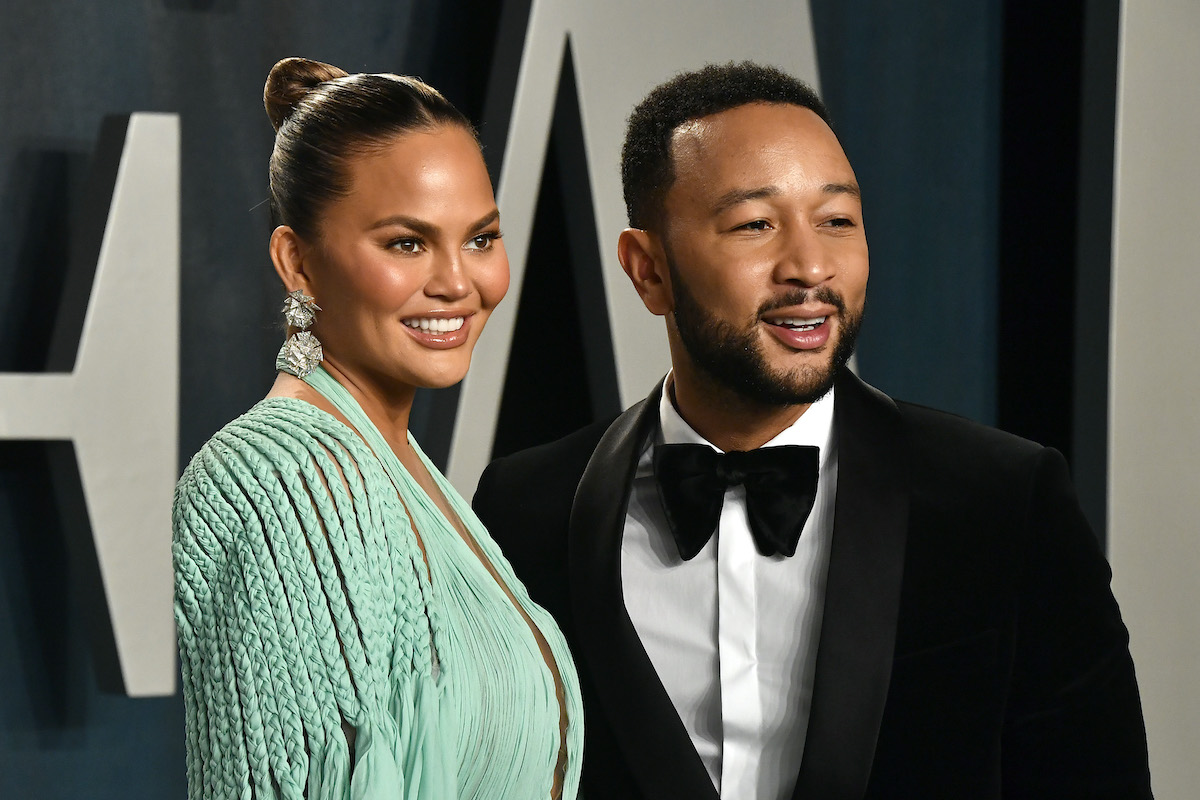 Gabrielle Union, Paris Hilton, Naomi Campbell, and more celebrities sent Teigen and Legend support on Instagram
Now, celebrities are coming out in droves to send love and support to the couple.
"We love you guys so much and we will be here for whatever yall need," Gabrielle Union commented on Teigen's Instagram. "Always."
"I'm so deeply sorry for your immeasurable loss," commented Busy Philipps. "In awe of your bravery and selflessness in sharing as you have, which is going to help so many women and families. Sending you and your family all the love and light while you grieve."
Supermodel Naomi Campbell also sent heartfelt sentiments. "I'm so sorry for your loss Chrissy & John," she wrote. "You bring us so much joy and laughter, we are here for you through this difficult time."
Chimed in Hailey Bieber, "I'm so so sorry. Thinking of you and John, praying for you guys and sending you so much love during this time."
"My heart breaks for you and John," Paris Hilton wrote. "I am so sorry for your loss. Sending you and your family so much love. Love you beautiful."
Wrote Sarah Paulson, "I'm so sorry for your loss Chrissy & John, you bring us so much joy and laughter, we are here for you through this difficult time. There are no words that sufficiently express the sorrow of this heartbreaking loss… I am so sorry. Sending you all the love. All the prayers. All the light."
Chrissy Teigen and Legend also received condolences on Twitter
Friends and fans of the couple also shared their condolences on Twitter.
"I'm so deeply sorry to hear of this loss," former Secretary of State Hillary Clinton wrote. "My love and prayers to you, John, Luna, and Miles."
Jeannie Gaffigan, comedian Jim Gaffigan's wife, empathized with Teigen, referencing the miscarriage she experienced in 2008. In response to Teigen's tweet that read, "Driving home from the hospital with no baby. How can this be real," Gaffigan replied, "Oh my God we've been there. Unimaginable pain. @JimGaffigan and I send all of our love to your family from ours. Endless virtual hugs if you ever need to talk I'm here for you."
In her post, Teigen wrote directly to baby Jack and also thanked those who had reached out in support.
"To our Jack," she said, "I'm so sorry that the first few moments of your life were met with so many complications, that we couldn't give you the home you needed to survive. We will always love you.
"Thank you to everyone who has been sending us positive energy, thoughts and prayers," the mother continued. "We feel all of your love and truly appreciate you." She closed out her post by saying, "We are so grateful for the life we have, for our wonderful babies Luna and Miles, for all the amazing things we've been able to experience.  But everyday can't be full of sunshine.  On this darkest of days, we will grieve, we will cry our eyes out. But we will hug and love each other harder and get through it."