'Cellmate Secrets' on Lifetime: Where Is Casey Anthony Now?
For a time, Casey Anthony was the most hated woman in America. In 2008, the Florida mom was accused of murdering her 2-year-old daughter Caylee. But jurors in a high-profile 2011 trial watched by millions ultimately found her not guilty of the crime. Now, Lifetime is revisiting the controversial case in the first episode of its new docuseries Cellmate Secrets, premiering Friday, June 4. 
'Cellmate Secrets' looks at the Casey Anthony case
The premiere of Cellmate Secrets (narrated by Rizzoli and Isles' Angie Harmon) offers an inside look at the Casey Anthony case ahead of the 10th anniversary of her trial. Anthony's former cellmate Robyn Adams will open up about the time they spent together in jail in 2008. She shares her perspective on the accused murderer's reaction when her daughter's body was found in December 2008. 
"When they gave her the news that they found Caylee's remains, it was bad," Hall says in the episode. "They took her to medical, because she couldn't breathe. She was having an anxiety attack, a panic attack."
But a guard at the jail, Silvia Hernandez, felt Anthony's behavior was off after she learned of her child's death. 
"Her behavior at that time was like, 'Oh sh*t, I got caught," she said.
Where is Casey Anthony now?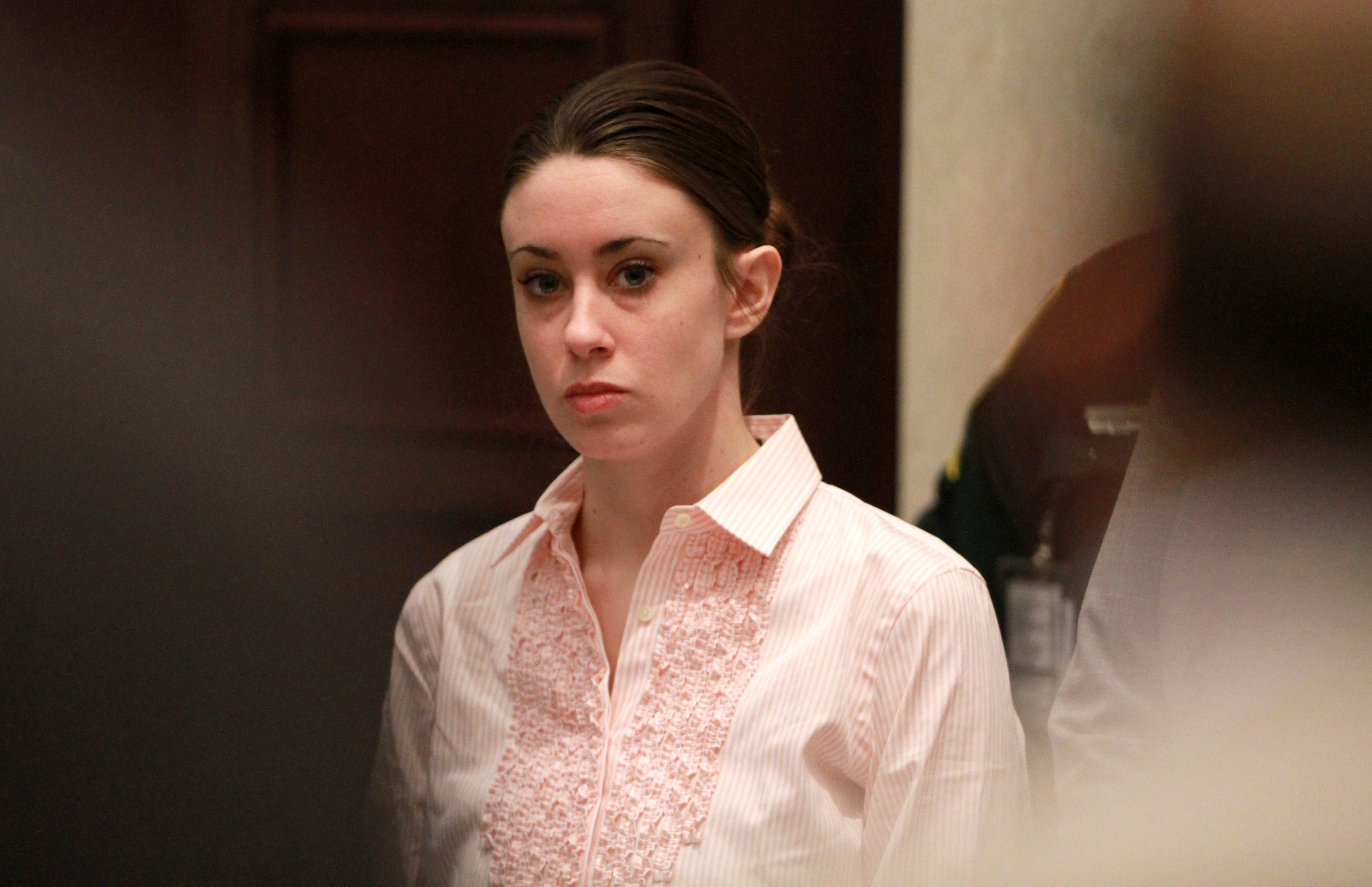 After her acquittal, Anthony, now 35, remained in Florida. In May 2021, police were called to a bar in West Palm Beach when Anthony and another woman got into a fight about a man they had both dated, WESH reported. When officers arrived, Anthony told them the other woman had thrown a drink on her. 
In late 2020, ABC News reported that Anthony had filed paperwork to start a private investigation firm. As of 2017, Anthony was living in the home of private investigator Patrick McKenna, who worked on her case, and assisting him with investigations.  
In 2017, Anthony gave a rare interview to the Associated Press and spoke about her case. She said she was "still not even certain" about how her daughter died. But she admitted she understood why people assumed judged her guilty based on media coverage of the case. 
"I understand the reasons people feel about me. I understand why people have the opinions that they do," she said.
The negative opinions didn't bother her, she added. 
"I don't give a sh*t about what anyone thinks about me, I never will," she said. "I'm OK with myself, I sleep pretty good at night."
Future episodes of 'Cellmate Secrets' look at Joyce Mitchell, Chris Watts cases 
Future episodes of Cellmate Secrets will look at the cases of Joyce Mitchell, the guard who helped two inmates escape from a prison in Dannemora, New York, in 2015; Drew Peterson, an Illinois police officer convicted of killing his third wife after his fourth wife disappeared; Chris Watts, the Colorado husband who murdered his pregnant wife and two daughters in 2019; Susan Smith, who drowned her two children in 1995 and blamed the crime on a Black man; and Shayna Hubers, who murdered her boyfriend in 2015. 
Lifetime movies inspired by the cases will precede several Cellmate Secrets episodes, including Prosecuting Casey Anthony, Drew Peterson Untouchable, New York Prison Break: The Joyce Mitchell Story, and Chris Watts: Confessions of a Killer. 
Cellmate Secrets premieres Friday, June 4 at 10 p.m. ET on Lifetime.