'Change Is Possible' on 'Killing Eve,' But Does That Include Villanelle?
The Killing Eve Season 3 finale gave fans a lot of great Villanelle content, which happens often, of course, thanks to Jodie Comer. But by this finale, fans started to see a different side to the serial killer. Is she really able to change? Has she? [Spoiler alert: Spoilers ahead for Killing Eve Season 3 finale].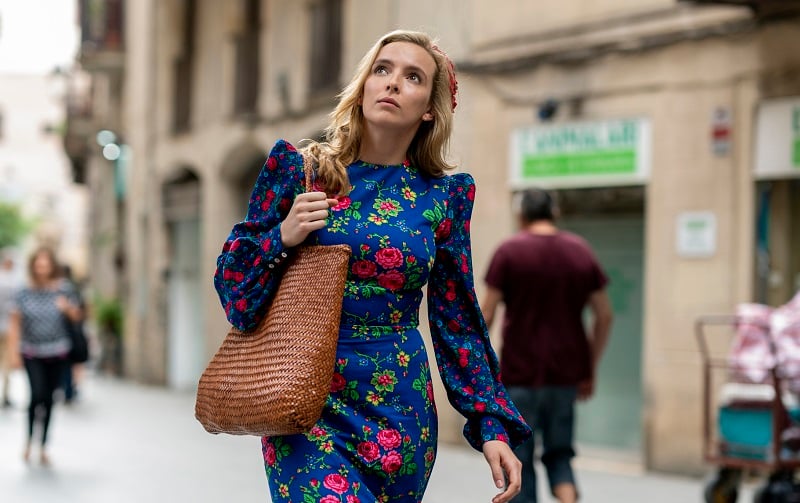 RELATED: 'Killing Eve' Executive Producer Said You Should Never Trust [SPOILER], 'Ever,' After That Finale
How much can Villanelle grow and change?
In a recent interview with Entertainment Weekly about the finale, executive producer Sally Woodward Gentle gave the "tiniest" tease for Season 4 she could: "Change is possible."
That could mean a lot of things. Earlier in the interview, she talked about how Carolyn is very broken by Kenny's death. She'll either bounce back or fall deeper into her pain. And same with Konstantin; he has always had his foot on both sides, not really giving away where his allegiances were. Even with Villanelle; it seemed like he cared for her to a certain degree, but then proved he really didn't in Rome and this season. There's even Eve, who's toed the line between her old self and being morally ambiguous. 
But what about Villanelle? She's probably had the most profound change thus far; that hint could easily be about her. 
RELATED: Villanelle Isn't the Only TV Femme Fatale; Check Out These Other Shows
Villanelle has dealt with a lot of loss this season. For a serial killer who seemed very devoid of emotion up until it came to Eve, she was hurt often in Season 3. A major turning point for her was killing her mother and that's when the tide changed on her guilt when it came to killing. She's faked remorse before, but it's really when she's slow-dancing with Eve in London that you see her grapple with the guilt she has for all she's done. She even says "Sorry" before killing Hélène's second-best killer. Season 1 Villanelle wouldn't have. 
Yes, Villanelle can change because we've already seen it. But can she change enough to foster a relationship with Eve? Or just become a better, non-murderous person? Perhaps.
Will Villanelle and Eve finally become an item?
Speaking of a VillanEve relationship, it's not really clear whether it could — or will — happen. But the signs are definitely there pointing toward the two getting together. Episode 8 held two very romantic and intimate scenes between the two — the dancing scene and the bridge conversation — and they didn't even kiss. Woodward Gentle said the writers have been aware of this possible relationship since Season 2. 
"There always has been, really, from Season 2 onwards: 'What does that relationship look like?'" she shared. "And if they were to sit down and have another proper couples counseling, somebody might come out of that going, 'Really? You really think this is going to last?' Maybe we'll do that. I'd love to see a couple's counseling between Eve and Villanelle.
The two definitely had their most honest conversation to date on the bridge in London. Far from a couple's therapy session, but definitely a start. They did come to terms with the fact that their inner "monsters" aren't quite compatible and urge each other to do bad things. 
RELATED: What Did The 'Killing Eve' Season Finale Mean For Villanelle and Eve's Relationship?
This goes hand-in-hand with what else Woodward Gentle had to say about Season 4. She said that fans should ask the question, "What do you do when you have to acknowledge to yourself that there's a darkness that you can't push down anymore?" Of course, as she states, that's an "Eve thing."
Even though their history could thwart any type of relationship between the two, they did both turn around at the end. It doesn't seem like they're ready to give up cold turkey just yet. 
Don't forget: Villanelle now has a target on her back 
Also, Villanelle's involvement with the Twelve is far from over. Even if she wants out, and killed their next-best killer, Hélène won't let her. It also doesn't seem like Villanelle has the upper hand like she usually does. 
"Hélène is the highest that we've ever met in the Twelve, and the fact that Villanelle went against her and killed her pet protégé, the Twelve support for her just might wane a little bit," Woodward Gentle said. "And Hélène has already said, 'Don't think for a minute you can kill me because I'll get to you first.'"
There's a lot of juicy stuff to look forward to in Season 4. You might just have to rewatch the finale over and over again to pass the time. 
RELATED: 'Killing Eve' Season 4: 3 Things Fans Want Addressed