Charlie Hunnam Explains the 'Delicious Irony' Behind His COVID Diagnosis 'Earlier This Year'
Charlie Hunnam is currently in the middle of a virtual press junket for his new project Jungleland. The drama is about a bare-knuckle boxer and his manager brother who travel across the country for a fight with a $100,000 purse.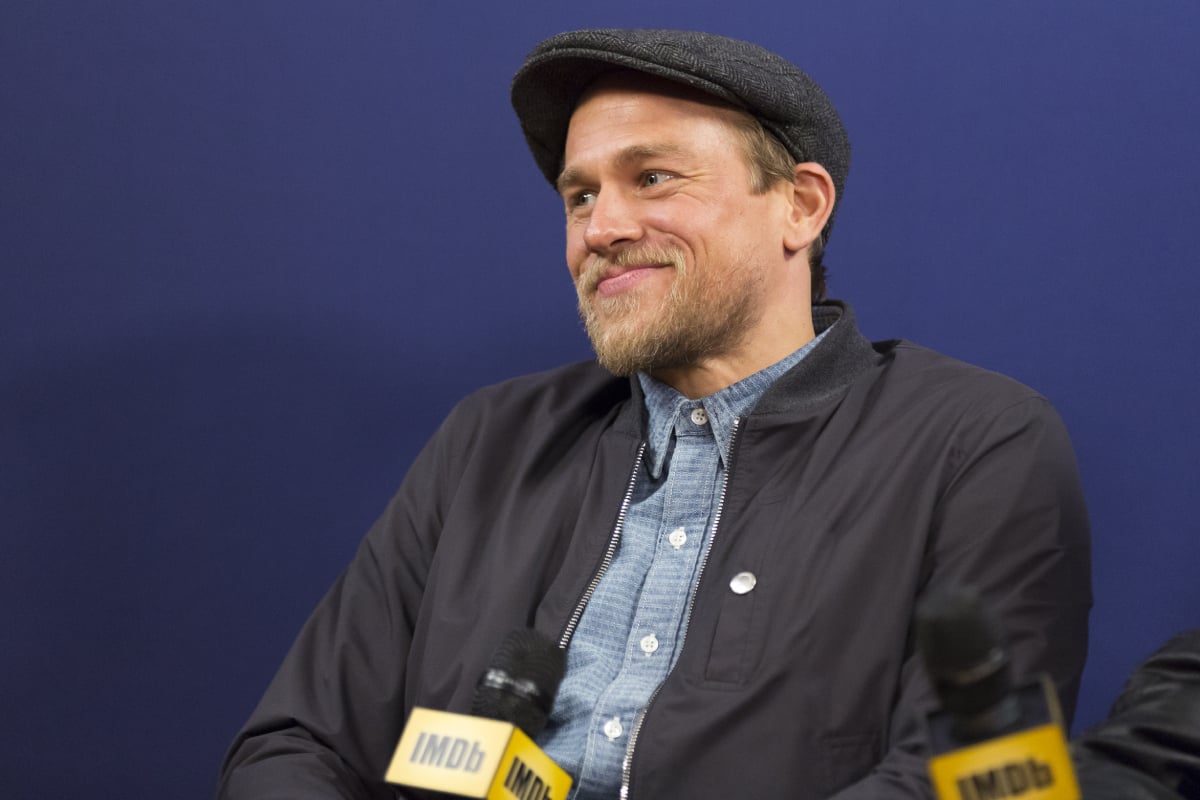 The Sons of Anarchy alum recently appeared on Jimmy Kimmel Live! to promote the new film. During the interview, the 40-year-old revealed he had COVID-19 "earlier this year." He also explained the "delicious irony" behind his diagnosis.
Charlie Hunnam's COVID-19 experience 'wasn't particularly acute'
Hunnam told Kimmel that he had COVID-19 "earlier this year" when the pandemic first hit. He noted that he had the virus before anything was really known about it. Despite the lack of information, Hunnam says the experience wasn't too bad.
"It wasn't particularly acute, I just lost my sense of taste and smell for about 10 days, and had a little bit of fatigue," Hunnam explained.
Kimmel prodded the actor about losing his sense of taste. Kimmel asked him if everything tasted the same, but Hunnam explained that he couldn't taste anything. He said that when he started getting sick, he knew something wasn't quite right.
He said that he was brewing coffee one morning and realized he couldn't smell it. Then, when he gave a cup to his partner, Morgana McNelis, they both took a drink and realized they couldn't taste it.
"It was very early on and that piece hadn't come to light as a symptom," Hunnam said.
His mind quickly jumped to the only thing he knew of that would take away the sense of smell and taste. Hunnam thought that maybe he and McNelis were "simultaneously having a stroke."
The 'Sons of Anarchy' star is currently under the weather, but he tested negative for COVID-19
Hunnam told Kimmel that he is currently experiencing "a little bit of a persistent fever, a dry cough, and a little bit of fatigue." Hunnam says it could be COVID-19 again, but a rapid test came back negative.
"So I could just be unfairly jumping to conclusions. But it feels consistent," Hunnam said.
When Kimmel joked that Hunnam might be a "hypochondriac," Hunnam compared his current symptoms to what he experienced earlier this year. He noted that "it didn't feel like this."
"This feels very, very different. This feels much more like flu," Hunnam said.
The Sons of Anarchy alum noted that he has no idea how he could've gotten sick again because he hasn't really left the house in six months. The one time he had contact with the outside world was when he took his new cat Cleopatra to the vet. As it turns out, Cleopatra has feline coronavirus.
Charlie Hunnam noted the 'delicious irony' behind having COVID-19 again
Even though his rapid test came back negative, Hunnam isn't convinced he doesn't have COVID-19 again. If he does, the actor is aware of the "delicious irony" behind a second diagnosis.
"If there is something floating around, I'm gonna get it. And I think it's because I am such a germaphobe. I just have a very weak immune system," he said.
During a 2017 interview with Conan O'Brien, Hunnam talked about his germaphobia. He says that he prefers to "keep it clean," and that has caused him anxiety during his career. Hunnam says that he doesn't like kissing people who aren't his girlfriend. On the days he knows he has to get close to another actor in an intimate scene, he wakes up in a cold sweat.
Hunnam admitted that his germaphobia dates back to his childhood when there was a "parasite" in dog poo that could turn people blind. Between that and the HIV education he was receiving in school, Hunnam's fear of germs was born.
"If I ever write a biography it will be called Blood, Dog Sh*t, and the Pursuit of Happiness," Hunnam said.
All seven seasons of Sons of Anarchy are available on Hulu. Jungleland is now available on VOD.