Charlie Hunnam Joked He Was 'Livid' When He Learned He Was Not Going to Be the Most Beautiful Man on Set
Charlie Hunnam wanted the lead role in Guy Ritchie's 2017 film King Arthur: Legend of the Sword so badly that he offered to fight the other two men up for the part – X-Men star Michael Fassbender and Superman himself, Henry Cavill. The Sons of Anarchy star did eventually land the role of King Arthur. But, when he found out he wasn't going to be the most beautiful man on set, he admits he was "livid."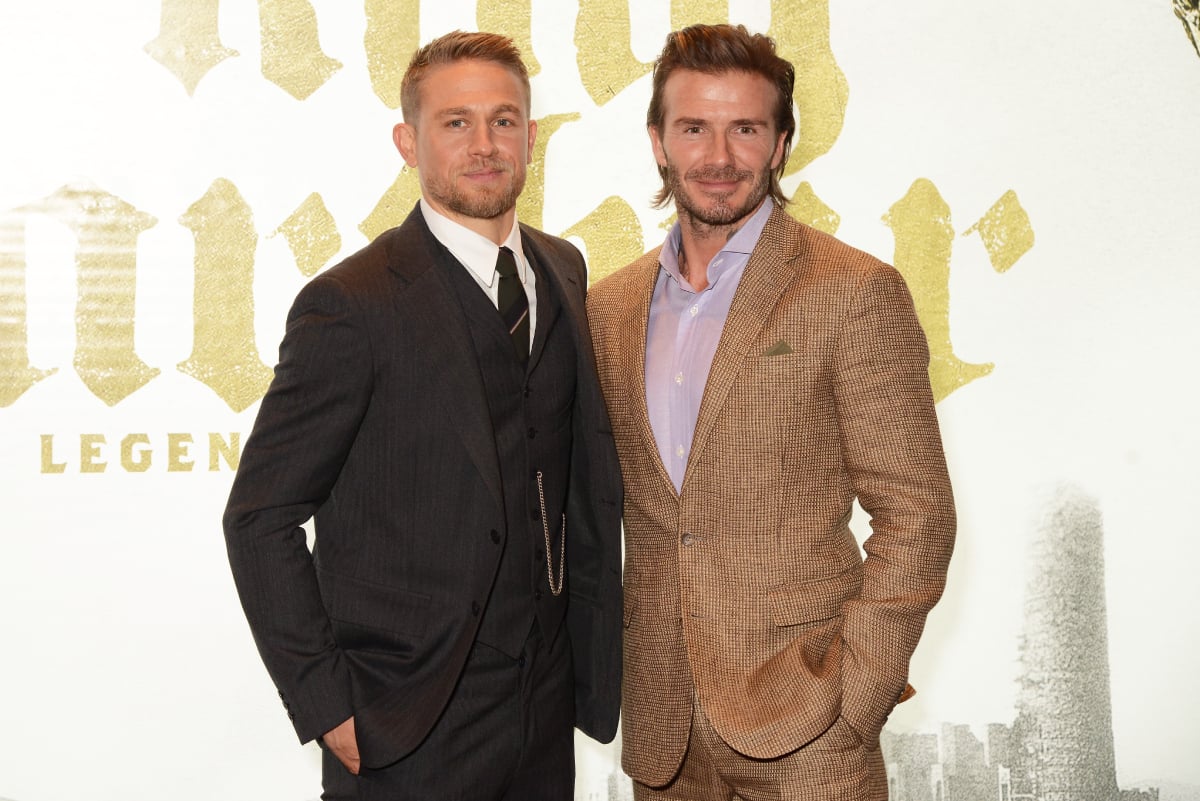 Charlie Hunnam had an unlikely co-star in 'King Arthur'
According to Hello! Magazine, soccer legend David Beckham managed to land a small role in King Arthur: Legend of the Sword. However, Hunnam claims that he's "not a football man," so he didn't have strong feelings either way about Beckham being part of the cast.
Hunnam admits that Beckham surprised him with his acting ability because acting isn't the father-of-four's "primary focus."
"I was really blown away. It became very clear why and how Beckham's become the phenomenon that he has," Hunnam said.
The Sons of Anarchy alum says that Beckham took his work on the film very seriously. Hunnam revealed that Beckham was determined to do a good job, and he worked with both an acting coach and a dialect coach. Beckham also asked Hunnam for acting advice.
By the end of the shoot, Hunnam says he "had a little bit of a crush" on Beckham because he was "pretty f*cking cool."
Charlie Hunnam and David Beckham flaunted their bromance on the red carpet
After working with each other for weeks on the set of King Arthur, Hunnam and Beckham eventually walked the red carpet at the film's London premiere.
Both men are in long-term relationships with their respective significant others – Morgana McNelis and Victoria Beckham. But, according to Hello Giggles, they flaunted their bromance when posing for pics together.
It was clear that the two men became friends while working on the film. The photographers at the premiere couldn't get enough of the two men, and captured every moment that Hunnam and Beckham were together.
"He's super cool and really inspiring," Hunnam told People about Beckham. "He worked really, really hard and it became very clear immediately why he's enjoyed the success he's had. He just has a ferocious work ethic."
Dozens of cameras caught both Hunnam and Beckham dressed to the nines, as they laughed and joked together while posing for photos.
Issues on the 'King Arthur' set led to disappointing box office results
When Hunnam found out that he wasn't going to be the most beautiful man on the King Arthur set, he says he was "livid." The actor told On Demand Entertainment that when he learned Beckham was in the movie, he showed up on set and said, "this is unacceptable."
"I demand to be the most handsome man on set," Hunnam joked, adding that he's "clearly not" with Beckham around. The 40-year-old explained that even after putting Beckham in the makeup chair and adding fake scars on his face, he was still "double handsome."
Hunnam has made it obvious in interviews that he and Beckham had a great time on the set of King Arthur. But, after the movie bombed at the box office, Hunnam admitted that they didn't get to make the movie they wanted.
The Sons of Anarchy star explained there was "a piece of miscasting that ended up crippling the central storyline" and they cut out that part entirely. He says this ended up throwing off the entire movie, leading to its poor performance.