Charlie Hunnam Really Wanted to Punch Idris Elba in the Face on the Set of 'Pacific Rim
Charlie Hunnam once played pilot Raleigh Becket in the Guillermo del Toro feature Pacific Rim. There he teamed up with Idris Elba, who he confided might have gotten on the actor's bad side in the beginning.
Why Charlie Hunnam had the urge to punch Idris Elba in 'Pacific Rim'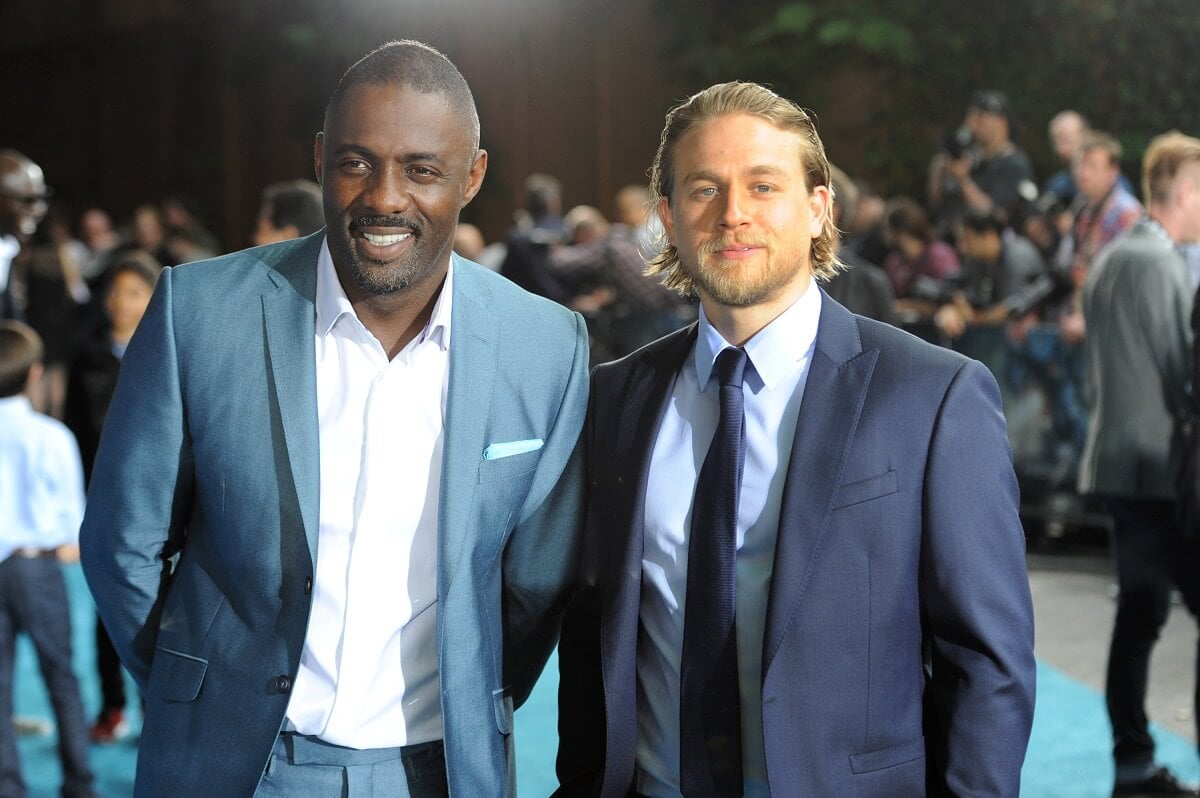 Hunnam and Elba both teamed up for del Toro's 2013 sci-fi feature Pacific Rim. The movie was about a team of pilots in charge of operating giant robots used to defend the Earth from monsters. Del Toro was interested in casting Hunnam for the project after meeting the Sons of Anarchy star for Hell Boy 2.
The filmmaker didn't think Hunnam was right for that film, but down the line he thought he was a good fit for Pacific Rim. He offered Hunnam the lead in the movie after a lengthy meeting. After being cast, Hunnam would find himself acting alongside Idris Elba, who he knew little about at first.
"I must confess, I circled around The Wire for a long time but I've never really seen it. I have the whole thing on DVD, but I've just been waiting for a period of time where I can sit down and commit 60 hours to watch it. So I came in knowing who Idris was but not being that familiar with his work," Hunnam once told GQ.
Hunnam's and Elba's characters were at odds with each other in the film. But the friction between the characters briefly spilled into their real-life relationship.
"He likes to experiment with those dynamics off set a little bit, and to begin with I didn't fully understand what he was doing. I just felt this overwhelming desire to punch him in the face," Hunnam said. "I thought, 'Well, I can just use it in the work.' But as I got to know him better, I saw he's actually a great guy – and he was just working out the dynamic for himself."
Charlie Hunnam and Idris Elba bonded over their iconic roles in 'Sons of Anarchy' and 'The Wire'
Despite some of the tension the two experienced when they first started working together, the two ended up becoming the best of pals. In an interview with Spotlight Report, Elba reflected on their friendship, and how easy it would be to work alongside Hunnam again.
"Charlie and I hadn't worked together before. Now, I feel I've got a friend, that I've got a partner. Even if I was to make a small independent, I could definitely go to someone like Charlie, because I think what Guillermo has done is just pooled a great synergy of people together. And that lasts onscreen and off-screen," Elba said.
The two also grew closer due to their extremely similar characters. Hunnam and Elba both rose to superstardom by starring in two popular television shows focused on crime. After their performances in television, the pair went on to establish successful film careers in a wide variety of movies. This just added to their relationship.
"Charlie Hunnam and I go back a little bit. He has a TV show where he is an iconic character [Sons of Anarchy] and I had a TV show where I was an iconic character in America [The Wire] and we were just sharing our experiences. We got on really well," Elba once said according to So Feminine.
Neither Idris Elba or Charlie Hunnam returned for 'Pacific Rim Uprising'
Elba and Hunnam were both noticeably absent from the Pacific Rim sequel Uprising. Elba didn't return to the series for creative reasons, whereas Hunnam's absence was more due to a scheduling conflict.
"There were business elements of it that required them to go into production very quickly. Legendary had just been acquired by Wanda out of China, and they wanted that film made very quickly and I wasn't available," Hunnam once told Collider. "That's just what happens. I didn't deeply lament it. I'd been working in long-form storytelling for a while and we'd already done one Pacific Rim, so I felt like, 'Go with God. Go do your thing.'"