Charlie Hunnam: The Relatable Reason He Turned Down a Role Jason Segel Wrote Specifically For Him
Charlie Hunnam is widely known for his role in Sons of Anarchy. But the actor has also starred in several movies and TV shows since the FX series ended in 2014. What many people might not know about Hunnam is that he has a friendship with funny guy Jason Segel.
After working together, the duo formed a bond, which ultimately inspired Segel to write a role for Hunnam in Forgetting Sarah Marshall. Regardless of their friendship, Hunnam turned the part down for a relatable reason.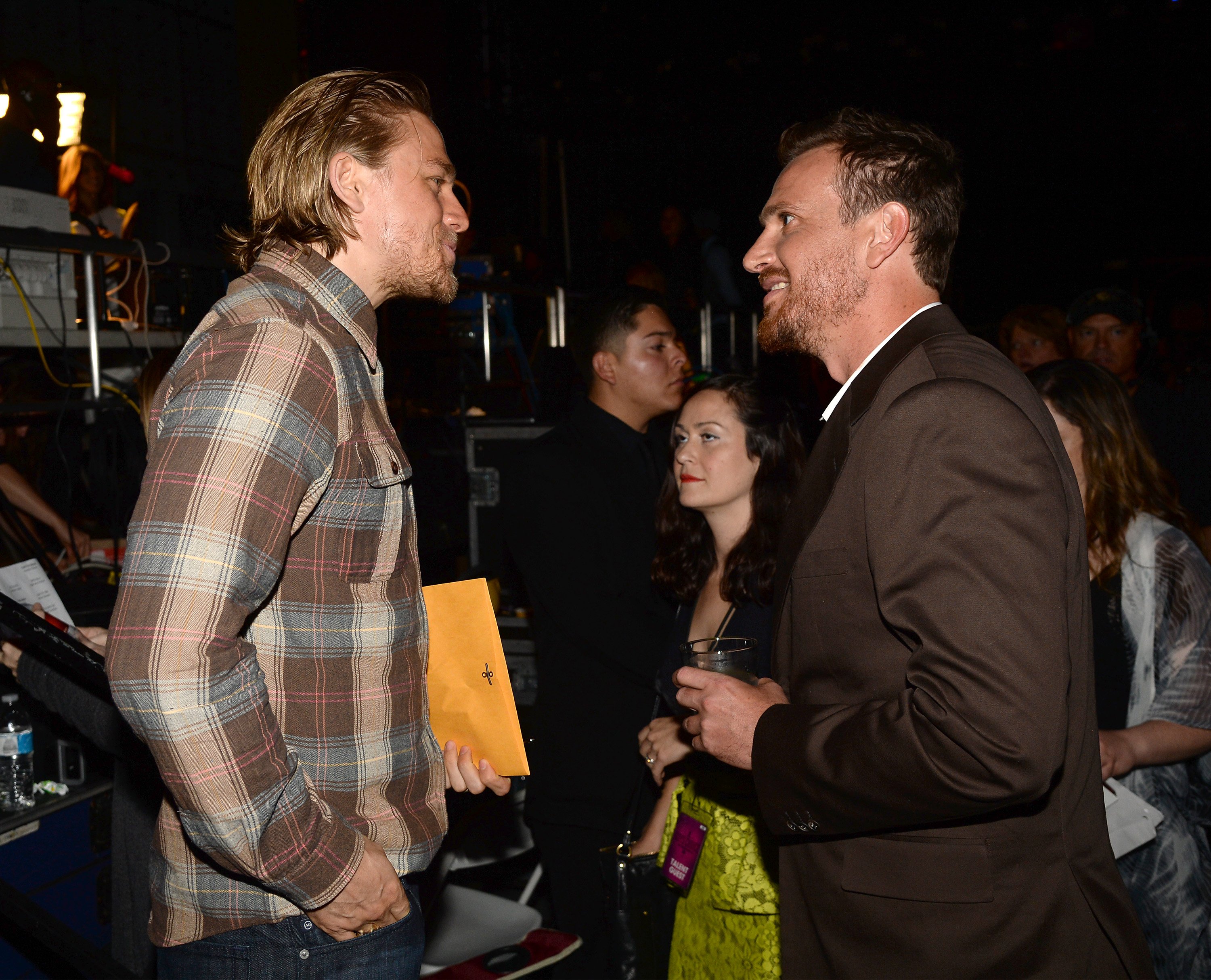 Charlie Hunnam movies and TV shows outside of 'Sons of Anarchy'
Most people know Hunnam from his starring role in the FX series Sons of Anarchy. But outside of playing Jax Teller, Hunnam also stars in movies like The Gentleman, King Arthur: Legend of the Sword, Crimson Peak, Papillon, and Lost City of Z. According to IMDb, Hunnam also has a role in the unannounced series Shantaram.
Jason Segel wanted Charlie Hunnam to play Aldous Snow in 'Forgetting Sarah Marshall' 
Forgetting Sarah Marshall came out in 2008. The Judd Apatow-backed comedy stars Segel, Mila Kunis, and Kristen Bell. Russell Brand plays the eccentric rock star Aldous Snow, who sweeps Sarah Marshall (Bell) off of her feet and away from her boyfriend, Peter (Segel). 
When Segel was writing Forgetting Sarah Marshall, he didn't have Brand in mind for the part of Aldous. "Jason Segel wrote Forgetting Sarah Marshall for he and I to do together," Hunnam tells Collider. "He wrote that [Russell Brand] role [of Aldous Snow] for me." 
Hunnam took part in early table reads for the movie, but he claims he was in a "dark night of the soul" regarding his career. "[I] felt as though I needed to seize the trajectory and [Forgetting Sarah Marshall] wasn't aligning with what I wanted to be doing." 
His decision wasn't personal. Later, Hunnam turned down the role of Christian Grey in the Fifty Shades of Grey trilogy. 
Are Jason Segel and Charlie Hunnam still friends? 
Hunnam first met Segel on the set of Undeclared. The two formed a bond and Segel let their relationship influence Aldous Snow in Forgetting Sarah Marshall. 
"I had to tell him, 'I'm so sorry, I'm not gonna do this,'" the actor explains. "It was one of those things where that wasn't very well received by the inner circle of that production." 
Still, Hunnam stood his ground and insisted it wasn't anything against Segel. "I'm just following my North star," he said at the time. "I'm just in a weird spot, and I'm trying to define for myself what the path forward is.'"
It's unclear where Hunnam and Segel stand today. Although his turning down the role allegedly caused friction with Apatow's team, there seems to be no ill will between Hunnam and Segel. 
Charlie Hunnam doesn't think he could have done Aldous Snow 'justice' the way Russell Brand does
During his talk with Collider, Hunnam discussed his influence on the role of Aldous Snow. "My relationship with Jason gave birth to that character," he admits. "But there's no way I could have done it justice the way Russell Brand did."
As a stand-up comedian, Brand has the experience required to deliver Aldous Snow's lines with an instinctual rhythm — at least in Hunnam's opinion. Having seen Brand's comedy, Hunnam knew he made the right choice in stepping away from the Forgetting Sarah Marshall role. 
"It was just this liberating moment where I said, 'Obviously, that's the dude who should have been playing that role,'" he adds. "Clearly, I just needed to step out of the way of the universe manifesting itself, the way that it was supposed to."