Charlize Theron and Tom Hardy's 'Indescribable' Intensity Caused an Accident for 'Mad Max: Fury Road' Casting Director
Charlize Theron and Tom Hardy "didn't get along" on the set of 'Mad Max: Fury Road,' but their visual chemistry was so intense before filming the casting director had a car accident.
Though actors Charlize Theron and Tom Hardy famously feuded during the filming of Mad Max: Fury Road, their acting chemistry was vitally important to the film's director. In fact, it was seemingly part of the decision to cast Hardy in the first place.
And the film's casting director, Ronna Kress, admitted to being dangerously distracted by the vision of the two stars at first. As a result, she had an accident while she was "just staring" at them.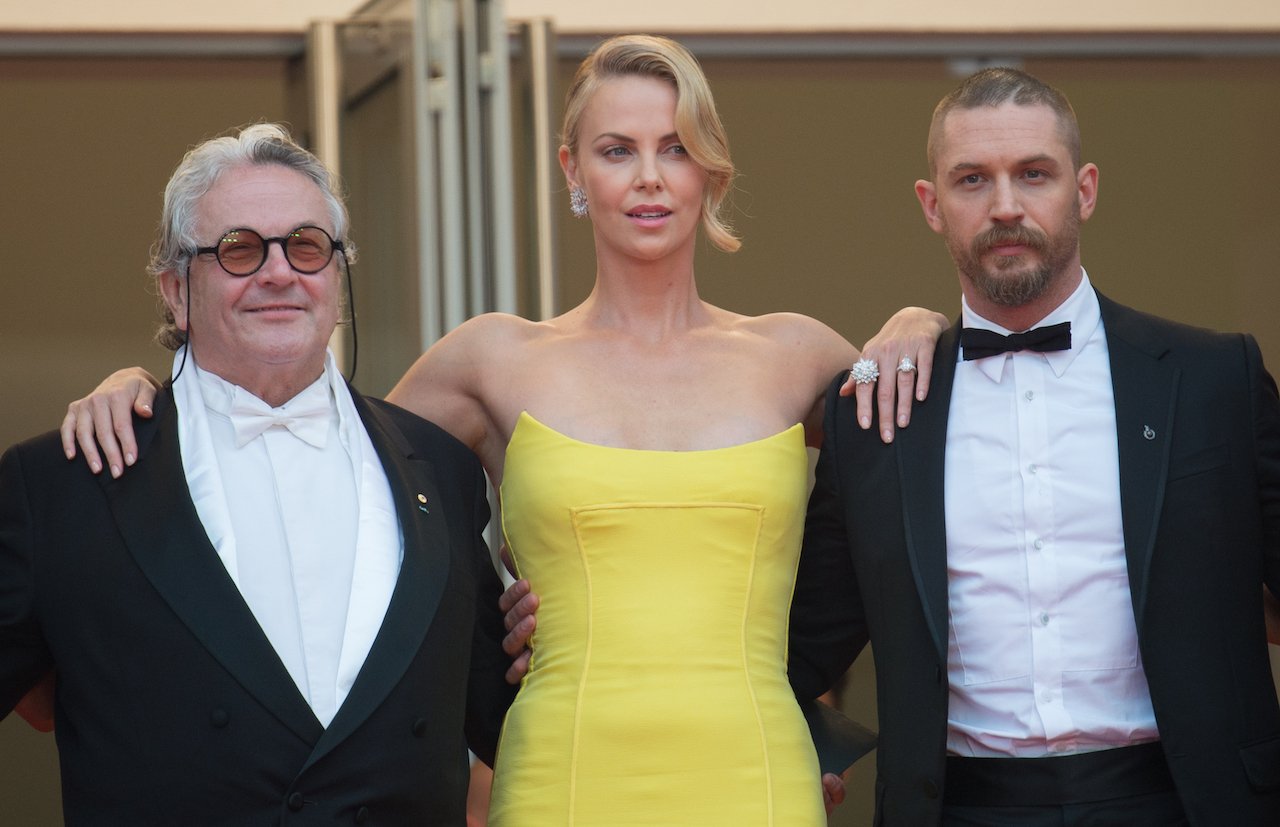 Charlize Theron and Tom Hardy created an 'indescribable, perfect' visual chemistry
Kress spoke to Kyle Buchanan for his new book, Blood, Sweat & Chrome: The Wild and True Story of 'Mad Max: Fury Road'. She was present with Theron and Hardy for the initial conference call with director, George Miller, where he measured their potential to pair up.
According to Variety, Kress said it was "really important for [Miller] to see them together," and that the moment was pivotal in the choice to inevitably cast Hardy in the role. At that point, he was up against actors like Armie Hammer and Michael Fassbender for it.
But Kress said of Theron and Hardy, "Once we saw them, we just knew. It was an indescribable, perfect thing."
'Mad Max: Fury Road' casting director backed into a pole while watching Charlize Theron and Tom Hardy together
After that meeting, Kress told Buchanan she had a moment where she just couldn't stop staring at the good-looking pair. As a result, she seemingly forgot her eyes should have been on where her car was going. "That's how intense it was," she noted.
In Kress' own words: "… They looked so unbelievable together — it was perfect; there was no question in my mind that we had done the right thing — and while I was waving good-bye to them, I backed my car into a pole and crashed the side of my car."
When Theron ran over to assist, Kress told her, "I'm fine. I was just staring at you guys!"
Eventually, Theron and Hardy teamed up. But stories from the set of Mad Max: Fury Road indicate the stars didn't get along for long.
Charlize Theron and Tom Hardy feuded on set despite looking great together
Though the pair created an "intense" chemistry Kress couldn't look away from, things between Theron and Hardy were sometimes a little charged on the film's set.
Co-star, Zoe Kravitz, told Andy Cohen on Watch What Happens Live how she witnessed disagreements between the two. However, when asked by Cohen, she said she didn't know of a specific problem between them. In the end, she chalked a lot of the friction up to just being stuck in the desert together for a prolonged amount of time.
"They didn't get along," she shrugged. "… Everyone was tired and confused and homesick and we saw nothing but sand for six months."
That all sounds pretty rough. But in the years since the film's release, the onscreen duo have spoken about the feud. And individually, they've each expressed more understanding toward the other. Hardy even went so far as to say he feels he could be a better acting partner for Theron with the experience he's gained since then, per the New York Times.
And that occasion seems like something Kress and many others would like to see.