'Charmed' Season 3, Episode 8 Recap: Macy Becomes a Target and There's a Magical Tablet Reveal
Charmed Season 3 has been all about fixing the weird witchy allergy and learning more about the monster prison.
Episode 8 of the TV show picked up with that same energy and focus. Harry, Mel, Macy, and Maggie are juggling their everyday responsibilities, but a new development pops up with the tablet thanks to a major witch problem. Here's a recap of what happened to the Charmed Ones in the latest episode.
[Spoiler Alert: This article contains spoilers for Charmed, Episode 8, "O, The Tangled Web"]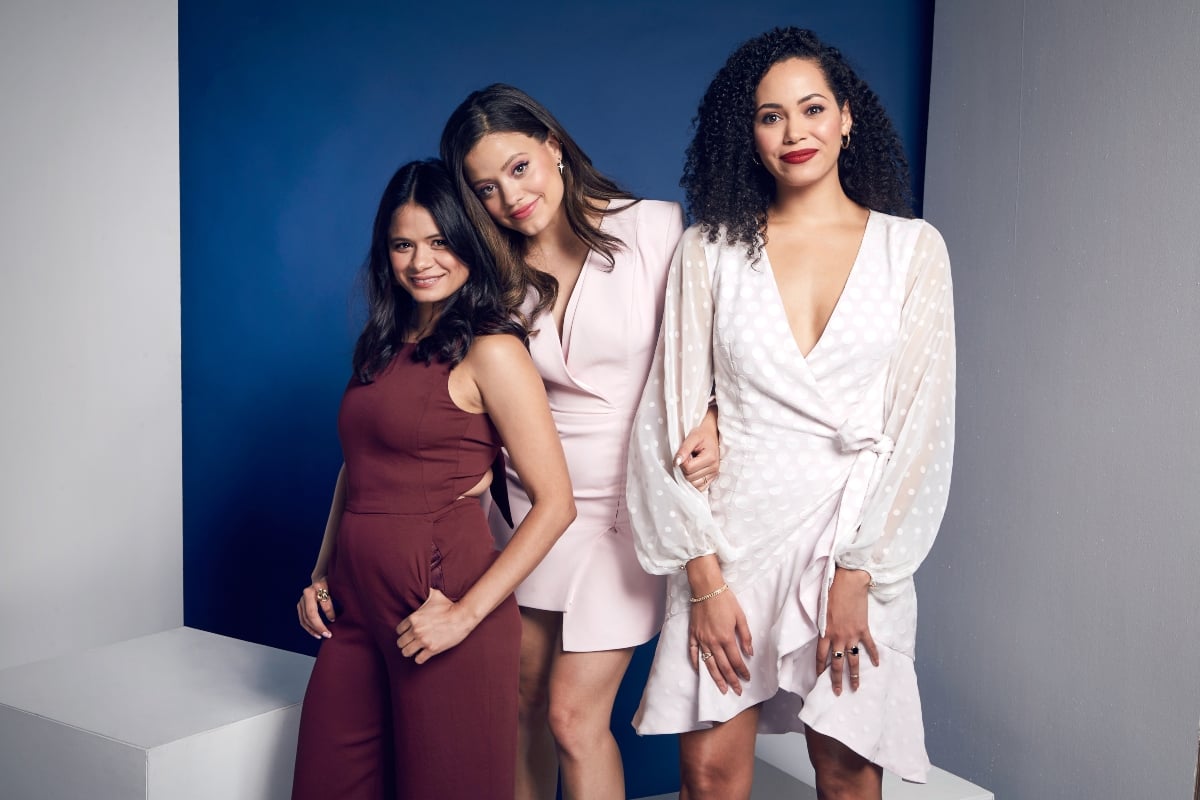 A new mystery unfolds
Macy heads to a meeting at the Shea Group and is greeted by a friendly employee named Ariel. She walks into the elevator but is shown walking out in a different outfit, escorted by security.
Harry and Mel are experimenting with spells to locate the next clue. They learn they need to travel to Oklahoma and teleport there.
 Jordan and Maggie are at his gym working on one of her psychology projects for school. He goes along with her word association test before receiving a call from his firm. They have an assignment for him, and he leaves.
Harry and Mel arrive in the woods and find a wounded witch. She's scared but willing to talk once Mel says she's a Charmed One. The woman says a demon hurt her, and Mel decides to orb her back to base where Harry tries to heal her. After a few attempts, she starts convulsing.
Maggie is still at Safe Space and sits with Macy. She asks her to be part of her only child overachiever test group. Macy is grouchy and refuses. What happened to her at the Shea Group?
In another scene, Jordan arrives at his destination, and it's Abby's place. He's not happy.
Harry and the sisters are in the base discussing Kira, the sick witch. Macy is unusually surly and wants to exact revenge on Abby because she thinks the demons are harming witches. Everyone can tell something is off with Macy, and Maggie follows her. They teleport back to Oklahoma.
Abby is supposed to sign some property documents, but she refuses to until Jordan tells her what happened when he retrieved her demon idol from her sister. He insists he didn't see the sister. Abby refuses to let him leave.
A witchy feud unravels, Abby is hurt
Macy has a flashback while in the woods and sees herself back at the Shea Group. After she went into the elevator, she was ambushed with a sophisticated photo shoot. She had no idea it was planned or that a woman named Lori assigned her to be the spokesperson for malaria.
She zaps back to the present time and focuses on smoke in the distance. Macy thinks it's a demon signal and she and Maggie head toward it.
Abby wants to do a mind meld on Jordan, and he tries to back away. She morphs into demon form and forces it.
Harry and Mel try multiple antidotes on an unconscious Kira, but none of them are working. She foams at the mouth.
Macy loses the smoke streak in the woods and snaps at Maggie. She asks what happened, and Macy flashes back to the office where she's unhappy with the outfit chosen for her. Ariel swaps it out but Lori walks in and makes snide, belittling remarks about her.
She jolts back to the present and she and Maggie come across a woman foraging by a tree, who gives chase. They catch her.
Harry and Mel find a mixture to give Kira, and it temporarily wakes her. Mel is mad about it and decides to visit Abby, who's busy terrifying Jordan with fire balls. Mel teleports in and confronts her. They get into a fight.
Meanwhile, Macy and Maggie learn there's a witch named Willow who attacked Kira with poison darts. With that information, Harry stops Mel from zapping Abby, but not before she tells her she's irredeemable. Abby's feelings are hurt, and Jordan decides to stay behind. He scolds her too but lets her mind meld him.
Back at base, Mel learns Kira was in the wrong. The Charmed Ones chide her for crying wolf and saying she was attacked by a demon. Macy storms off and Maggie follows. Mel takes Kira to set things right back in Oklahoma.
Abby finally signs the papers, but she asks Jordan if she's really irredeemable. He gives her words of wisdom before leaving.
The other tablet half is found
Harry and Mel broker peace between Kira and Willow. Kira just wanted to bury her dead mother with her sisters and mom, and Willow insisted on protecting the sacred ground.
They finally show kindness to one another. Willow hands Kira some runes and Harry notices the symbols on them. They learn there's a Cave of Ancients nearby, and Harry and Mel find the other half of the stone tablet.
Ariel returns Macy's belongings toward the end of the episode, and it's revealed Lori engaged in racist behavior. Macy was escorted out by security when Lori felt "threatened" by Macy for challenging her on the problematic malaria campaign.
The episode wraps with the group gathered at their base to look at the tablet. Both pieces start glowing, and the scene fades out.