Chef Carla Hall Serves Up Post-Fourth of July Spicy S'Mores, Corndogs, and Piping Hot 'Gossip Girl' Tea (Exclusive)
The Chew's Carla Hall is diving into Fourth of July festivities with her kicked-up s'mores and corndog recipes. She dished about why she can't get enough of two new recipes fueled by Tostitos. Plus she talked about her exciting recurring role in the Gossip Girl reboot.
Carla Hall puts a new spin on spicy s'mores
Fourth of July leftovers can be transformed into an entirely new dish with a little ingenuity. "I always take something that is familiar, something that I've loved from childhood," Hall said to Showbiz Cheat Sheet. "And then I do a spin on them because it's something that people can understand instead of starting from way left field."
"Take that thing and you spin it," she continued. "You put a spin on it to make it familiar but also updated. I love, love, love doing that. It also makes me a kid for so much longer when I take a childhood thing like a corn dog. Or Girl Scout camp with s'mores and turn it into something completely different."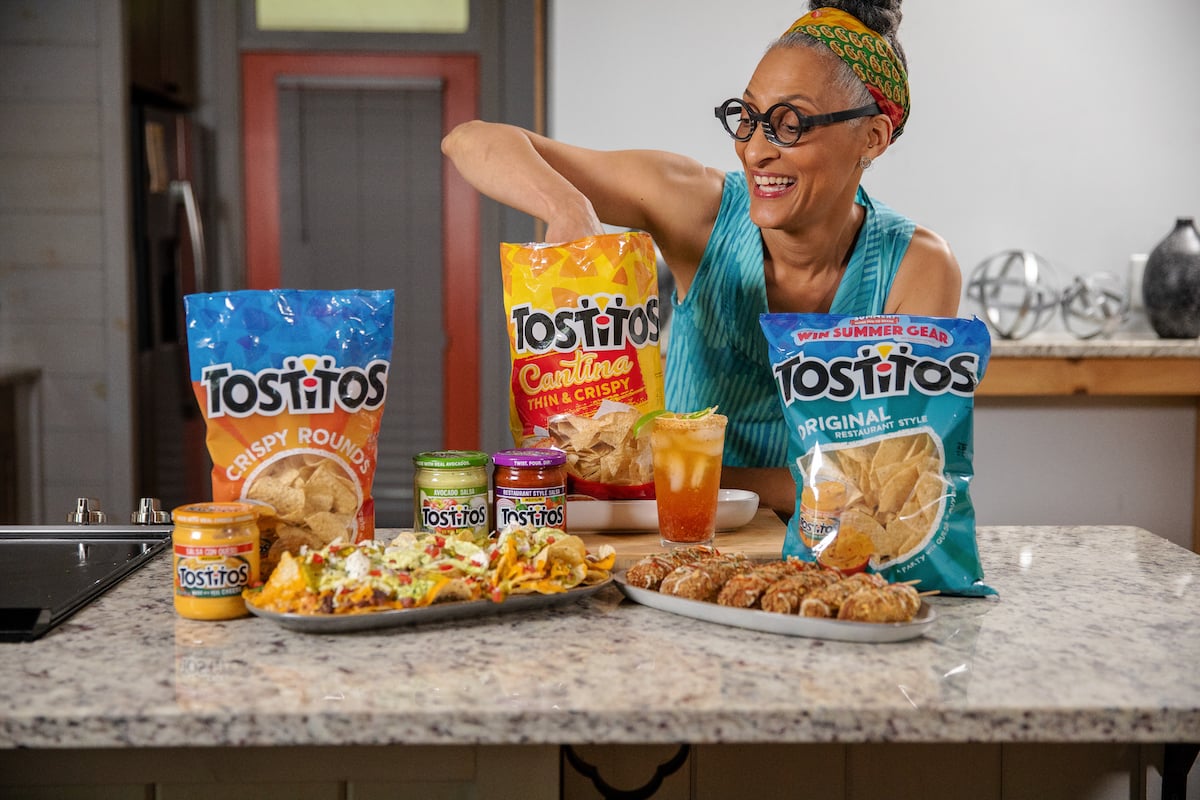 Her s'mores recipe blends sweetness with a little spice, along with the crunch from the Tostitos. She suggests using the leftover chocolate from July 4 and instead of using standard graham crackers for s'mores, consider tapping into some spice.
"Think Mexican chocolate," she suggested. "You take these spicy, habenero, bite-sized chips. And then you have your toasted marshmallows. Put those in the microwave, soften them up, sandwich them with the chocolate, the spice mix and then two habanero chips … you feel like an adult having those s'mores."
Leftover hotdogs get a corndog makeover with Carla Hall's recipe
Not to be outdone, Hall's Tostitos recipe for corndogs will bring day-old cooked hotdogs to life. She creates the corndog coating using Tostito chips, which she puts in a plastic bag and goes to work on it with a rolling pin. "I think it's a great way to get the kids involved because everybody always buys too many chips for the Fourth of July," she said. "So you take those, 'hey, let's crush them up and have it be a fun activity.'"
"So you take that hot dog on a stick, dip it into a glass with the corn dog mix," she described. "And then come out, roll it into the tortilla chips and then those Tostitos and then you go into the fryer gently."
"And it's not over," she added. "Because you get that crunch, you get more corn. You're doubling down on the corn. And then when it's all done, you take the ketchup and you drizzle that. You take mayo and then you take cilantro." She said the cilantro is optional and some people substitute it with parsley.
Carla Hall will be serving up the drama on 'Gossip Girl' reboot
While cooking is Hall's passion, she's also an actor. She'll play a cook on HBO Max's Gossip Girl. Hall was a huge fan of the original series, which is why being in the reboot is even more special. "I can't believe they asked me to come in for some cameo parts," she gushed. "Actually, it's not a cameo. I've got a role! I'm not Carla. I am a character!"
"I'm still a cook," she teased. "My character's name is Rocky, but I am super excited about this." While she remained tight-lipped about details, she leaked that she is in more than one episode. Plus, "I cook for one of the prominent families on the show."
Hall is also happy with how the series has evolved from the original. "Well, you have more diversity. There's just a lot more different cultures and people who are at the school in the Upper East Side. It is sexy, I'm just saying. The show is so sexy. You have some shenanigans that are going on. You have drama upon drama. Lots of things to gossip about, lots of things to talk about, relationships come and go."
Hall's complete recipes will be released on July 5 on Tostitos.com.
RELATED: 'Gossip Girl': Fans of 'You' Will See a Familiar Face