Chef Marcos From 'Below Deck' Reveals He Stopped Cooking After Horrific Injury – 'I Was Traumatized' [Exclusive]
Chef Marcos Spaziani from Below Deck Sailing Yacht said tearing the piece of scalp from his head was nothing compared to a hideous burn he received in the kitchen.
Spaziani sustained a significant head injury on the show when he hit his head in the bilge literally ripping the top of his head. He soldiered on, almost immediately and cooked for the guests without thinking twice. And while that injury was intense, a burn he sustained a few years ago was so horrific, he stopped cooking for a year because he was traumatized.
Chef Marcos left his job as a chef because he was traumatized
During a Zoom interview with Showbiz Cheat Sheet, Spaziani pointed to a scar down his forearm. "I burned my arm," Spaziani recalled. "Well, it was from the oven. I pulled out [a tray of] fish, a lot of oil, and I got burned, second and third degrees. And I drove myself to the hospital. I couldn't wait for 9-1-1. Yeah, it was bad. I could see my arm melting and bleeding."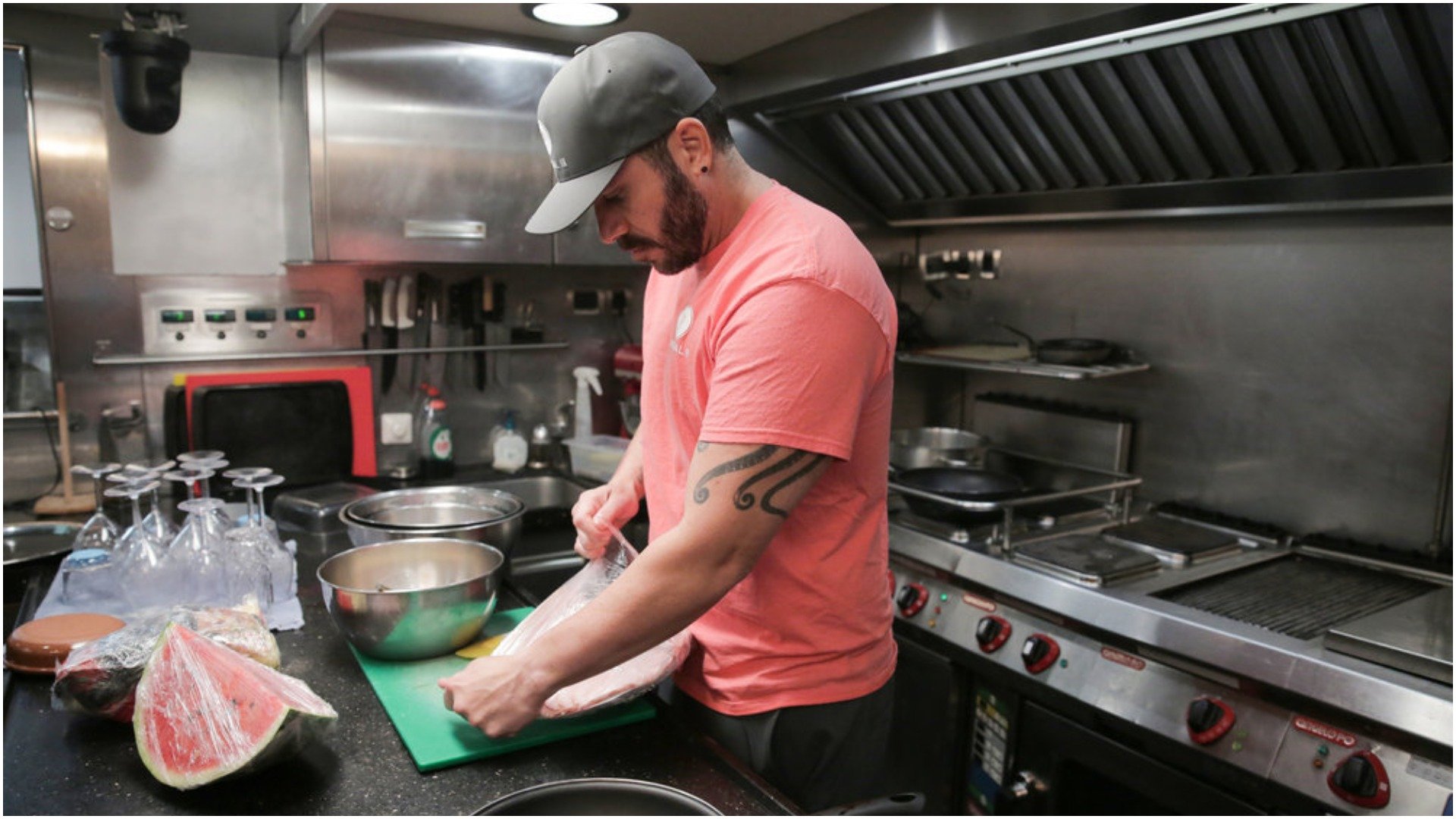 Burns are common for chefs and he recalled the kitchen being extremely busy at the time. "We were so busy at the restaurant," he recalled. "And I couldn't find a spot to put [the tray with the fish]. So I put it in kind of a high level and then it got moved and all the oil [splashed him]. It was bad. It was bad news."
"When you see blood, it's bad on a burn," he added.
He had to find another career
Despite his love for cooking, Spaziani was completely traumatized after being severely burned. "I just retired from the kitchen," he shared. "I got traumatized and I retired from the kitchen for a year."
He needed to work so he turned to one of his other passions – the ocean. "I became a lifeguard," he said. "I'm a surfer. I've been on the ocean all my life. So I said, what can do to actually keep making money? I can be a lifeguard. So I did the test. I passed the test and I was a lifeguard for a year." Spaziani's love of surfing and the ocean is clear from his Instagram. He's also a skilled skateboarder.
Although he was on the water every day, being a lifeguard didn't make him as happy as being a chef. "It just kind of got boring, you know? So then I went back to the kitchen. Actually, I was traumatized more as a lifeguard, trying to stop people from almost drowning," he laughed. "Or dealing with broken bones."
Chef Mathew Shea suffered a serious burn on 'Below Deck Med'
Thankfully Spaziani's scalp injury didn't sideline him. But a burn on Below Deck Mediterranean Season 6 almost ended chef Mathew Shea's season. Shea grabbed for a hot pan with his bare hands and sustained a second-degree burn, the worst in his career.
"I had a sheet pan on the burners and I was frying something," he told Showbiz Cheat Sheet. "And I had a paper towel on that. I should have just had a baking sheet as a drip tray. And the [stove] knobs kept turning. I don't know, like every time you would bump into them, they'd go to high heat."
"So the burner was on beneath the pan that had a paper towel on it and the paper towel caught on fire," he said. Worried about the fire, Shea grabbed the flaming pan with his bare hand. "I just grabbed the pan with my hand and brought it across the kitchen and put it on the sink."
A new episode of Below Deck Sailing Yacht airs at 8 pm ET/PT on Monday on Bravo.
RELATED: Below Deck's Gary King Reveals Chef Marcos Kept His Torn, Bloody Scalp Under His Pillow