Why Cher Said She 'Got A Colonic' to Celebrate Madonna's Birthday
Cher and Madonna are two of the biggest names in pop music history, but there is no love lost between the two cultural icons. Cher has been very vocal about her feelings toward the 'Frozen' singer, including telling the world on Twitter that she "got a colonic" to celebrate Madonna's birthday. 
Here's what Cher said and the history of her feud with Madonna.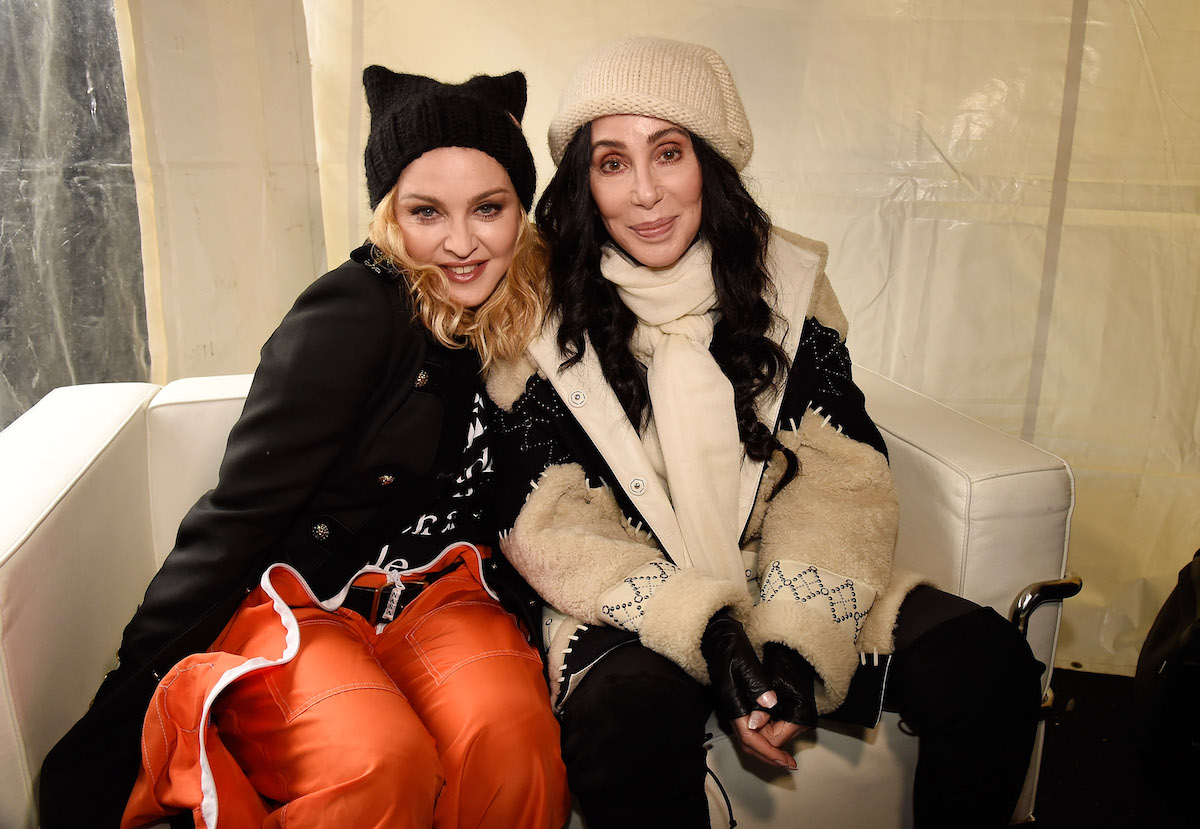 Cher and Madonna have feuded for decades
Cher has been candid about her negative opinion of Madonna for decades. In a 1991 interview with CBS, she called the Dick Tracy star "mean" and "rude."
"There's something about her that I don't like. She's mean. I don't like that," Cher said (via Mirror). "I remember having her over a couple of times because Sean [Penn] and I were friends, and she just was so rude to everybody. It seems to me that she's got so much … she acts like a spoiled brat all the time."
The same year, Cher gave Madonna a backhanded compliment on the talk show Wogan. "She's unbelievably creative because she's not unbelievably talented, she's not beautiful, but she's kind of, she's rude," Cher said.
She mentioned the "Vogue" singer again during a 2018 appearance on The Ellen DeGeneres Show. During a game called "5 Second Rule," Cher had to answer a series of questions as quickly as possible. When asked which three celebrities she would like to perform a duet with, the Moonstruck star took the opportunity to shade Madonna again. 
"Oh, Adele, Pink, and, uh, um, not Madonna," Cher quipped. 
Cher tweeted that she 'got a colonic' in honor of Madonna's birthday
Although Cher has shaded Madonna many times over the years, she made one of her funniest – and most vulgar – comments about the superstar on Twitter.
On Aug. 21, 2012, a fan tweeted Cher to ask how she had celebrated Madonna's birthday. The "Material Girl" singer was born on Aug. 16, so the question came a few days after Madonna's date of birth. The "Believe" singer wittily responded, "I got a colonic.RT"
Fans loved her response, tweeting comments like, "Best tweet of the day" and "this is a riot!!"
Another Twitter user said, "cher i think that was your best tweet EVER." And one fan commented, "Love you Cher! I needed that b—-y laugh!"
It's safe to say that fans got the joke, and nobody seemed too offended by the laugh at Madonna's expense. 
The 'Strong Enough' singer walked back her comment
Cher has since walked back some of her negative comments about Madonna and has even offered some words of praise for the Evita star.
In a 2018 video for Behind The Tweets, Cher clarified that she didn't actually get a colonic on the "Hung Up" singer's birthday. 
"I said I had a colonic. I didn't, really, but I thought it was really funny. It made me laugh," Cher explained. "Sometimes, I just like to make myself laugh."
The "If I Could Turn Back Time singer has also complimented Madonna since writing the humorous tweet. In a 2013 Reddit AMA, Cher admitted that she respects Madonna, even calling her "one of the most amazing artists [she's] ever known." 
When asked by a Reddit user if she hates Madonna, Cher responded, "Madge, no. Actually I don't. I never hated her, I just thought she was a b—-. Actually I quite respect her.
"Actually I think Madge might be one of the most amazing artists I've known. I don't like everything she does, for sure, but she is always riding the crest of the wave. She always saw trends WAY before anyone else, and had great videos."