'Chesapeake Shores' Season 5 Finale: Who Did Abby Choose — And Is [Spoiler] OK?
The 'Chesapeake Shores' Season 5 finale left us with so many unanswered questions, including a big one about a beloved member of the O'Brien family.
Chesapeake Shores went out with a bang. The season 5 finale of the Hallmark Channel series, which aired Oct. 17, ended on a couple of major cliffhangers. 
The first had to do with Abby O'Brien (Meghan Ory), who has made a decision about whether to pursue a romance with new-in-town billionaire Evan (Robert Buckley) or teacher Jay (Greyston Holt). The second involved another member of the O'Brien family, whose fate was very much up in the air when the credits rolled. 
[Warning: This article contains spoilers for the Chesapeake Shores Season 5 finale.] 
Evan makes a romantic gesture in the 'Chesapeake Shores' Season 5 finale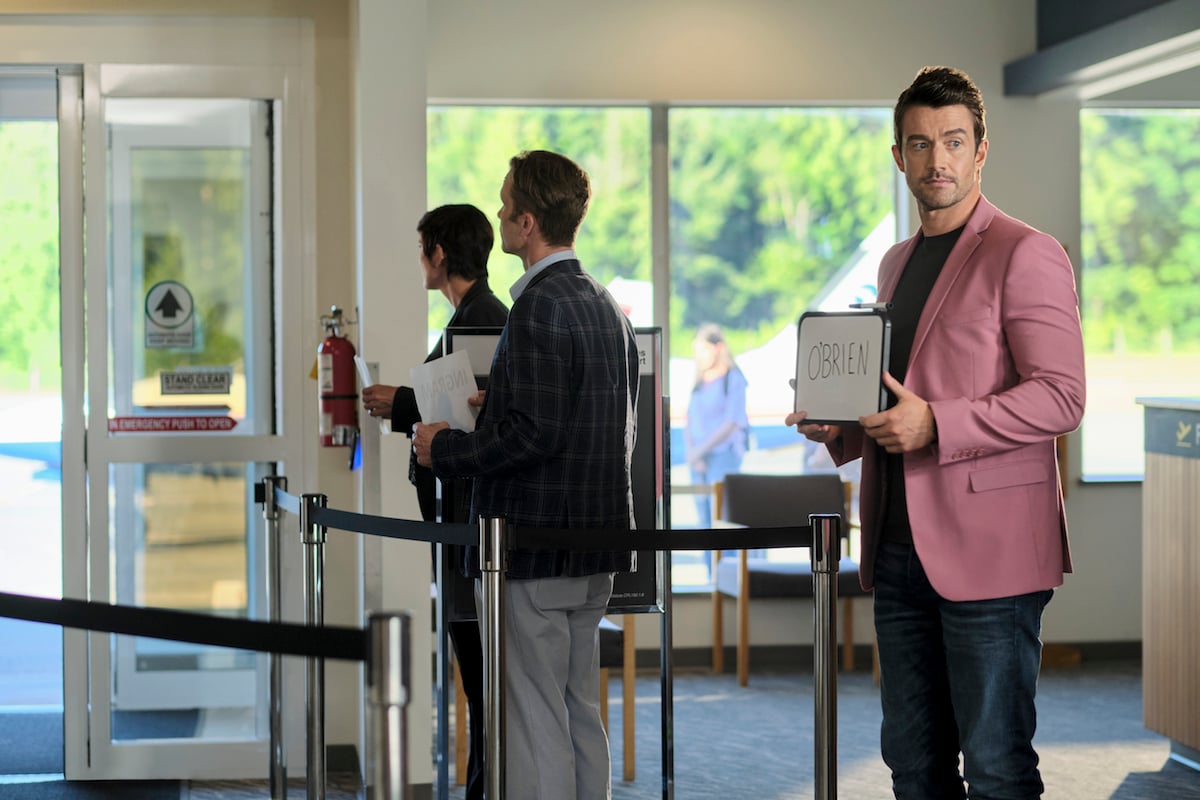 Last week, Evan realized he was interested in Abby, even asking her dad, Mick O'Brien (Treat Williams) for permission to ask her out. In "That Old Feeling," he decides to make a gesture to show her he cares. Mandrake (Wesley Salter) wisely talks him out of his sweet-but-cheesy first idea — showing up at the airport with a single red rose. Instead, Even decides to surprise her by driving her home after her flight. They stop for lunch, and he asks her out on a date, but she's hesitant. He convinces her to give it some thought before giving him her final answer. 
While Abby is mulling over whether to take Evan up on his offer, Jay also decides to open his heart. He admits he has feelings for her, but there's another woman — a counselor at the school where he works — whom he also likes. He doesn't want to pressure Abby, but unless she can give him some hope that their friendship might turn romantic, he's going to pursue things with his coworker. 
Who did Abby call? 
Abby just ended her on-again, off-again thing with Trace (Jesse Metcalfe) earlier this season, and she's not sure she's ready to date anyone right now. But after mulling things over, she decides to give things one of the guys a chance. At the end of the episode, she leaves one of them a voicemail. 
"I have been thinking about you, and I think maybe we should give this a try," Abby says. But is she leaving a message for Jay or Evan? The episode ends before the big reveal. But it seems like there's a solid chance it's Evan she's calling. A romance between the two has been building all season, while Jay and Abby have spent significantly less time together. Having Abby date Evan just seems to make more sense at this point. 
Sarah and Kevin move forward after a loss in the 'Chesapeake Shores' finale 
Abby wasn't the only member of the O'Brien family with a lot going on in the Chesapeake Shores season finale. 
Sarah (Jessica Sipos) is devastated following her miscarriage. Kevin (Brendan Penny) only makes things worse when he tells his parents about what happened — something she specifically asked him not to do. But the disclosure ultimately brings Sarah some peace, as she and her mom (Barbara Niven) have a heart-to-heart about Megan's own pregnancy loss. 
Meanwhile, David (Carlo Marks) discovers that his dad has cleaned out his trust fund. When he heads up to Boston to get confront him, he discovers his father is wanted for wire fraud and has fled the country. 
Finally, Mick and Megan tell their kids about their round-the-world trip plans, which doesn't go over as well as they expected. Then, Megan gets the job offer of a lifetime when Carter (Barclay Hope) offers her a position at the Getty in Los Angeles. She's hesitant, but Mick urges her not to give up on her dream. She comes up with a plan — work at the Getty for six months, then take six months off to travel. But then Mick learns that Carter will also be in LA, which gives him pause. Megan asks him to trust her. "Trust you not to leave me again? I don't know if I can," he replies.   
Is Connor going to be OK?  
As Mick and Megan debate their future, Connor (Andrew Francis) is on the verge of starting a new relationship with Margaret (Ralene Harewood). He's been working himself to the bone to prove that Luke (Stephen Huszar) didn't fail his drug test. (It turns out, the sleeping medication he took resulted in a false positive.) After clearing Luke's name, Margaret comes up with a way to relax, presenting him with a s'mores kit. They toast their marshmallows, then share a kiss. But then Connor suddenly collapses. Margaret frantically calls for help and all the O'Briens rush to his side as Mick calls 911. 
Will there be a 'Chesapeake Shores' Season 6?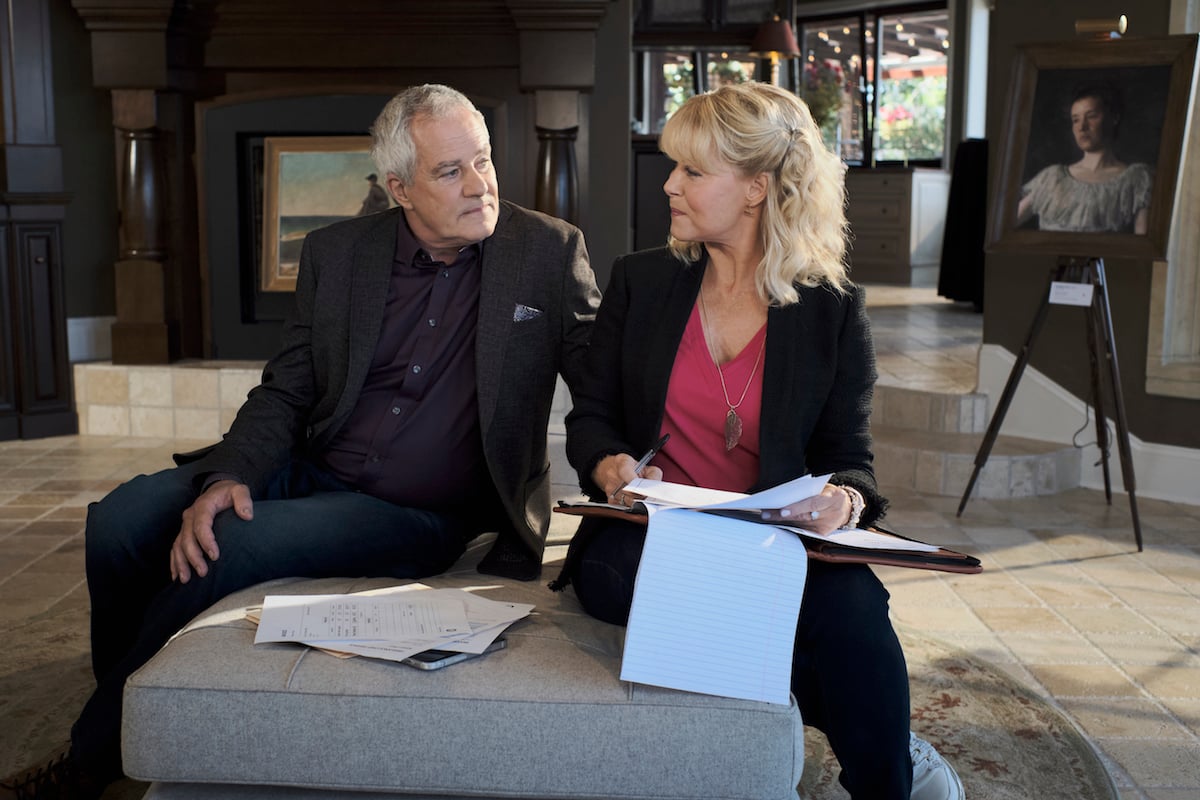 Unfortunately, Chesapeake Shores Season 5 ends on a major cliffhanger, leaving us unsure of whether Connor survived his apparent heart attack. And that's hardly the only question the episode leaves unanswered. Will Sarah and Kevin achieve their dream of starting a family? What's going on with David's dad? Will Mick and Megan make things work? (Also on our mind: what seems to be Mick's growing dependence on painkillers.) And did Abby choose Jay or Evan? 
So far, Hallmark hasn't made any announcements about whether there will be Chesapeake Shores Season 6. But with such a dramatic ending, our fingers are crossed for a swift renewal. 
Check out Showbiz Cheat Sheet on Facebook!