'Chicago Fire' Regularly Consults Firefighters to Keep the Show Realistic
The shows in the Chicago trilogy are some of the most popular shows on television right now, and Chicago Fire is no exception.
Chicago P.D., Chicago Med, and Chicago Fire all show characters striving to do their best at balancing relationships and their work in extremely important areas in Chicago: the police department, a medical center's emergency room, and a fire department, respectively.
The first of all the Chicago shows, Chicago Fire first aired in 2012 and has already run for 8 seasons. It was recently confirmed for at least 3 more seasons, which means that Chicago Fire fans have a lot more firefighting action to look forward to.
Chicago Fire's cast is known to take their roles as firefighters very seriously, even training with the Chicago Fire Department to learn how to put on gear and pry open doors.
However, some don't know that one of the most beloved characters on the show is actually a firefighter in real life, and he keeps his costars in check about how a real firefighter would act.
'Chicago Fire' takes cast training very seriously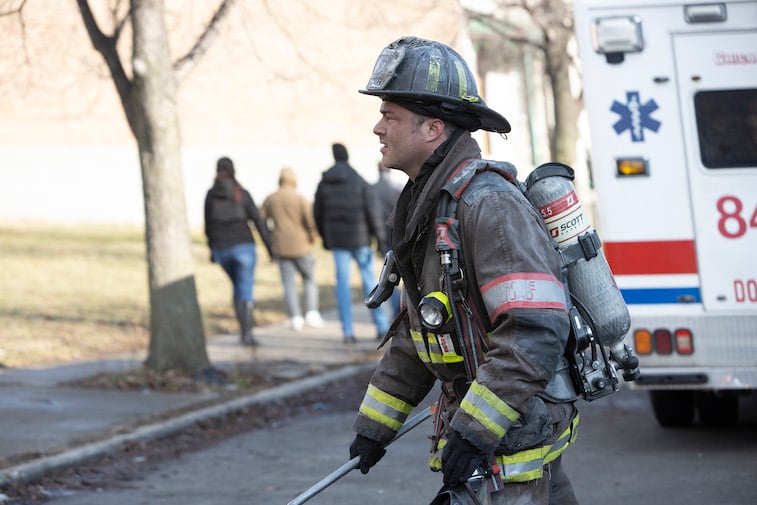 Rather than putting a bunch of Hollywood actors into a show about a fire department with no training, the creators of Chicago Fire decided to improve the believability of their show by investing time and energy into training their stars on what being a firefighter is all about.
For several weeks before the show started filming, the actors visited the Chicago Fire Department and received training. They learned how to put on their firefighting gear, how to pry open locked doors, and how to navigate spaces with low visibility because of smoke. Star Taylor Kinney has relieved that he even got to do ride-alongs with real firefighters to prepare for his role.
"I spent a day with them doing ride-alongs and Squad 3 in the city. And, you know, it's – we went through a training regimen at the fire academy with Steve Chikerotis who's – serves as an advisor on our show and I want to say he's the battalion chief here in Chicago. And his experience and his knowledge has been invaluable," he revealed.
Real firefighters act as consultants on 'Chicago Fire'
RELATED: 'Chicago Fire' Fans Think It's Time for Lieutenant Herrmann to Get What He's Earned
To take matters further, the set of Chicago Fire also hires real firefighters to come and act as consultants on the show to ensure that everything is being done how it would be done in real life.
"I think one of the best things is that they're just always on set as well. You know, they're coming from a shift the day before or about to go to one the next day. And they swap out and change and so we get a really sort of nice cross section of, you know, the real guys doing the real job. And I think that's really been invaluable to us," Chicago Fire star Jesse Spencer once said.
Most of the firefighters are on set just to consult, but some of them are hired as extras – and one of them has even landed himself a recurring role on the show!
Tony Ferraris is a firefighter in real life
One of the show's most beloved characters, Tony Ferraris, is actually a firefighter in real life (his name is actually Tony Ferraris, as well)! He's shared that he became involved when he saw the casting for extras in an email from the firefighters' union, and the directors wanted him to play a bigger part in the show.
He's also been asked to consult on storylines to keep the show realistic. He's quoted as saying in an interview with Wolf Entertainment:
"I talk with Derek (Haas) and Michael (Brandt). I tell them if we have a crazy call or things we say, but they ask me a lot too. In the beginning, Derek would come to the firehouse and ride with me when we were working. There are certain guys at the firehouse who always say something funny or sassy to say, so I tell them those type of things. They'll ask me things like, 'Hey, if you're forcing this door open, how would you do it?' But our job, fighting fires, is stranger than fiction."
Chicago Fire's dedication to staying true to the profession of firefighting has paid off, and fans can't get enough.