'Chicago Med': Natalie and Crockett Seem Destined to Get Together and Fans Hate It
Chicago Med, one of NBC's Chicago series (the others being Chicago Fire and Chicago PD), is one of the most popular TV dramas on air right now. As you can probably guess by its name, Chicago Med features a medical center (while Chicago Fire and Chicago P.D. are set within a fire department and a police department, respectively). The show premiered in 2015 and has been an enormous success.
In recent episodes, two of the show's main characters, Natalie and Crockett, have seemed like they might be headed for romance. While some fans are excited about this possible love story, others are fervently against it. Why are some fans totally against these two getting together? Read on to find out what they're saying.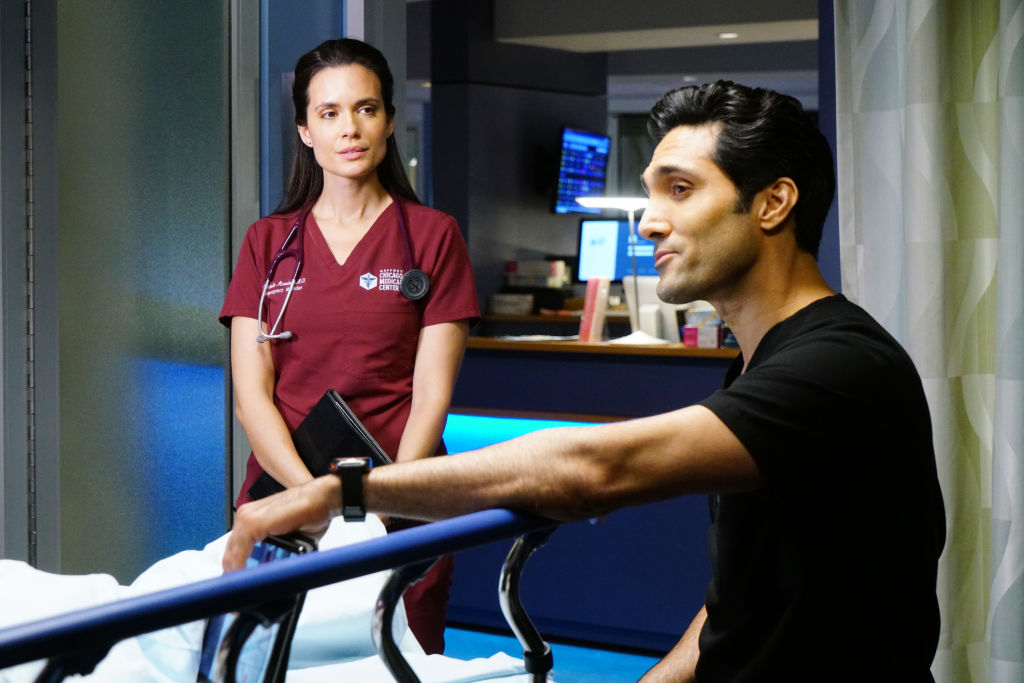 What is Chicago Med about?
Much like other medical shows, Chicago Med follows a group of doctors and nurses in a fictional medical center in Chicago as they grapple with intense work situations and try to balance personal relationships both within and outside the hospital. And again like their medical show predecessors, Chicago Med brings the drama, both in the emergency room and with blurring the workplace relationship boundaries.
The main characters include Dr. Daniel Charles, played by Oliver Platt, Dr. Natalie Manning, played by Torrey DeVitto, and Dr. Ethan Choi, played by Brian Tee. With an excellent cast and formidable writing, it's no wonder the show is one of the most popular on television today.
The relationship between Crockett and Natalie
A newer character in the show is Dr. Crockett Marcel, who is played by actor Dominic Rains. Crockett is the new surgeon who arrives at Chicago Med's emergency department, who is known for partying a little too hard and breaking a few too many rules. Nobody expected these two to become romantically involved, but the season 5 finale surprisingly brought them closer together.
We won't include any specific spoilers, but a murder plot led to some dark secrets that were revealed about Crockett's past. The showrunners have said that although Crockett will escape the big trouble that's followed him from Louisiana, his past will continue to affect his relationships at the medical center, particularly the one he has with Natalie. The end of season 5 leaves Crockett and Natalie not yet in a romantic relationship, but viewers can feel that sparks are flying between them – and not all of them are happy about it!
Fans aren't happy about the Natalie/Crockett romance
A Twitter account who posts updates about all three of the Chicago shows recently asked fans about their opinion on this surprising pair: "Any #ChicagoMed fans excited to see Crockett and Natalie get together? Tell us what you think since the show certainly seems headed that way!"

An overwhelming majority of fans who responded to the Twitter thread said that they weren't in agreement with the Natalie/Crockett romantic storyline. The thread is full of "No"s and "Nope"s, but some fans expanded further on why, exactly, they didn't like the two characters together. One person wrote: "No, he creeps me out as Crockett seems to be hiding things and seems to have a shady past." It does seem clear that Crockett comes with a lot of baggage, and it's understandable that Natalie's fans don't want her getting involved in that.
However, the most common reason cited by fans was because they want Natalie to get back together with her former love, Will Halstead. "I don't even want to think about it happening but if it does I just have to say that they will NEVER be like my Manstead," one person tweeted, referring to the cute nickname given to the fictional couple. Others echoed these sentiments: "No! Manstead only!" another fan wrote. Chicago Med writers might want to consider putting Natalie back with Will if only to appease fans!