'Chopped' Judge Maneet Chauhan's Best Meal Is a Nashville Find
When it comes to delicious treats, many people look to chefs for their take on the best snacks, sweets, and delicacies. After all, culinary experts have tried it all, and have the experience necessary to know when something is truly crafted with love and expertise.
One of Chopped's fan-favorite judges recently opened up about her all-time favorite meal, and for many fans, this celebrity chef's pick is a little unexpected — but it still sounds wildly delicious nonetheless. 
Who is Maneet Chauhan?
Born in 1976, Maneet Chauhan was raised in India and developed an appreciation for the culinary arts at a very young age. Chauhan studied at the Manipal University's WelcomGroup Graduate School of Hotel Administration in Manipal as the first phase of her culinary journey, ultimately moving to New York after graduation.
When in New York, Chauhan attended the Culinary Institute of America, graduating at the top of her class.
In 2000, right after her graduation from culinary school, Chauhan was hired as the manager for a startup restaurant based in New Jersey. She became so successful at such a young age that restaurateurs everywhere sat up and took notice.
In 2003, when she was only 27 years old, Chauhan was hired as the executive chef of the prestigious restaurant Vermilion. In the years since Chauhan's star has risen even higher in the culinary world, and she has gone on to open and helm several other major restaurants, eventually opening her own eatery in Nashville, Tennessee, in 2014.
What is Maneet Chauhan best known for?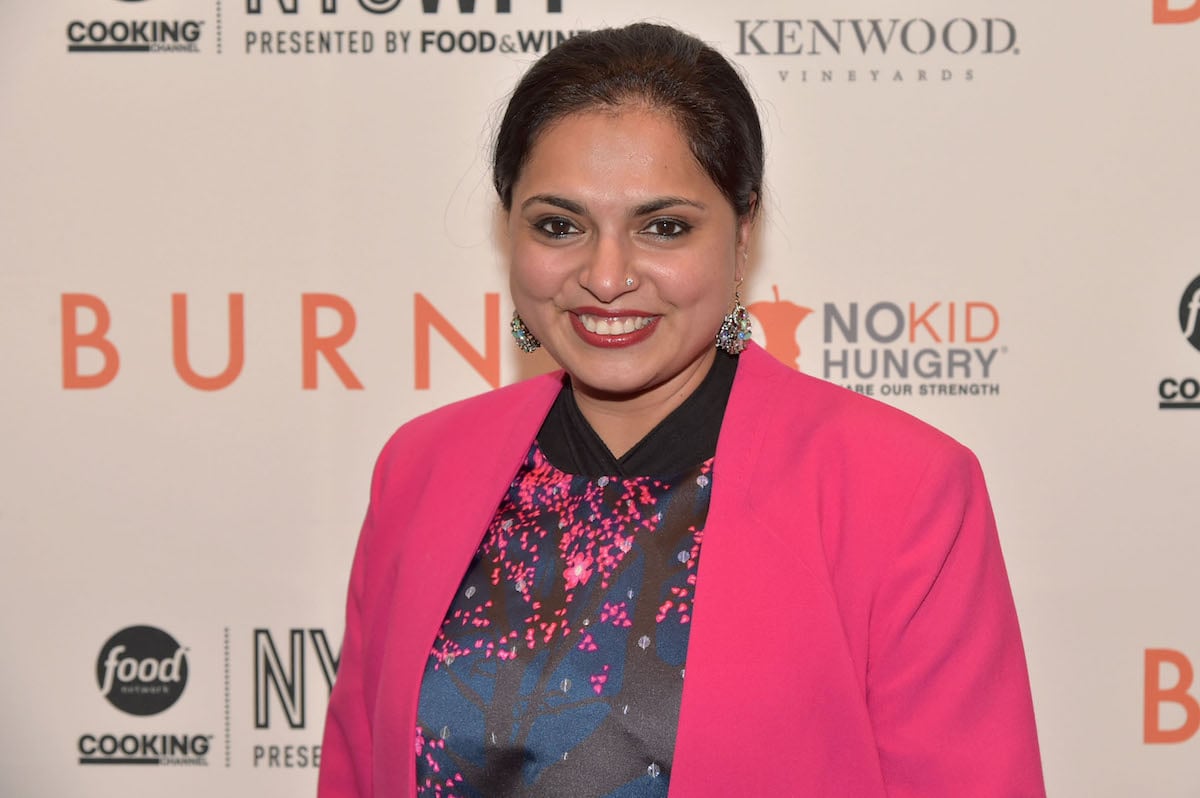 In addition to her work in restaurants, Chauhan is a bestselling author. She has written two books, Flavors of My World: A Culinary Tour Through 25 Countries, and The Journey. However, to those who don't work in the culinary space, she is far and away best known for her work as a judge on the Food Network series Chopped.
On Chopped, Chauhan interacts with contestants as they struggle to create intricate meals from a basket of seemingly mismatched ingredients. The show can be tense at times, but Chauhan always seems to know how to make contestants feel good about what they created — even when the dish itself doesn't look incredibly appealing.
Contestants aren't the only ones who love Chauhan — viewers at home have raved about how good she is on the show, and how her presence provides the series with a "breath of fresh air." 
What is Maneet Chauhan's favorite meal?
These days, Chauhan continues to keep it real on Chopped. She's also a regular contributor to social media, regularly updating her Instagram with details on her latest projects and plans.
Through it all, Chauhan has not lost her passion for food, and recently, the celebrity chef opened up about what she considers to be one of her favorite meals of all time.
"I am obsessed with the golden eggs at Tànsuo," Chauhan admitted. "The unexpected experience from the crunchiness of the sesame seed to the chewiness that you get from the rice flour. The filling is amazing as well: the umami from the mushroom filling is so satisfying and I just love the silken tofu."
The eatery is located in Nashville, the same city as Chauhan's other eateries. The Chinese-inspired restaurant is Chauhan's second restaurant. For fans, grabbing a bite at Chauhan's first restaurant, Chauhan Ale & Masala House, is likely the ultimate destination, but a quick detour to Tànsuo probably wouldn't be too bad as well.