'Chopped': Maneet Chauhan Needs Her Own Cooking Show ASAP
The Food Network is chock-full of interesting personalities, from colorful extroverts like Guy Fieri to more laid-back, dignified chefs like Ina Garten. Viewers tend to have very specific favorites and don't hesitate to discuss their chef of choice on forums like Reddit.
Recently, a fan posted a question to Reddit, challenging fans to name which judge on the popular competition show Chopped they would like to see at the helm of their own cooking show — and the response from many fans was quite surprising. 
Maneet Chauhan is a judge on 'Chopped'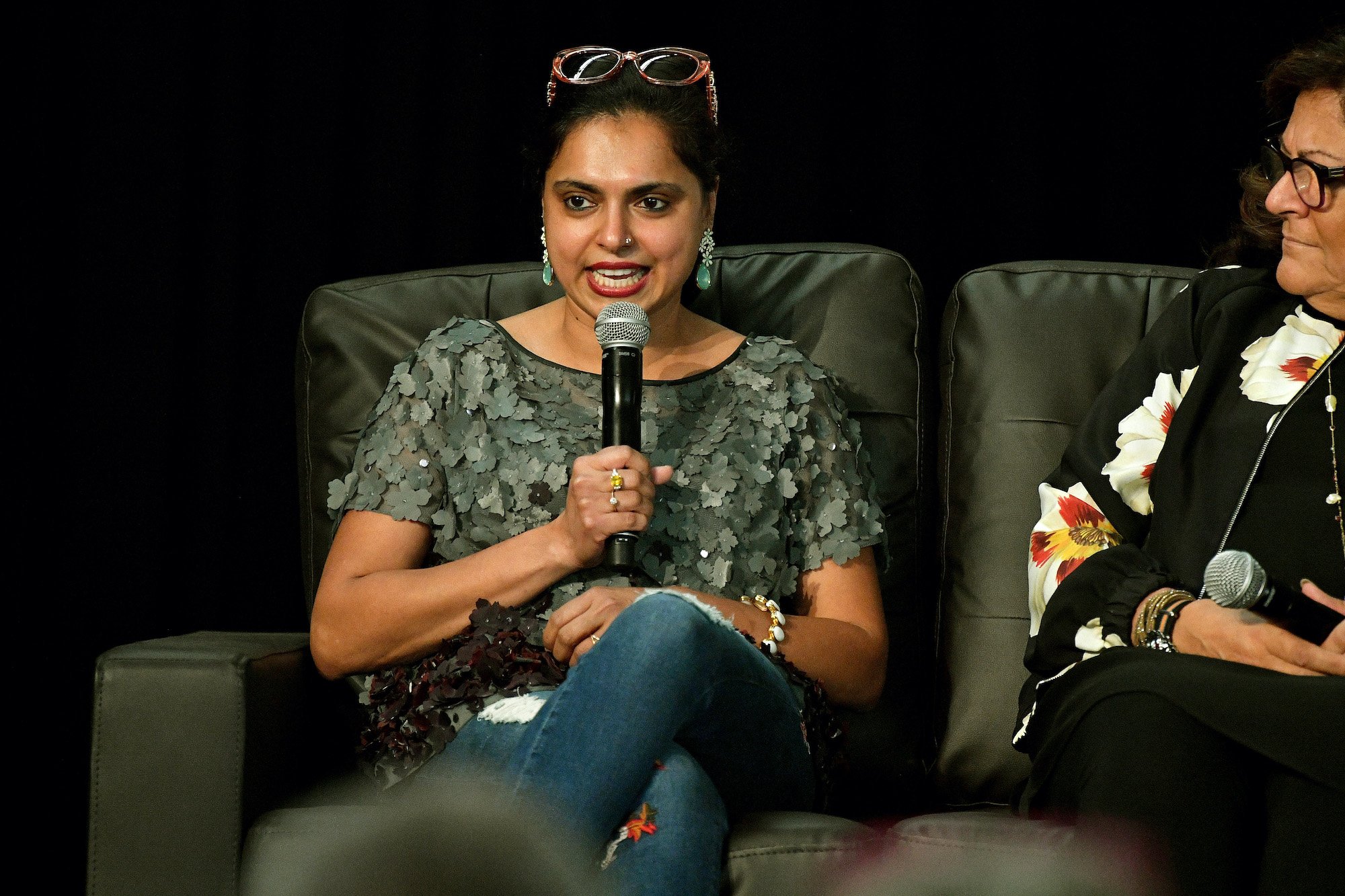 Chopped is a cooking competition show that has been on television since 2009. Contestants on the show must complete three rounds, where they prepare an appetizer, a main dish, and a dessert, all created using random ingredients in a mystery basket.
The show has spawned multiple spinoffs and to this day, remains one of Food Network's most-watched programs. 
In addition to watching the contestants frantically scramble to prepare top-notch dishes, viewers have grown to love seeing the judges themselves interact with the contestants, and of course, taste the finished dishes. Over the years, many celebrity chefs have appeared on the show, from Ree Drummond to David Burtka.
However, fans have a definite favorite among the circle of Chopped judges, and that is Maneet Chauhan. 
What do fans think of Maneet Chauhan?
In a recent Reddit thread, fans posted their picks for the Chopped judge whom they would most enjoy watching in their own cooking show. Maneet Chauhan, a longtime judge on the show, was the hands-down favorite. As one fan posted, "she's such a breath of fresh air."
Fans called the chef "delightful" and pointed to a Thanksgiving episode of Chopped, where Chauhan cooks with her sister, as proof of her affability and ability to handle complex spices when cooking.
One fan posted that Chauhan was "a joy to watch on the tournament of champions," and that she would be fascinating to watch in her own show.
Chauhan is certainly an eligible candidate for her own television show — while the star chef has hosted many cooking competition shows and worked in a varying capacity on the Food Network, she has not yet hosted her own program.
Still, Chauhan has a truly impressive resume, proof positive that not only does she have the personality for television, but she also has the skill level.
Maneet Chauhan is an accomplished chef
Maneet Chauhan was born in India in 1976. At an early age, she developed a love for the kitchen and for creating handcrafted Indian cuisine. She trained in New York, studying hospitality and the culinary arts, and by the year 2000, she began working as a manager for a restaurant in New Jersey.
It didn't take long before Chauhan began earning recognition as a rising culinary star, and in 2003, she was named executive chef for the famed Chicago restaurant Vermilion.
Chauhan has written two books, including Flavors of My World: A Culinary Tour Through 25 Countries. In 2014, the accomplished chef opened her own restaurant, in Nashville, Tennessee.
A strong advocate for underprivileged children, Chauhan works hard to give back to the community, and frequently hosts fundraisers and charity events. All in all, Maneet Chauhan is one of the most successful and renowned celebrity chefs in the world, and her talents as a global ambassador and chef extend far beyond the United States.
She has been working with the Food Network for years, hosting TV shows such as The Next Iron Chef — but if fans have anything to say about it, Chauhan could soon be even more prominent on the network.