Chris Evans Loved 'the Evolution' Between Iron Man and Captain America in the MCU
In the MCU, some of Chris Evans' favorite moments involved "the evolution" of the relationship between Captain America and Iron Man.
Throughout several movies in the Marvel Cinematic Universe, the relationship between Tony Stark and Steve Rogers took center stage. To Chris Evans, "the evolution" of the two characters that occurred through 2019's Avengers: Endgame was one of his favorite parts of the MCU.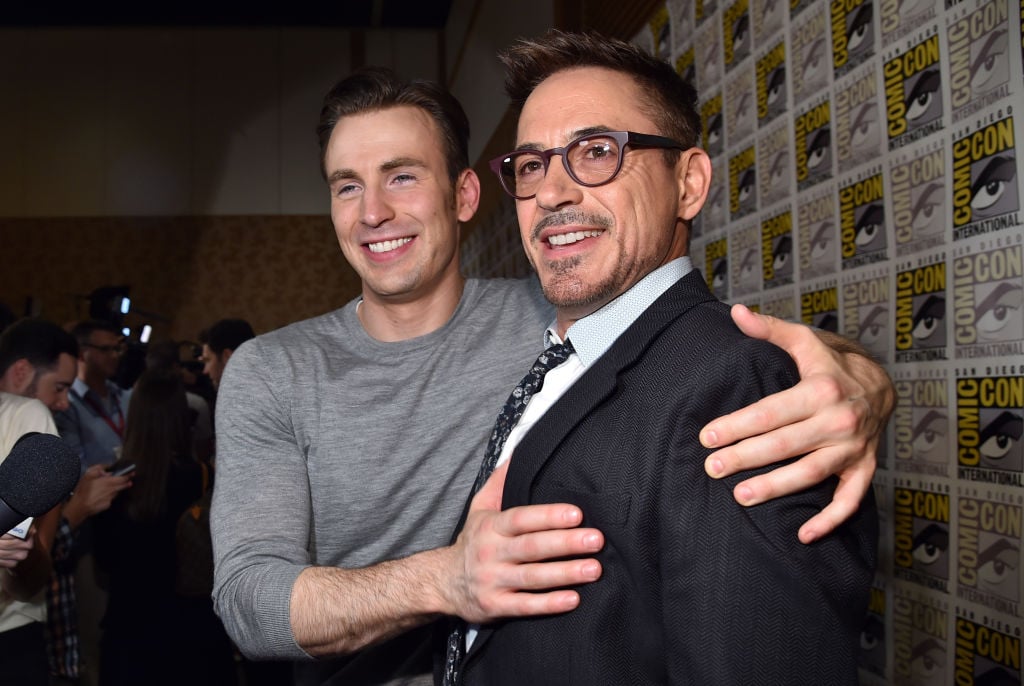 Chris Evans loved the friendship between Steve Rogers and Tony Stark in the MCU
In an interview with the Awards Chatter Podcast by The Hollywood Reporter, Evans discussed his recent role in Apple TV+'s miniseries Defending Jacob and his time in the MCU playing Steve Rogers. On the podcast, Evans said that some of his favorite moments in the MCU took place in Avengers: Endgame and involved the scenes between Steve Rogers and Robert Downey Jr.'s Tony Stark.
"… everything from Endgame was really special to me because my headspace was very much in the reflective, grateful part of it. You almost feel like you're living in a memory; you feel like it's almost like the moment's already passed, so you're really just trying to soak it in and just appreciate what this journey has been like," Evans said.
He continued, "Like I said, in Endgame, there are just so many great moments. I love scenes with Downey. I love seeing the evolution of those two characters. They usually give Cap great motivational speeches and things like that. Any of those scenes where there's all of us together, and it just is a real reflective and special moment."
RELATED: The Phone Call From Robert Downey Jr. That Changed Chris Evans' Life Forever
The actor's favorite MCU scene takes place in 'Captain America: The Winter Soldier'
While Evans loved working on Avengers: Endgame and the evolution between Steve Rogers and Tony Stark, he told the Awards Chatter Podcast that his favorite scene in the MCU actually occurs in Captain America: The Winter Soldier.
"The Russos are real, real cinephiles, and they have such knowledge and love for certain scenes in certain movies. And you can tell when they get excited about certain moments that they want to make iconic; they were really excited about that first elevator fight scene in Winter Soldier," Evans said on the Awards Chatter Podcast. "You could tell that they wanted it to be special, and as a result, that's one of my favorite fight sequences."
Robert Downey Jr. helped convince Chris Evans to join the MCU
When Evans was offered the role of Captain America in the MCU, he was hesitant to accept. In fact, he turned down the role multiple times.
"The problem was initially, it was a nine-movie contract. And they said, if these movies take off and do very well, and my life changes and I don't respond well, I don't have the opportunity to say, listen, I need a f*cking break. That just scared me," Evans told Variety in 2014. "They called back and they tweaked the deal. It went from nine (films) to six. I said no again."
To help try and convince him to take the role, Downey Jr. called Evans.
"I remember getting on the phone with him and strongly suggesting that he not shrink away from the offer," Downey said. "I said, 'Look man, you might not like the fact that you've played one of these guys before (in Fantastic Four), but you know, the thing is this can afford you all sorts of other freedoms' … I also thought he was the perfect guy for the job."