Chris Farley's Sober Sponsor, Comedian Tom Arnold, Told Farley He Couldn't 'Be Fat and Do Drugs': 'You've Got to Pick 1'
The comedy industry lost a significant and beloved comedian when Chris Farley died in December of 1997. The celebrity was known for his outrageous characters, outgoing personality, and, unfortunately, his hard-partying. Farley died of a drug overdose at just 33 years old after consuming drugs for several years. Many friends and fellow comedians were concerned about Farley's lifestyle, including his sober sponsor Tom Arnold. 
Chris Farley's 'sober sponsor' was comedian Tom Arnold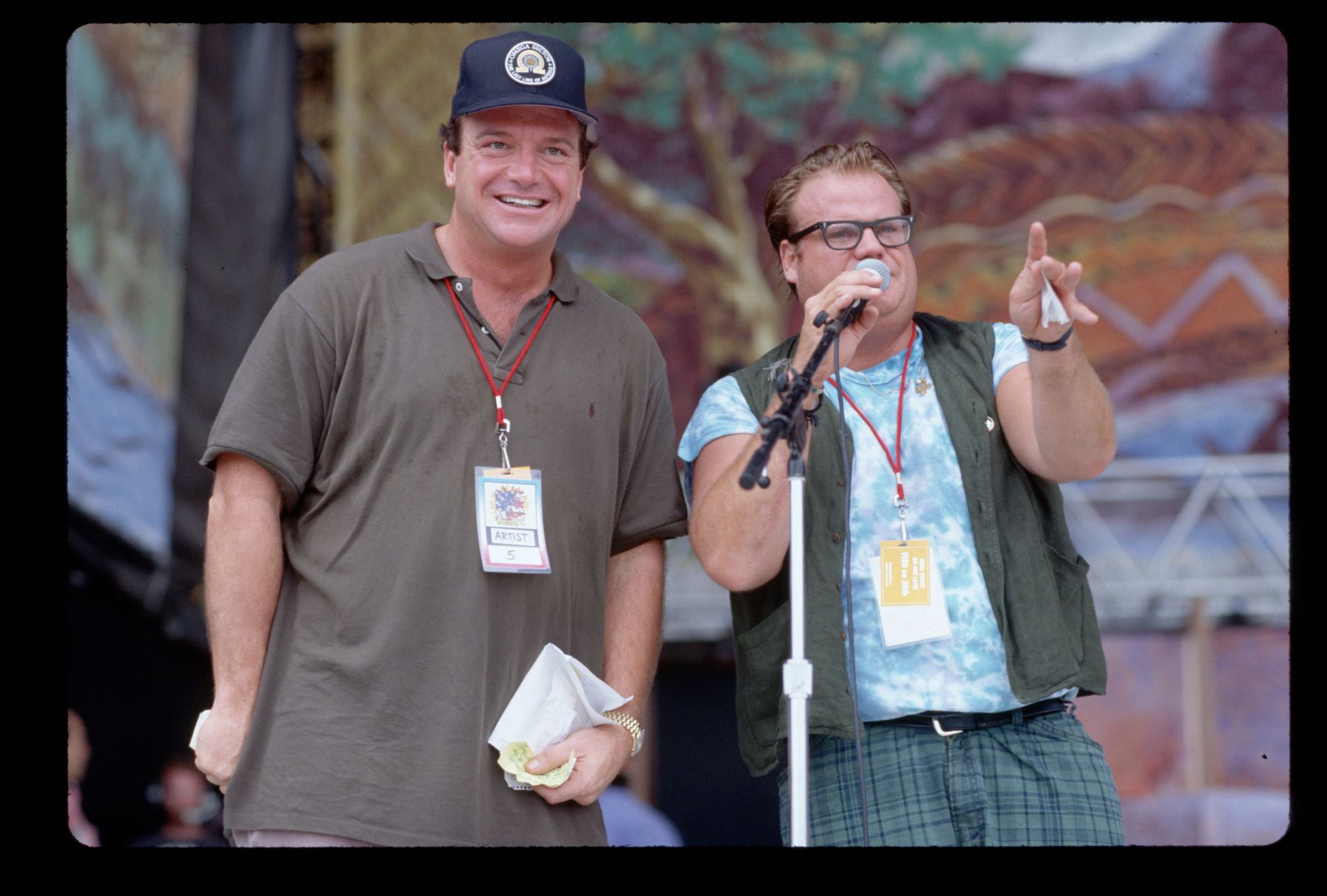 Arnold went through his own phases of drug abuse, eventually succeeding with sobriety and later sponsoring other individuals struggling with addiction. After Chris Farley was cast on Saturday Night Live and actually portrayed Arnold in a sketch, the show's executive producer, Lorne Michaels, introduced Arnold and Farley. 
According to USA Today, Arnold recalls, "[Michaels] called me and he said, 'You have a lot in common with Chris Farley. Would you please spend time with him?' Farley wanted to be sober, and I think Lorne really worried about that, and so I was his sponsor for a few years." Arnold later remarked that the two became close and that he was "Very sad when he died."
Several other comedians and friends also tried to help Farley escape the clutches of addiction to no avail, including David Spade and Chevy Chase.
Tom Arnold warned Chris Farley that he had to choose between doing drugs and being overweight
Arnold did his best to help Chris Farley sober, even telling the SNL star, "You can't be fat and do drugs… You've got to pick one, and I speak from experience… You can't do everything." Sadly, Farley began avoiding Arnold while he was using drugs because he didn't want his sponsor to see him, and his life came to a tragic end two years after he died from an overdose of cocaine and morphine on December 18th, 1997.
According to Silver Lining Recovery, Farley dealt with numerous insecurities about his personal and professional life, including a fear that he would lose his comedic edge if he lost weight. This would often send him down a rabbit hole of thinking that he would no longer be able to make a living and that when the "roar of laughter died down," he couldn't deal with the silence. 
When Adam Sandler, another Saturday Night Live alumni who starred with Farley in the 1990s, hosted the show in 2019, he performed a Chris Farley tribute. He told the audience some of his memories with the comedy legend and stated he and his fellow castmates also tried helping Farley slow his partying roll. He said, "We'd tell him, 'Son, you'll wind up like Belushi and Candy," as a warning, and Farley would reply, "Those guys are my heroes, that's all fine and dandy."
Comedy actors John Belushi and John Candy's tragic deaths
Chris Farley's death is often compared with John Belushi's, as both comedians died at the same age from similar concoctions of drugs, known as a speedball. Belushi was best known for his roles in Animal House and Blues Brothers, and he, like Farley, spent time at Second City in Chicago. According to IMDb, Belushi was a cast member of Saturday Night Live from 1975 to 1979, leaving to focus on movies. Belushi was found dead in his bungalow at the Chateau Marmot on March 5th, 1982. 
Chris Farley was also often compared to John Candy, another Second City alumni and actor who died far too young. Candy died of a heart attack on March 4, 1994, at 43, largely attributed to his binge eating habits, smoking, heavy alcohol use, and occasional cocaine use. IMDb reports that Candy was constantly trying to lose weight and quit smoking throughout the 1990s due to his extensive family history of heart disease. Candy was most known for his roles in Planes, Trains, and Automobiles with Steve Martin, Uncle Buck, and National Lampoon's Vacation. 
These deaths shocked people worldwide, and many still mourn the loss of their favorite comedian all of these years later. 
How to get help: In the U.S., contact the Substance Abuse and Mental Health Services Administration helpline at 1-800-662-4357.