Chris Pratt's Extreme 'Parks and Recreation' Audition Plan Almost Backfired
The stories of Chris Pratt's audition for Parks and Recreation have become legend. The show's creators called it one of the funniest auditions they'd ever seen. Recently, writer Alan Yang shared more details about how Pratt improvised playing Grand Theft Auto. In a recent interview, Pratt himself shared even more details about his audition for the role of Andy Dwyer.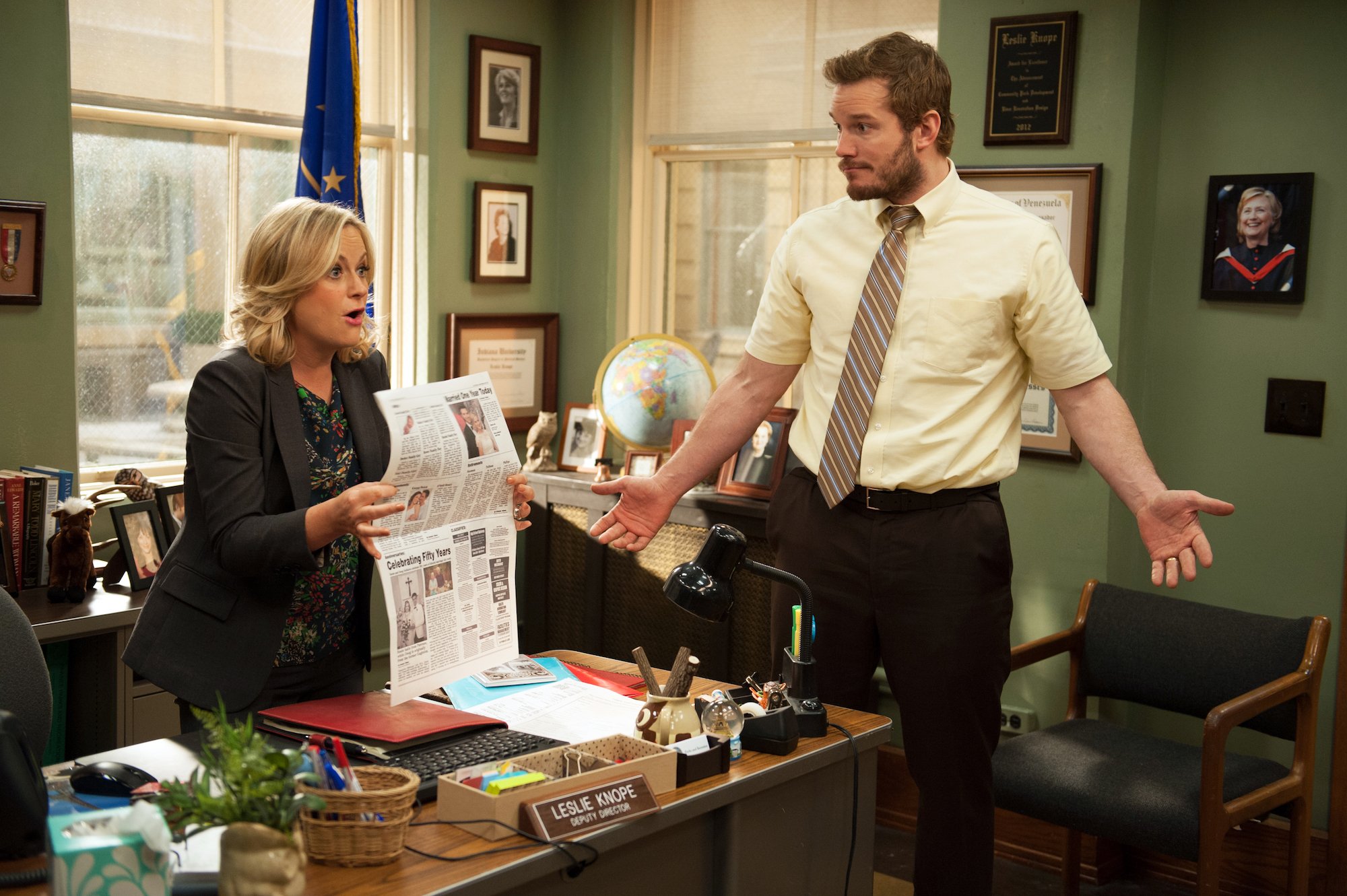 Pratt was a guest on the Parks and Recollection podcast on Oct. 18 with Yang and co-host Rob Lowe. Pratt worried he almost went too far in his Parks and Recreation audition, but it all worked out.
Chris Pratt went to extremes to land the role on 'Parks and Recreation'
Even before Pratt got into co-creator Mike Schur's office and improvised Grand Theft Auto, Pratt went to extremes. He decided to show up to the Parks and Recreation sleep deprived so he would seem more like Andy Dwyer.
"I was very intentional about staying up almost the whole night before to just really come in and be a wreck because I thought that would be helpful," Pratt said. "There was an actor I had worked with before who was auditioning for something. He was like, 'Jesus, man, what's wrong with you? You look terrible.' I was like, 'Yeah, I stayed up,haha, trying to do this method thing staying up.'"
That other actor, whom Pratt decided not to name, got in Pratt's head. He made Pratt start second guessing himself before his audition.
"He's like, 'Method? More like meth head,'" Pratt recalled. "I was like, 'What a dick.'"
The reason Chris Pratt went extreme for 'Parks and Recreation'
Pratt had a reason for staying up all night. He read the description for Andy Dwyer and thought that's what kind of guy he would be.
"I remember my audition at CBS Radford," Pratt said. "I was supposed to play this guy who's like a loser boyfriend rock n' roll guy who's kind of a scum. He's the impetus for Ann getting into the Parks department but then disappears and everybody knew that. When they pitched it to me, they were like, 'It's six episodes and you'll be done. It's a six episode TV special guest star.' Great."
It was darkest before he got the role on 'Parks and Recreation'
After meeting that actor in the waiting room, Pratt worried he'd made a mistake. The pressure mounted until he went in to read for Parks and Recreation.
"It was one of those moments I went, 'Oh, this was a big mistake. I shouldn't have stayed up. Now I look like a meth head,'" Pratt said. "Then I walked into the lobby and there was everyone there, including people that I recognized who were comedic stars. It was like oh man, here we go. My nerves were kicking in. I went into the audition."
Yang reassured Pratt. His Parks and Recreation not only stood out, but Pratt did so well as Andy Dwyer they adapted the character to suit him.
"Again, it was probably like this guy's a little bit too likable but let's just cast him and see what happens," Yang said. "Then we rewrote the character entirely. Comparing this version of Andy to obviously later in the run, it's so funny. He just becomes the most likable character. Just an idiot who always has good intentions."
With hindsight, Pratt articulated the secret to making Andy Dwyer lovable on Parks and Recreation.
"Incompetent and confident, that combination," Pratt said. "The irony is built in. Every time he smiles it's funny because it's like you have no reason to be smiling, idiot."
Source: Parks and Recollection podcast