Why Chris Pratt Refused to Promote the 'Parks and Rec' Mouse Rat Album
Chris Pratt inspired his Parks and Recreation character, Andy Dwyer. He also helped create Andy's band, Mouse Rat, and performed every song himself. So, when the show released a Mouse Rat album in August 2021, Pratt was surprised that no one told him about it.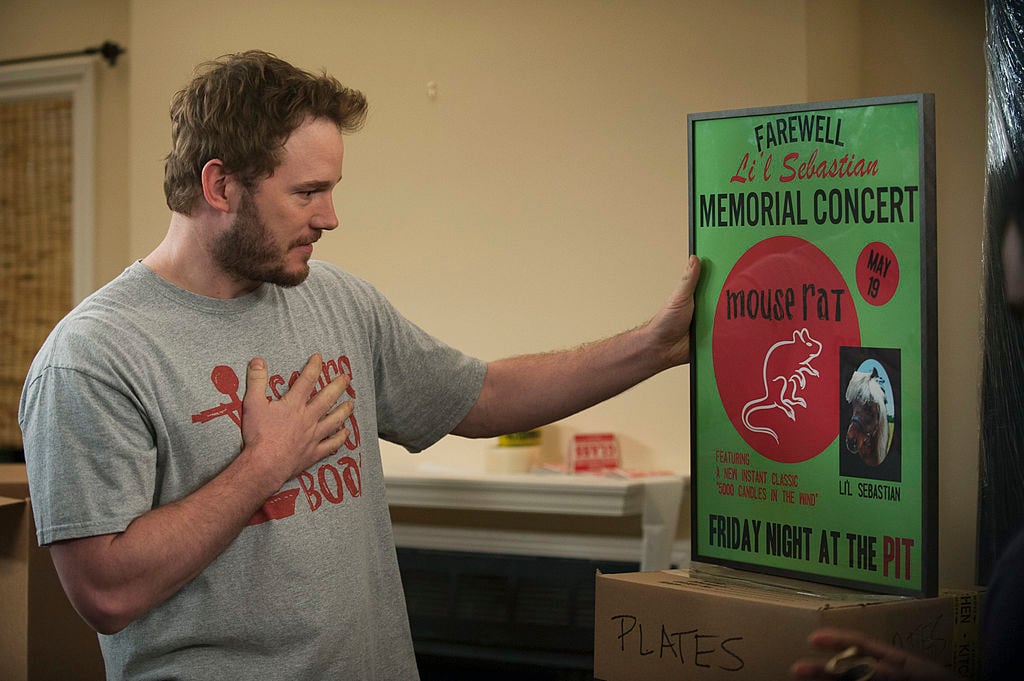 'Parks and Recreation' highlighted Chris Pratt's musical talents
When Parks and Recreation writers came up with the character Andy Dwyer, they only meant for him to be on the show for a limited time. But after seeing Pratt's comedic chops, they decided to make him a series regular.
In the final episode of Season 1, Andy holds a concert for his band, Mouse Rat (previously called ScareCrow Boat). They sing a few songs, including "The Pit," which refers to Andy's fall into the bit pit outside of Ann (Rashida Jones).
Parks and Recreation writer Alan Yang played guitar for Mouse Rat and performed with the band in all 15 episodes it was featured in. And in Yang and Rob Lowe's Parks and Recollection podcast, Yang revealed that he, along with the rest of the band, actually held weekly rehearsals before each performance.
RELATED: Chris Pratt and Arnold Schwarzenegger Share a Special 'Understanding' About Their 'Work'
"We practiced that song a million times," Yang said when talking to Pratt about "The Pit" on his podcast. "We went to that studio to practice it and then played it live in the shoot."
"I played guitar, not professionally," Pratt replied. "And then we got to do a band practice, and we became a band — we rehearsed, we got to play a live party, we got to play that stuff live, we got to play a wrap party live. It was cool. Mouse Rat became a real thing."
'Parks and Recreation' stars Chris Pratt and Alan Yang had no clue a Mouse Rat album was being released
In August 2021, Dualtone Music Group released the first Mouse Rat album titled The Awesome Album. The collection features songs like "5,000 Candles in the Wind" and "The Pit."
But despite being members of Mouse Rat, Pratt and Yang said they were not informed about the album until it was ready for release.
"It's Mouse Rat, The Awesome Album, it's all the songs we did on Parks and Rec," Pratt told Yang on the Parks and Recollection podcast. "No one consulted me about it. They were like, 'Do you want to promote this album?' And I was like, 'There's an album?'"
Pratt said he considered doing promotions for The Awesome Album with hopes it might go platinum. But he decided not to because he wasn't getting paid for the work he had done.
"I was like, 'I'm not going to get compensated for this beyond the $15,000 an episode I was making for the show,'" Pratt added. "'I think I'm going to say no…I'm not promoting your album.'"
Yang revealed that he also did not know about the project and was not being compensated either. "I was in Mouse Rat," Yang added, "and I didn't know about that."
Where can you listen to the Mouse Rat album?
The Mouse Rat album is available on most major music streaming services, including Spotify, Youtube Music, Apple Music, and Pandora. The vinyl, audio cassette, and CD versions of The Awesome Album can be purchased on Amazon.