Chris Pratt's 'Parks and Rec' Band Mouse Rat Are Releasing an Album and No, This Isn't a Drill
Pawnee, Indiana's famous mini-horse Li'l Sebastian was a mainstay on Parks and Recreation, so it makes sense the powers that be blessed fans with a parting gift to remember him by. That gift comes in the form of a real album by the show's band, Mouse Rat, led by Chris Pratt's character, Andy Dwyer. Here's everything we know about The Awesome Album.
'Parks and Rec' gave Chris Pratt an outlet for music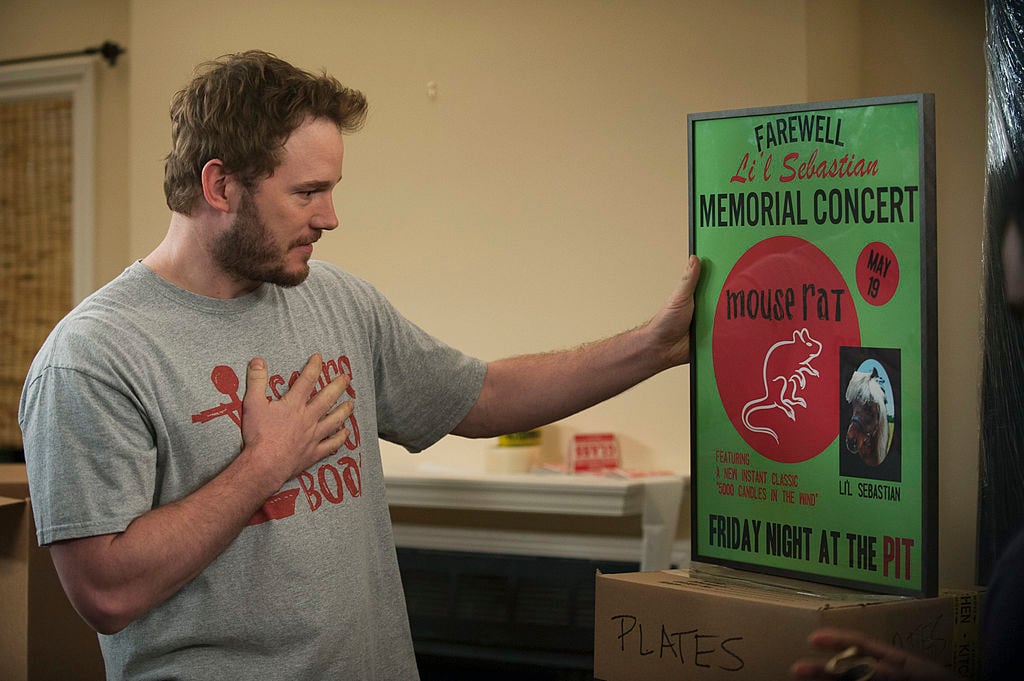 RELATED: 'Parks and Recreation': Chris Pratt Was Nearly Fired After 1 Scene Went Totally Wrong
Pratt's stint on Parks and Rec began as a guest-starring role. The star was so good at playing the musically-inclined, dim-witted Andy, execs cast him as a series regular for the duration of the series.
As many remember, Andy's mediocre band Mouse Rat played Pawnee festivals and other Leslie Knope (Amy Pohler) events. Music offered another side of Andy and gave the show a little something extra we've been missing since the series finale in 2015.
Andy didn't only play in Mouse Rat. He was also a solo artist who eventually went on to become Johnny Karate in The Johnny Karate Super Awesome Musical Explosion Show.
Since the show's 2020 pandemic reunion, fans only wanted more of Pawnee and everyone in it which is why it's no coincidence the Mouse Rat news came on the 10th anniversary of Li'l Sebastian's death. The first track, "5,000 Candles In the Wind," was created by Andy to be "5,000 times better" than Elton John's "A Candle In the Wind."
Who's tied to the Mouse Rat project?
RELATED: 'Parks and Recreation': Chris Pratt's Improvised Line Made Creator Michael Schur 'Furious'
On Aug. 27, Dualtone Music Group will release Mouse Rat's full-length LP, The Awesome Album. The deal was made alongside Tom Haverford's (Aziz Ansari) company, Entertainment 720 and it was announced by Pawnee's own news anchor Perd Hapley (Jay Jackson) on YouTube.
"Any creative business coming out of Pawnee is tied to Haverford," Dualtone president Paul Roper said in a statement via Entertainment Weekly.
"From Rent-a-Swag to Tommy Fresh cologne and Tom's Bistro, not to mention his business ideas not yet formed like the scented phone, talking tissues, contact lenses that display text messages, and the glitter-infused laundry detergent Sparkle Suds, partnering with Entertainment 720's hype machine was essential. The man is an idea factory."
Parks and Rec Land Ho! band member Scott Tanner (Wilco's Jeff Tweedy), and the ever-mysterious Duke Silver (Nick Offerman's alter ego of Ron Swanson) also appear on a few tracks.
Here's what else to expect from the new Mouse Rat album
RELATED: Chris Pratt Reminds Fans of His 'Parks and Recreation' Character When it Comes to Technology
The first single, "5,000 Candles in the Wind (Bye, Bye Li'l Sebastian)" is out now, along with a music video. Here's what the full album will include:
5,000 Candles in the Wind (Bye, Bye Lil Sebastian)
The Pit
Sex Hair
Catch Your Dream (feat. Duke Silver)
Two Birds Holding Hands
Ann Song
The Way You Look Tonight
Menace Ball
Remember
Get A Kick Out Of You
Tonight
I've Got You Under My Skin
Only Have Eyes For You
Pickled Ginger (performed by Land Ho!)
Cold Water (Scott Tanner feat. Duke Silver)
Pratt has a few big projects on the way including Jurassic World: Dominion (pushed to June 2022), Thor: Love and Thunder, Guardians of the Galaxy Vol. 3, and more. It's impressive that he made the time to record an album, let alone a Mouse Rat album. On the home front, he and his wife Katherine Schwarzenegger welcomed Lyla Maria Schwarzenegger Pratt in Aug. 2020 which officially makes him one of the busiest men in Hollywood.
As for the music, August can't come soon enough. We'd like to think that with Mouse Rat's contribution to the music world, Li'l Sebastian can finally fly high (bye, bye).