Chris Rock and Jada Pinkett Smith Each Starred in Eddie Murphy Movies
Chris Rock, Will Smith, and Jada Pinkett Smith are making headlines because of the infamous slap at the 2022 Academy Awards. But Rock and Pinkett Smith have a long history. The two stars co-starred in the Madagascar franchise between 2005 and 2012. And the last installment, 2012's Madagascar 3: Europe's Most Wanted, sits comfortably atop both actors' filmographies. But they have more in common too. Rock and Pinkett Smith each appeared in iconic Eddie Murphy movies, which turned out to be milestones in their respective careers.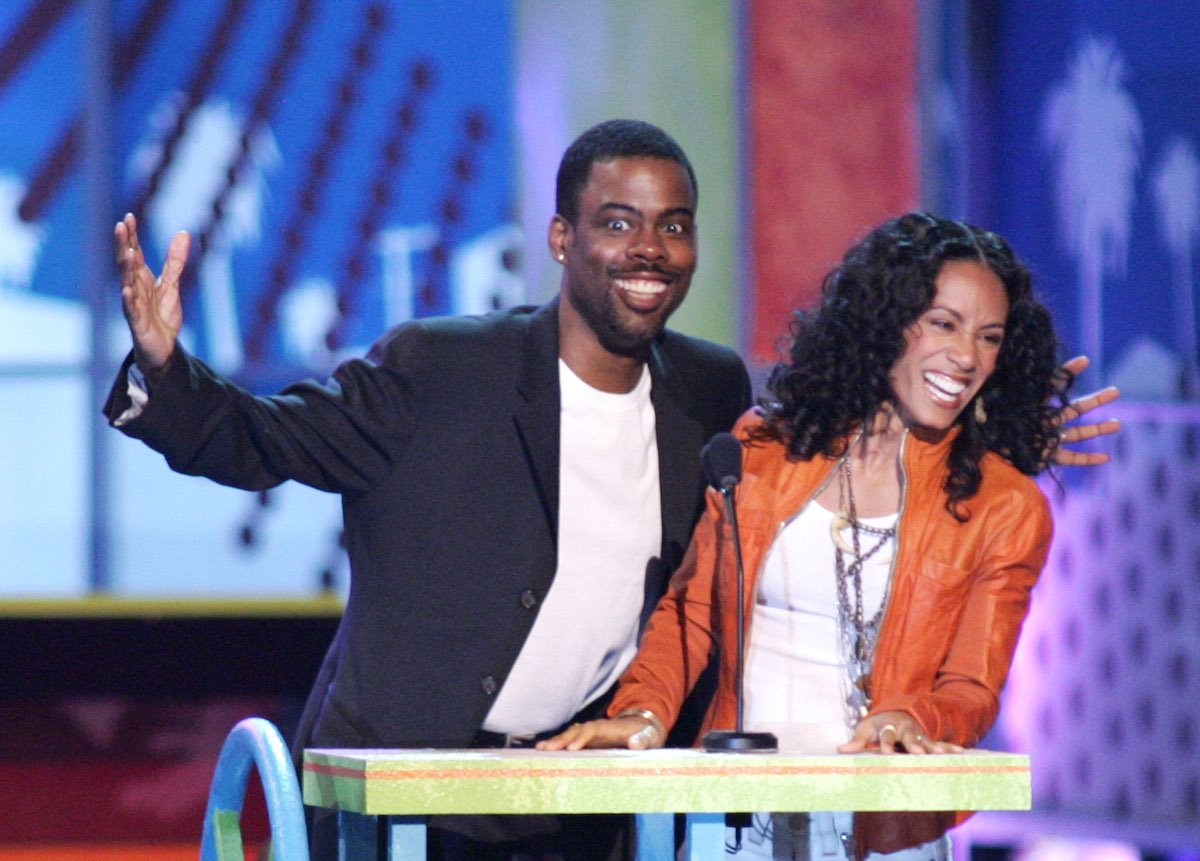 'Beverly Hills Cop 2' was Chris Rock's first movie role
In 1998, Rock's supporting turn in Lethal Weapon 4 kicked off a run of starring roles for the comedian. And before that, he delivered standout turns in films like New Jack City and CB4. But Rock, arguably the most successful comedian of the late 1990s, started his movie career opposite another iconic stand-up comic, Murphy.
Rock's film debut was in Beverly Hills Cop 2 in the minor role of a valet at the Playboy mansion. The original film cemented Murphy as a movie star. So Rock's inclusion in the sequel — at least in hindsight — feels like Murphy anointing Rock as the next Saturday Night Live alum turned superstar ready to follow in his footsteps.
RELATED: Oscars 2022: Viewers Call Out 'Irony' of Chris Rock's Controversial Comment
Jada Pinkett Smith starred in 'The Nutty Professor'
Pinkett Smith's own film debut was in 1993's Menace II Society. And over the next few years, the actor landed increasingly high-profile roles. Films such as Jason's Lyric, A Low Down Dirty Shame, and Demon Knight showed off her range and paved the way for bigger things. But her role opposite Murphy in 1996 was a major turning point.
The actor played Murphy's love interest in The Nutty Professor. Although she didn't return as Carla Purty for the sequel, the first film was a hit. And it didn't take long for Pinkett Smith to secure other popular movies, such as Set It Off, Scream 2, and Woo. One of that year's biggest hits, The Nutty Professor gave her the career boost she needed.
Has either actor worked with Eddie Murphy since then?
Though they've shared headlines for other reasons, Rock and Pinkett Smith haven't worked together seemingly since 2012. But have either of the two stars reunited with Murphy on screen? By the looks of it, Pinkett Smith has steered clear of a The Nutty Professor reunion. But Rock has reteamed with Murphy as recently as 2019.
Rock plays a role in Murphy's Golden Globe-nominated film Dolemite Is My Name. The actor is known for being fiercely loyal to his fellow comics. In particular, Rock has worked with fellow Saturday Night Live alum Adam Sandler several times. So perhaps his reunion with Murphy — even if it's in a limited capacity — isn't such a surprise after all.
RELATED: Adam Sandler Supports Chris Rock After Will Smith Oscars Slap –'Love You Buddy!'