Who Is Chrissy Teigen's Mom, Vilailuck Teigen?
Model Chrissy Teigen often talks about her mom, Vilailuck Teigen. She has become a fixture in the lives of Chrissy and husband, John Legend. Here's what we know about Vilailuck Teigen.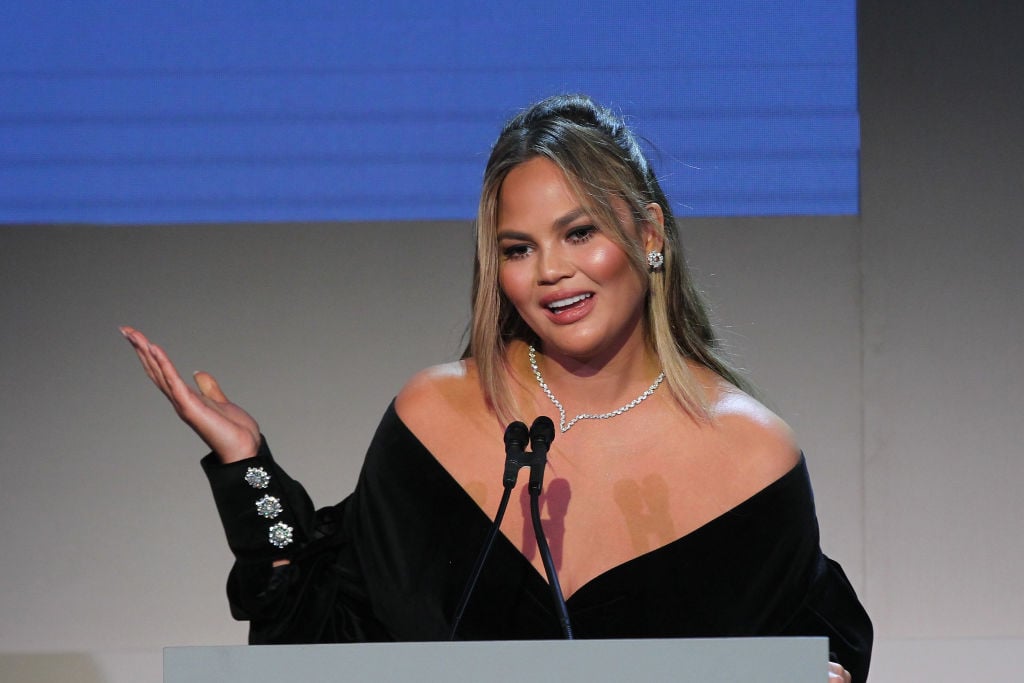 Chrissy Teigen's mom became a U.S. citizen
In October 2018, Vilailuck, who is Thai, became a U.S. citizen. According to a tweet from John Legend, Vilailuck earned a perfect score on her citizenship test. Chrissy posted a heartwarming Instagram video, showing her mother reciting the Pledge of Allegiance while holding her granddaughter, Luna.
Chrissy Teigen's mom lives with her and John Legend
Now that Chrissy and John are parents to two children, it helps to have extra help. That's where Vilailuck comes in. She lives with Chrissy and John so she can help take care of the children, since the couple travels so much for work and events.
She helps Chrissy test out new recipes for her cookbook
Now we see where Chrissy gets her love for food and cooking skills. Just like her famous daughter, Vilailuck loves food and enjoys cooking. Vilailuck is quite the cook, so she helps Chrissy test new recipes for her cookbook.
In 2016, Chrissy released a cookbook titled Cravings: Recipes for All the Food You Want to Eat. The following year, she released the cookbook Cravings. In 2018, she released a follow-up cookbook titled Cravings: Hungry for More.
She's a dedicated grandmother
Vilailuck is a grandmother to John Legend and Chrissy Teigen's two children, Luna and Miles. Chrissy celebrated the birth of their second child by posting a photo and message on Instagram: "Hello, world! This is Miles Theodore Stephens – We are drowning in his little peeps and nuzzles," she wrote. "Our household feels overwhelmed with love. Thank you for all your well wishes!"
The proud parents said the meaning of Miles' name is special. During the Billboard Music Awards, he told E! News his intention was to include a bit of musical history in his children's names. "So, Miles, of course, is the same name as the great Miles Davis," he said. "And Chrissy really liked the name Theodore, so we put it all together and got Miles Theodore Stephens. When he came out and we hung out with him for a little, we were like, 'He looks like a Miles.'"
Luna's middle name is Simone, which is likely a tribute to singer Nina Simone. John is a fan of the singer. He quoted Simone during his acceptance speech at the 2015 Academy Awards. Furthermore, he performed during a Nina Simone tribute and spoke about her impact on him at the Sundance Film Festival premiere of the documentary What Happened, Miss Simone?
Chrissy Teigen's mom has her own Instagram account
Vilailuck is a grandmother, but she's far from out of touch when it comes to social media. She has her own Instagram account (she uses the name pepperthai2), and she often posts behind-the-scenes moments of her family. It's quite entertaining.
Read more: Chrissy Teigen Target Collection: Everything We Know About Her New Kitchenware Line
Check out The Cheat Sheet on Facebook!