Christian Bale Once Explained Why Arnold Schwarzenegger Isn't in 'Terminator Salvation'
Christian Bale might be best known as Bruce Wayne aka Batman in Christopher Nolan's The Dark Knight trilogy. But the actor isn't known for doing sequels. In fact, Bale has spoken up about how he's motivated by the "risk and challenge" provided by making various types of movies. As such, he doesn't often find himself starring in sequels. Terminator Salvation then turned out to be a rare exception to the actor's career choices.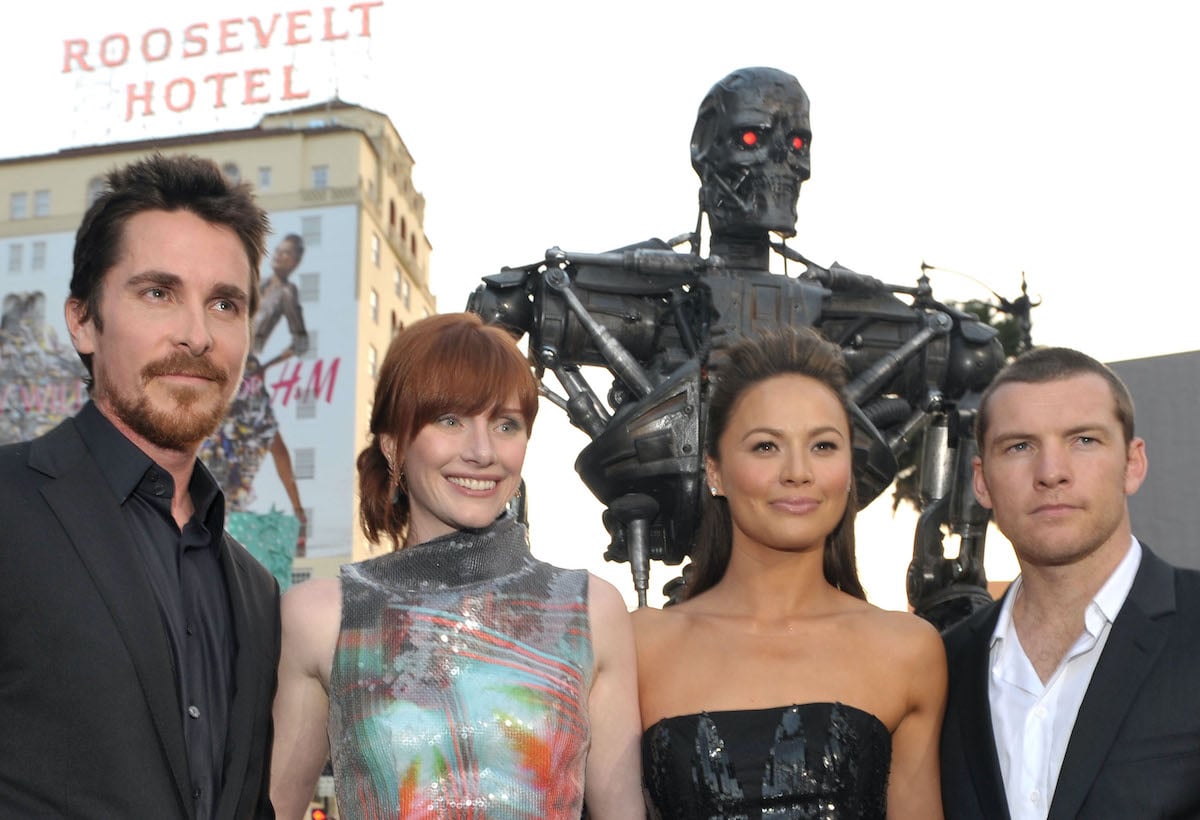 Christian Bale had a famous rant on the 'Terminator' set
Just a year after The Dark Knight became one of the biggest hits ever, Bale headlined another franchise reboot of sorts. Although technically connected to Terminator 3: Rise of the Machines, Terminator Salvation gave the series a fresh start. Bale was the highest-profile actor so far to play John Connor, who leads a human resistance against the machines. But the biggest highlight from the movie actually came from its production.
During the making of Terminator Salvation, Bale famously launched into a tirade against a crew member who allegedly walked into the shot. The actor blames his outburst in part on the intensity of the scene he and co-star Bryce Dallas Howard were filming. Bale has since distanced himself from Terminator Salvation, with sequel plans scrapped in favor of another more direct reboot. 2015's Terminator: Genisys was a major flop.
RELATED: Christian Bale Once Revealed How He Really Feels About His Fans
'Terminator Salvation' is the only entry without Arnold Schwarzenegger
Terminator Salvation was the first of several failed attempts to get the Terminator franchise back on track. And ironically, it was also the first — and only — installment in the series not to feature longtime star Arnold Schwarzenegger. At the time, the actor was serving as the governor of California. So he was unavailable to appear. Bale told Total Film (via Female First) that wasn't the only reason Schwarzenegger was absent.
"Terminator 2 is the original nightmare of just being pursued that everyone has… But nowadays, it wouldn't really — we've seen so many guys who imitated him and it just became a little passe. [The franchise doesn't need him now] because you can't just keep rehashing the same plot. Yes, Terminator is known for having this one singular figure of villainy that is constantly pursuing but how many times can you keep on doing it? … I don't think anyone really had an interest in just imitating the movies that had come before."
To Bale's point, the franchise was ready to explore new territory. Even though Terminator 3 was a box office success, it was generally a retread of its predecessors. And perhaps that conundrum Bale touches on — regarding the prominence of Schwarzenegger — is the reason the series has never fully recovered. For his part, Bale did fine with the role of John Connor, despite the movie's lack of impact.
RELATED: Christian Bale Already Couldn't Stand Fame Even on His First Big Movie
Christian Bale stars in 'Thor: Love and Thunder' in 2022
Bale might not be the biggest fan of sequels. But it sounds like — even back during the lead-up to Terminator Salvation — he was open to the franchises that mix it up. To that end, it makes a great deal of sense why he'd agree to star in Thor: Love and Thunder. The upcoming Marvel Studios movie continues the bold new direction filmmaker Taika Waititi brought to the God of Thunder in Thor: Ragnarok.
Moreover, though Bale has made superhero movies before, he's never played a comic book villain. In Thor: Love and Thunder, he'll play Gorr the God Butcher. The character will no doubt present an epic challenge to returning stars Chris Hemsworth, Natalie Portman, and Tessa Thompson. Thor: Love and Thunder releases to theaters on May 6, 2022.