Christian Bale Probably Won't Play Beta Ray Bill in 'Thor: Love and Thunder:' Here's Why
Christian Bale probably won't play Beta Ray Bill in 'Thor Love and Thunder.' See who he is more likely to take on in the MCU.
With multiple reliable outlets — The Hollywood Reporter, Variety, Collider, and more — reporting that Christian Bale is set to join the Marvel Cinematic Universe (MCU), it's only a matter of time until character confirmation comes trickling down the pipeline. As of now, fans know that Marvel is eyeing the former Caped Crusader for a role in Thor: Love and Thunder.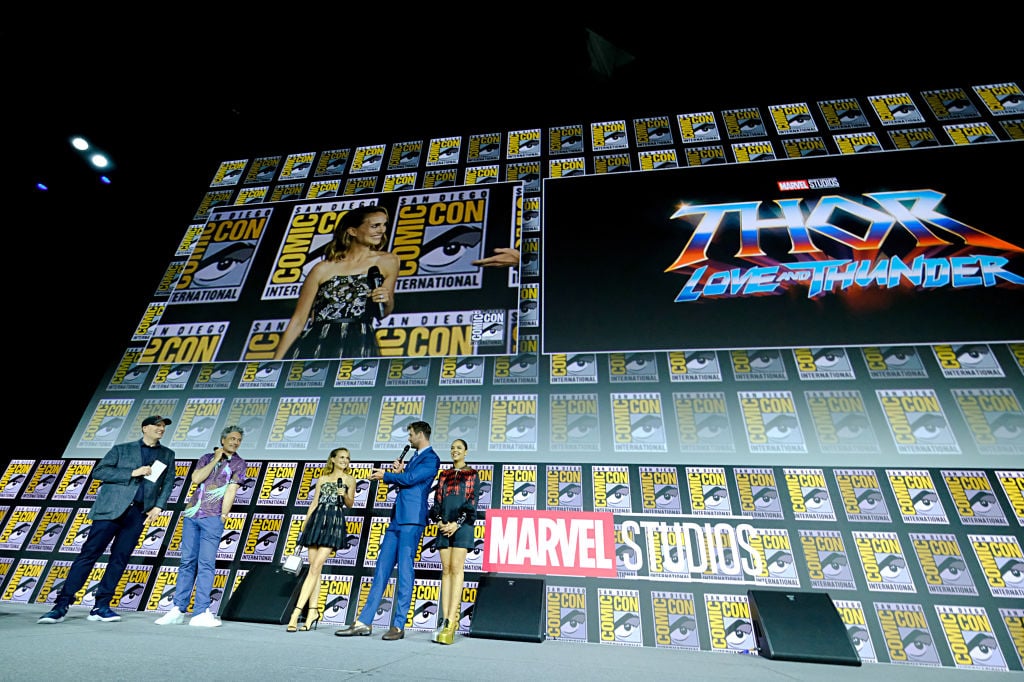 Batman: The Dark Knight premiered over a decade ago, and Christian Bale may be ready to suit up once again. Considering Love and Thunder will likely be Chris Hemsworth's final bow as the God of Thunder, there couldn't be a better time to introduce a beloved A-Lister to the Avengers. 
MCU enthusiasts can wave goodbye to one fan-favorite and hello to another (even if the new guy is a big baddie this time around). Since the news, multiple outlets have taken to one presumption: Christian Bale will play Beta Ray Bill in the upcoming installment. Beta Ray Bill is a monster on the surface, who unexpectedly turns out to be a great hero, capable of wielding Thor's Hammer.
In the comics, Thor and Beta Ray Bill fought for ownership of Mjolnir until Bill received Stormbreaker, at which point the two went on to fight side-by-side. The MCU would need to make a few adjustments given past narratives; however, with a little plot tinkering and a lot of makeup and prosthetics, Bale could play Beta Ray Bill.  
While Beta Bay Rill is a fan-favorite and an obvious choice — especially if Taikia Waititi is seeking to please the public via a desirable character play — he may be less of a fit, given the narrative theories surrounding the movie. As Variety notes, Christian Bale may be more likely to play a different fierce adversary. 
Why Christian Bale may play Cul in 'Thor: Love and Thunder'
Rumor has it, as We Got This Covered recently reported, that Thor: Love and Thunder will highlight Jane Foster's battle with cancer and the consequences wielding the hammer bears on her health. If the MCU chooses to follow this comic book trajectory, one villain often follows suit. Variety notes: 
…Kevin Feige revealed that Portman's Jane Foster will take up Thor's hammer Mjolnir in "Love and Thunder," and take up the persona of the Mighty Thor — like she did in a recent comic book storyline. If the film follows those comics, Foster could end up battling Cul, aka the God of Fear, and also Thor's uncle. Since each "Thor" movie has expanded our understanding of Thor's family, Cul could be a strong villain for "Love and Thunder" — and Bale a prime candidate to play him.

Variety
While fans have been anxiously awaiting Beta Ray Bill's entrance, Stormbreaker already exists, and the upcoming movie already plans to tackle a transition of power from Thor to Mighty Thor; a rivalry turned friendship before Thor's exit may not be the best move. 
Cul will also provide an opportunity to begin exploring Jane Foster in greater depth and, if the character is bound to have a larger role in the MCU moving forward, a villain who paves the way for her significance may be more likely than who doesn't (at least not to the same extent).