Christian McCaffrey Isn't the First NFL Player Olivia Culpo Has Dated
High-profile athlete-celebrity romances are nothing new. In fact, since baseball star Joe DiMaggio married Marilyn Monroe way back in 1954, they have been a more or less commonplace aspect of American culture. Jennifer Lopez and Alex Rodriguez are currently one of the most famous of such pairings.
Most people wouldn't place Olivia Culpo and current boyfriend, Christian McCaffrey, in quite the same territory. Yet for fans of the NFL and/or current social media personalities, their relationship spawned significant interest. Here we take a closer look at Culpo's career background, her current relationship, and her seeming proclivity for NFL players.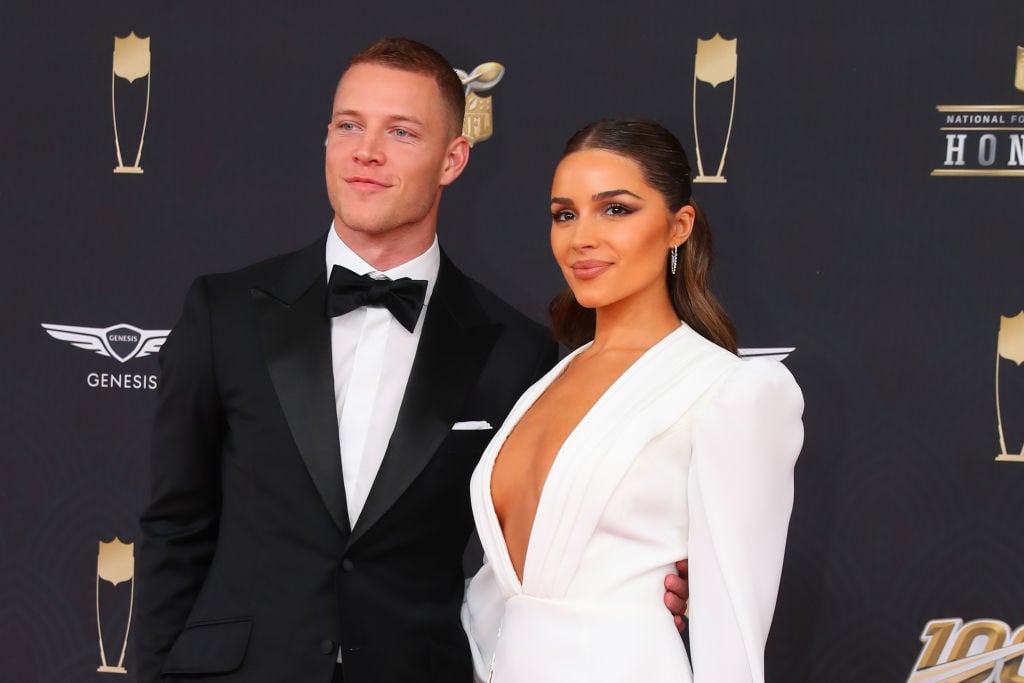 RELATED: Does Gisele Bundchen Pick Out All Tom Brady's Clothes For Him?
An overview of Culpo's career background
Culpo made her name as a beauty pageant star. She broke out a big way in 2012, winning her very first pageant, the Miss Rhode Island USA. Later that year, Culpo made an even bigger splash by winning the Miss USA pageant. Then in December she represented the United States at the Miss Universe pageant in Las Vegas, winning that event as well.
Within the span of a single year, Culpo propelled herself from relative obscurity to the heights of American beauty. Yet she wasn't content to sit back and bask in her newfound fame. Instead, she leveraged it to her advantage, forging ahead with a career as a film and television actress. To date, she has appeared in four films: The Other Woman (2014), American Satan (2017), I Feel Pretty (2018), and Reprisal (2018).
Culpo also has a significant social media following on Instagram, Twitter, and YouTube. That popularity has given her a lot of clout as a fashion influencer. She has taken part in advertising campaigns with companies like L'Oreal and Uberliss. Culpo also owns a restaurant called Back 40, located in Kingstown, Rhode Island.
Culpo's current NFL beau
Culpo's current boyfriend is Christian McCaffrey. In case you haven't been keeping up with the world of professional football, McCaffrey is a running back who plays for the Carolina Panthers. In 2019, in just his third season in the league, the 23-year-old McCaffrey received his first Pro Bowl selection—a pretty big thing in the world of the NFL.
Culpo and McCaffrey's relationship is still pretty fresh. They apparently got their start thanks to Instagram, where they started following one another back in April 2019. At some point in May, they hooked up and began dating. Then in July, photos surfaced of the pair holding hands while vacationing together in Mexico.
By October, the two were publicly acknowledging their relationship in various ways. Culpo donned McCaffrey's jersey at a Panthers game. In November, McCaffrey posted an Instagram story supporting Culpo's Sports Illustrated Swimsuit shoot. Since then, they have been spotted together numerous times.
Other NFL players in Culpo's past
McCaffrey isn't the first NFL player who Culpo has dated. Culpo had what was apparently a short-lived relationship with Tim Tebow. Although Tebow is now pursuing a career in the MLB, at the time he was the Philadelphia Eagles' third-string quarterback. Post-breakup accounts revealed that the romance never got very serious and that the two still had a friendly relationship.
Then in 2016, Culpo started seeing Danny Amendola, a wide receiver who at the time played for the New England Patriots. The two dated off and on until 2019. Unlike with Tebow, Culpo's split with Amendola was not a friendly one. Soon after they had broken up for the final time, he posted a since-deleted Instagram rant in which he called Culpo "f–ed up," while also blaming her high-profile lifestyle for their split, according to People. Hopefully Culpo and McCaffrey can avoid falling into a similar trap.