Clare Crawley Reveals Why She's Ready to Be 'The Bachelorette' Now
When Clare Crawley was chosen as the next bachelorette lead, Bachelor Nation fans were instantly reminded of the reality star's glorious final words to Juan Pablo Galavis. The 39-year-old displayed a strength that resonated with audiences at home. And now, it seems Crawley will bring the same kind of energy to The Bachelorette Season 16. 
What did Clare Crawley say to Juan Pablo Galavis on 'The Bachelor'?
In The Bachelor Season 18 finale, Galavis decided to ruin his last date with Crawley. During a helicopter ride, he told her something incredibly crude. And while there were no microphones on the couple at the time, Us Weekly reported Galavis said, "I love f*cking you, but I don't know you."
At the end of his journey, Galavis picked Nikki Ferrell over Crawley. Nonetheless, the current bachelorette had the final word. 
"I lost respect for you," Crawley said. "I'll tell you what, I thought I knew what kind of man you were. What you made me go through, I would never want my children having a father like you."
Then when Crawley was chosen as the new bachelorette for season 16, the reality star reflected on her breakup with Galavis.
"A lot of people have seen that side of me that stood up to Juan Pablo and is like, 'Don't mess with me,' and I am that strong woman still," Crawley told Good Morning America in March 2020. "But what even more so is added to that is, like I said, taking off that armor and actually saying, I'm strong enough to let somebody in, to be vulnerable and open up and share that with them."
Clare Crawley reflects on her life before and after 'The Bachelor'
In the June 23 episode of the Bachelor Happy Hour podcast with Rachel Lindsay and Becca Kufrin, Crawley shared how she has grown since Galavis' season. Crawley revealed she spoke with producers about becoming the next bachelorette — a role that went to Andi Dorfman. However, The Bachelorette Season 16 star hinted she wasn't ready to become the new lead at the time. 
"Leading into this, there's so much more background that I have never even talked about, even on that season of The Bachelor," Crawley said, noting she wasn't ready to tell the world her full story. "I had just gone through a really, really abusive relationship going into Juan Pablo's season."
Crawley then explained what happened after standing up to Galavis on The Bachelor. "It took me time right after that to sit and process that and go, 'What just happened, what do I need to work on, and why did it shake me?' And I'm glad it shook me," she said. "But I was just starting to do the work."
Crawley continued, "I was just starting to crack myself open and kind of find out all about me and why I had had that moment. But even more so, all the stuff leading up to it that I had to still process."
How Clare Crawley feels ahead of filming 'The Bachelorette'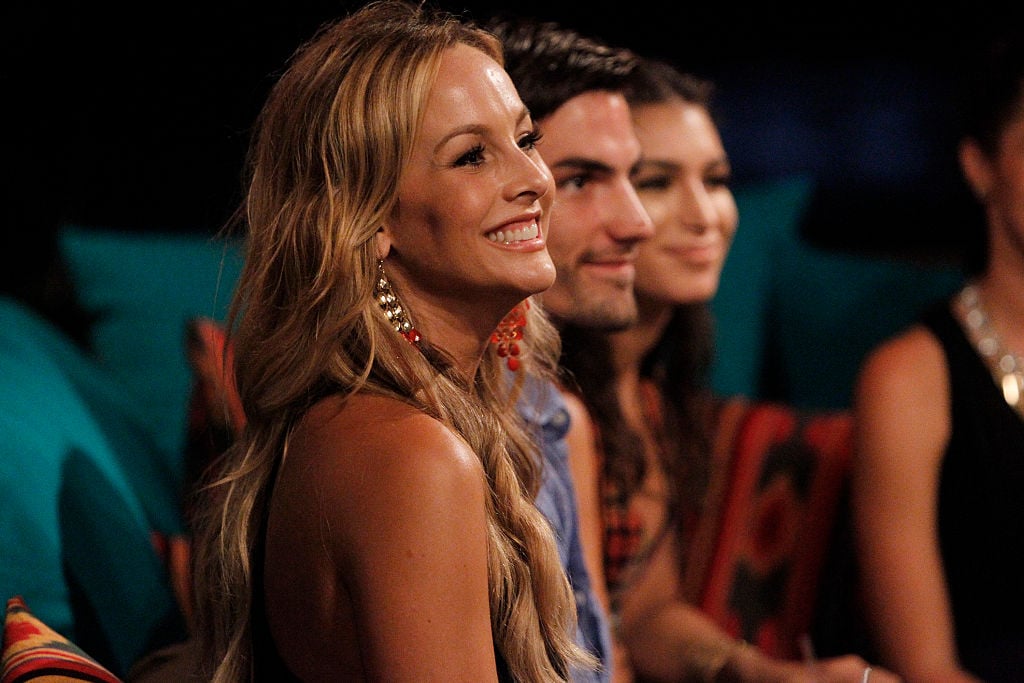 As Crawley approaches her season of The Bachelorette, she seems more confident than ever. 
"Coming off Juan Pablo's season … I was weak, I didn't know who I was," she said. "I just wasn't self aware, I guess. And now, coming from there and doing the work over my 30s, I'm an empowered woman now, a strong woman."
"I'm not always strong," Crawley added. "There are many times where I'm weak. But more than anything I would say I'm a courageous woman now. And even when I am weak, I still have the courage within myself to do hard things. That is something that I'm proud of now."
Crawley also wants her journey to inspire viewers who tune into The Bachelorette Season 16. "I want to be that woman for other people to say and to see that we all go through pretty awful stuff sometimes," Crawley said, adding she wants to give people hope that things can change for the better.
Now, The Bachelorette fans must wait and see when Crawley's season resumes filming. But she recently teased production will start soon. So stay tuned.
Check out Showbiz Cheat Sheet on Facebook!