Clare Crawley on Instantly Connecting With Dale Moss and Life After 'The Bachelorette'–'I'm Very Happy'
'The Bachelorette': Clare Crawley on her 'electric' connection with Dale Moss–'I've never felt that instantly like that before.'
The first episode of Clare Crawley's season of The Bachelorette aired last night and, already, there's a pretty clear front runner, 32-year-old former NFL player Dale Moss.
Rumors have been swirling around Bachelor Nation well before last night's premiere that Crawley ends her season after finding love with Moss early on. Here's what Crawley has to say about her "electric" meeting with the former football player.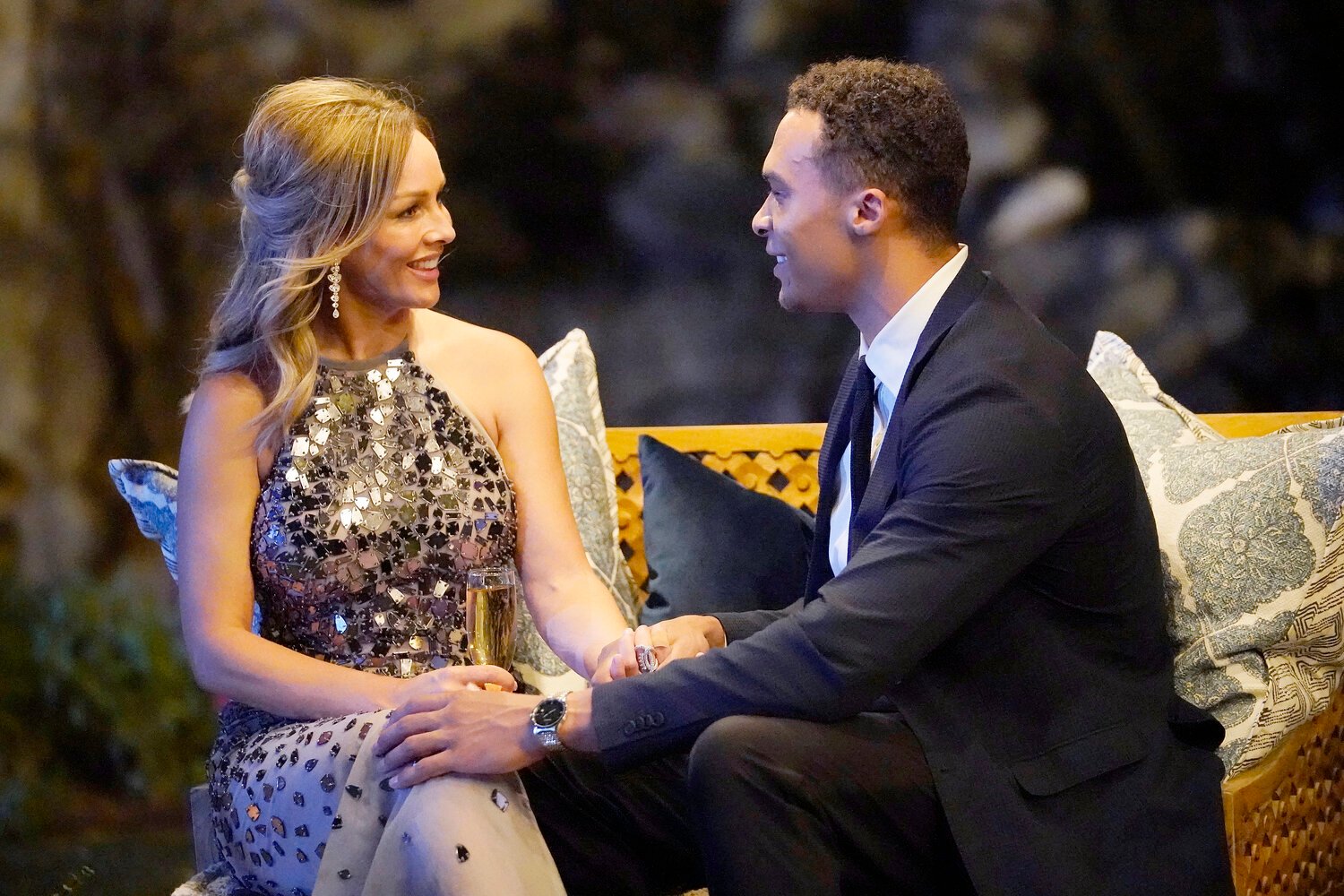 Clare Crawley became 'a blubbering mess' when she met Dale Moss
Already, it's pretty clear that Crawley is confident in the lead role. She was more excited than nervous when it came time to meet her suitors. But everything changed when Moss stepped out of the limo.
"It was one of those intangible, goosebumps all over the body [things]. Like, what just happened?" she told Entertainment Tonight on Oct. 13. "For me, being a confident woman, I honestly stood there all night and I was like, 'Great to meet you, I'm excited,' like, each guy, I was so into, I was so happy to meet them, and then with Dale, I felt like I was just a blubbering mess…I was like, 'What did I just say? Did it sound OK? What just happened?' For me to be caught off guard and for me to be at a loss for words — I think that definitely says a lot."
Crawley went on to say that she'd never felt the way she felt when she met Moss before. Their meeting was something special.
"That feeling that I've never felt before… just standing in front of a man, connecting on that level, and it being electric between each other – I've never felt that instantly like that before," she shared. "I had never felt it before, and I never even knew what to expect with those feelings. When you have not experienced it or felt it, you don't know if it exists, but when you feel it, you know exactly what that feeling is."
What about the rest of 'The Bachelorette' contestants?
When Crawley gave her interview on Oct. 13, she spoke about being mindful of her contestants' journeys as well as her own.
"My whole goal in all of this was for everybody to know and understand that even though I'm the Bachelorette and this is my personal journey to find love, it's also their personal journey to find love as well," she said. "They went through all of the testing that I went through, they put themselves on the line, they put their jobs on hold, they put their families on hold, all to find love."
She also touched on the promo that shows host Chris Harrison telling Crawley that she "blew up The Bachelorette."
"I think he's basically referring to that this is a season like no other," she said. "And I can say that really confidently, being a part of this franchise for a while now. It was one of those things where, there was a lot of different things that played into it being such a dynamic, different season, that I think it's definitely going to blow people's minds."
What is Clare Crawley's relationship status after 'The Bachelorette'?
ET, of course, asked the lead about her relationship status post-filming. But Crawley kept quiet.
"I'm very happy," she responded.
When asked if she was currently engaged or in love, she said: "I mean, I feel like there's so much more to it."