Classic Cuts: Led Zeppelin Sets the BBC Ablaze With 'Travelling Riverside Blues'
Flipping through some of classic rock's greatest tracks, Led Zeppelin's scorching 'Travelling Riverside Blues' at the BBC gets its due.
In the beginning, Led Zeppelin was about as much of a long-shot as every other '60s band. That's why it took Robert Plant and Jimmy Page several rounds of convincing before John Bonham joined the group. By that point, Bonham knew Plant well. Most importantly, Bonham knew the bands he'd previously been in with Plant hadn't gone anywhere.
Whose those three got together with John Paul Jones for the group's first jam, everyone knew they had something worth chasing. But it took months of touring, the first Led Zeppelin LP, and a groundswell of support (mostly from America) before the band got its trademark swagger.
By the time Zep made its fourth round of recordings for BBC airwaves in June '69, the band's outlook had upgraded from tropical storm to something like a category-4 hurricane. And the band's take on "Travelling Riverside Blues" reflected that power surge.
Led Zeppelin spontaneously blasted out 'Travelling Riverside Blues' at the BBC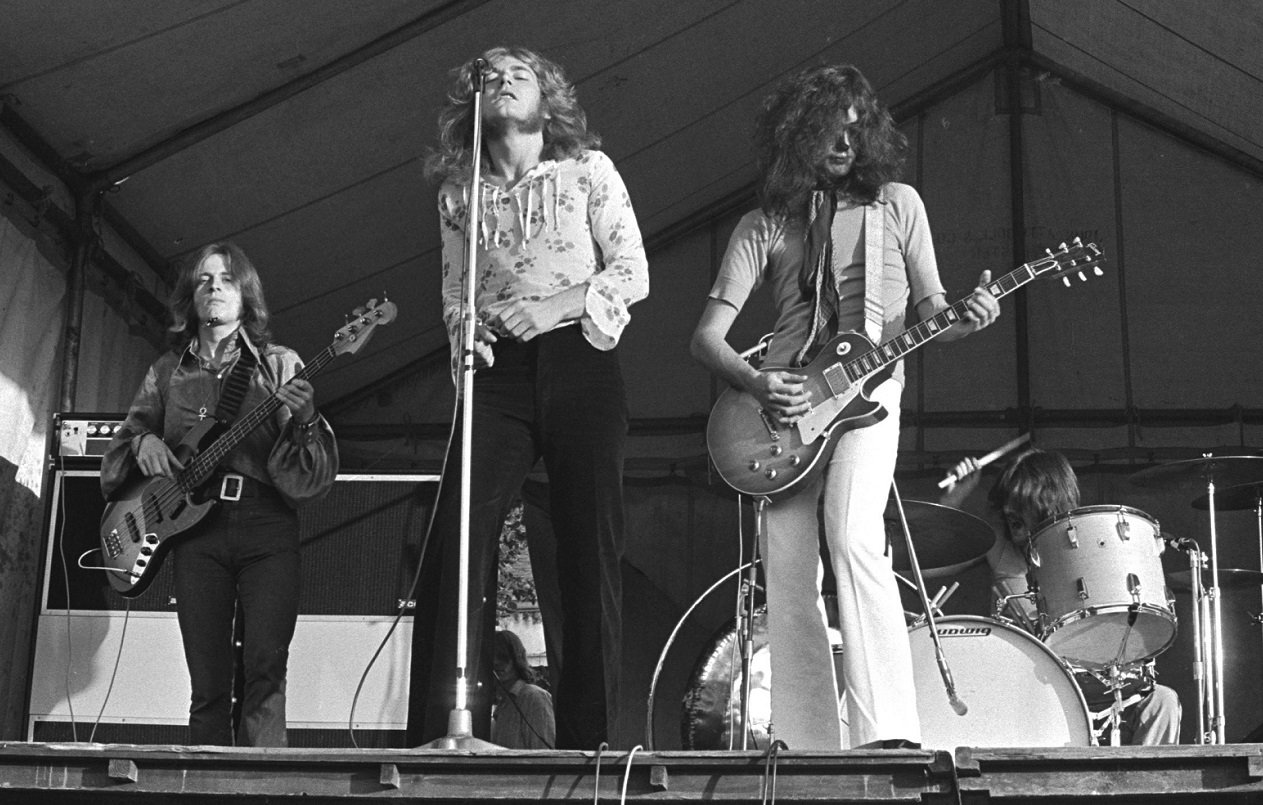 Though Zeppelin had been performing its take on Robert Johnson's "Traveling Riverside Blues" in early '69 concerts, the group hadn't planned on recording it at its BBC sessions. After making its debut on the BBC in March '69, the band recorded for the Beeb on two more occasions before returning to Maida Vale's Studio Four on June 24.
On that visit, the group had recorded the songs it planned on playing but still had time left over. When the engineer asked for one more track, the band tore into "Travelling Riverside Blues." Though Page got to add a few overdubs, the meat of the track (i.e., bass, drums, rhythm guitar, and vocal) was recorded in a single take.
'Travelling Riverside Blues' first went out as a promo single with the '90 boxed set
No matter how much Zeppelin you've heard in your day, there's something especially explosive about "Travelling Riverside Blues." Call it energy, magick, or what you will. The stunning force of Plant's young voice — on top of a power trio with no equal — can floor the most skeptical listener. This recording captures Zep's early thunder as well as any.
If you weren't tuned to the BBC in mid-'69 (or a bootleg collector), you'd have missed this Zep gem. (Later generations of Zeppelin fans, ahem, certainly did.) So it was more than welcome when Page released "Travelling Riverside Blues" as a promo single (plus MTV video) while putting out the Led Zeppelin Boxed Set (1990).
Zeppelin's version is hardly like Robert Johnson's 'Traveling Riverside Blues'
You'll always hear people charging Zeppelin with plagiarism, and that's been the case with "Travelling Riverside Blues." Yet listening to Johnson's original, you'd have a hard time finding an influence on Zep's take. Plant takes the lemon-squeezing lyrics (and others from "Kind Hearted Woman Blues"), but musically it sounds almost nothing like Johnson.
As several writers have pointed out, Page's intro has more in common with Johnny Winter's "I'm Yours and I'm Hers" (1969). But in the end it's genuine Zeppelin. If you were listening to the BBC in June '69, you knew Bonham wouldn't be shopping for a new band anytime soon.