'Clueless': Alicia Silverstone Kept This Item From Cher Horowitz's Closet
Cher Horowitz may not have known a lot about love, but she definitely knew a lot about fashion. The "clueless" teenage matchmaker played by Alicia Silverstone had the wardrobe of every '90s girl's dreams, complete with a then-state-of-the-art computer program that helped her avoid tragic outfit mistakes. So it's no surprise that Silverstone — who was 18 when the movie was released — walked away from the Clueless set with a souvenir from Cher's wardrobe. 
Alicia Silverstone kept Cher Horowitz's Mary Janes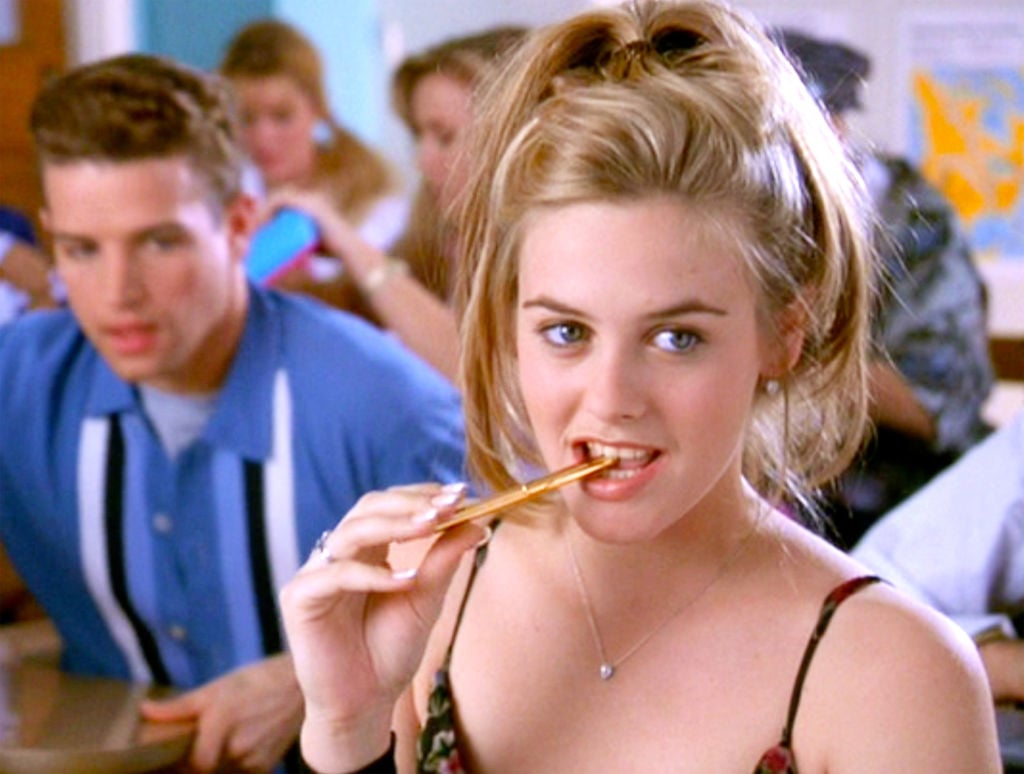 Cher donned plenty of memorable outfits in Clueless, from her yellow plaid skirt suit to the Azzedine Alaïa dress she was wearing when she was mugged on her way home from a party. And as Silverstone revealed in a recent interview with The New York Times, she couldn't resist keeping a few favorite things from her character's closest after filming wrapped. 
One specific item she held onto? Cher's Mary Janes. It's not clear exactly which pair of footwear she's referring to. But the character wore a pair of silver Mary Janes in a scene where she wanders around Beverly Hills and realizes she's "totally clueless," and it seems like these are probably the shoes Silverstone is talking about. 
Sadly, Silverstone revealed that she no longer owns the shoes. She gave them and the other things she took from the movie away. 
Silverstone says she's 'grateful' to have been part of 'Clueless' 
Silverstone may have given away the shoes, but she's kept her fond memories of Clueless. It's been a quarter-century since Silverstone played the airheaded shopaholic with a heart of gold but it's still her most recognizable role. But that doesn't bother the actress, now 43. 
"I also just really love Clueless," she said during an appearance on the ReelBlend podcast in April 2020. "I'm grateful for being a part of something that touched so many people and made so many people so happy." 
She told The New York Times that she took her son to a screening of the film in 2017 and was amazed at how popular it still was. "The people that were watching it when it came out have shared it with their children, and so it just keeps going and keeps living," she said. "I don't know why that happens to some movies and others it doesn't, but I'm so grateful to be a part of it."
She says she was uncomfortable with fame
Though Silverstone has positive feelings about the movie, she admits that the attention that came with her starring role in Clueless was "overwhelming." Before the film was released in 1995, she was already fairly well-known for her role in the thriller The Crush with Cary Elwes and for starring in the Aerosmith music videos for "Cryin'," "Crazy," and "Amazing." But Clueless resulted in a whole new level of fame. 
"At each turn, I was getting more and more well-known, and it was more and more uncomfortable," she told the ReelBlend podcast. "And when Clueless came out, it was so uncomfortable how… I was a teenager. I was 18! And there was just a lot. So I needed a good therapist and I didn't have one!"
Since then, Silverstone has continued to act, with recent appearances in the movies Valley Girl, Bad Therapy, and Book Club and an upcoming role in the Netflix series The Baby-Sitters Club. She has also published the vegan cookbook The Kind Diet and The Kind Mama, a book about fertility and pregnancy.  
Check out Showbiz Cheat Sheet on Facebook!