Coachella 2022: 2NE1 Reunite With Energetic Performance of 'I Am the Best'
Fans received a treat on Saturday night when K-pop group 2NE1 reunited at Coachella. Group member CL headlined 88rising's main stage performance, Head in the Clouds Forever on April 16, 2022. To the delight of the crowd, her set ended with the three remaining members of 2NE1 joining her on stage to perform their biggest song.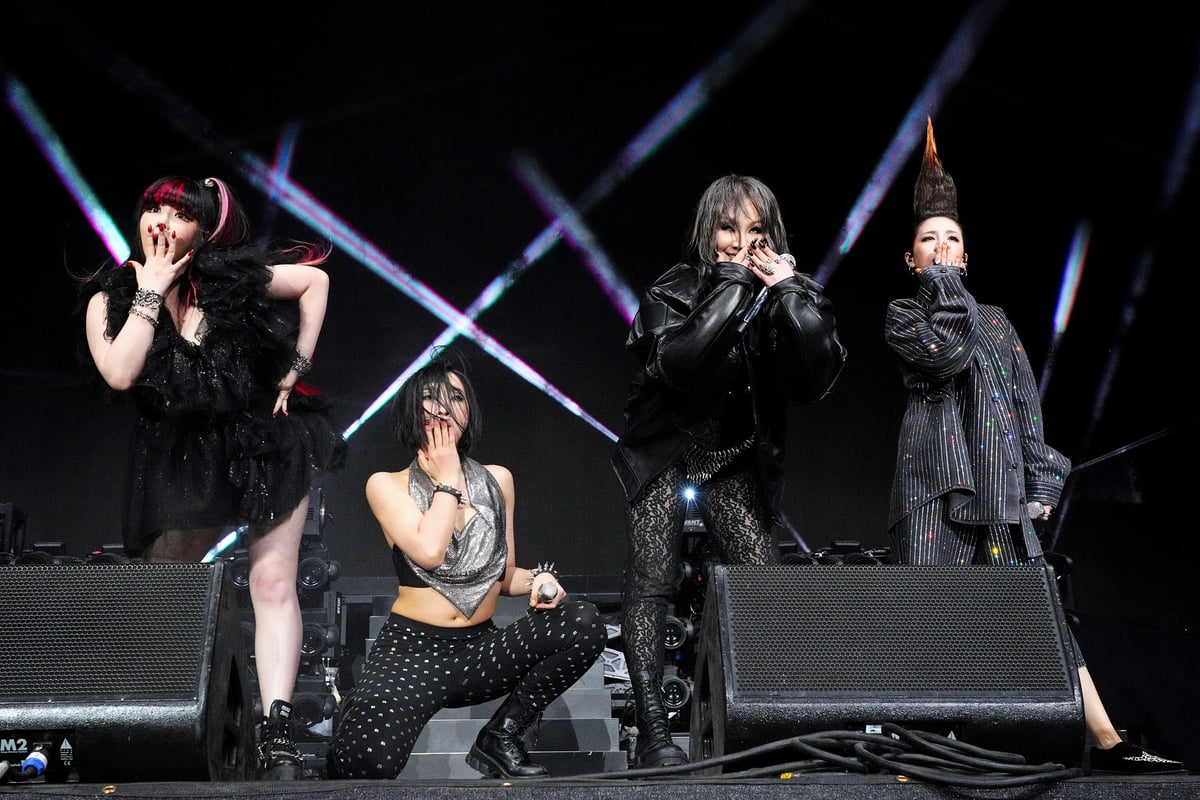 2NE1 performs together for the first time in 7 years
On Saturday, April 16, 2NE1 performed in front of a live crowd for the first time since 2015. The popular K-pop group helped break down the wall for K-pop in America with 2011's single "I Am the Best." The EDM dance song was featured in a Microsoft television advertisement and performed at the 2018 Olympic closing ceremony.
Members CL, Minzy, Dara, and Bom officially disbanded in 2015. Their last single, "Goodbye," was released in 2017. The groups' final performance was in 2015 at the MAMA Awards when CL brought the members out at the end of her solo set. Group leader CL went on to become an international solo star. 
On Saturday night at Coachella, former group leader CL brought her members together again. After a successful solo performance that opened with "Hello B****es" and included "Chuck" and "Spicy," 3 women appeared onstage to a thunderous roar from the Coachella crowd. The foursome performed "I Am the Best" with original choreography. 
2NE1 is a groundbreaking K-pop group
2NE1 debuted in 2009 under YG Entertainment. Their name stands for "New Evolution of the 21st Century." They lived up to their name as pioneers for a new sound in K-pop. While girl groups like Twice and BLACKPINK have completed successful world tours in recent years, 2NE1 was the first girl group to partake in a world tour in 2012.
CL is the designated leader and main rapper of the group. Fan-favorite Bom is the main vocalist. Striking Dara is the visual who also participates in singing and rapping on 2NE1 songs. The youngest member, Minzy, steals focus as the main dancer.
Although their debut single, "Fire," was released in May of 2009, fans were introduced to 2NE1 a few months earlier on the song "Lollipop" with labelmates BIGBANG. The group released two Korean albums and two Japanese albums. 2NE1's discography also included three mini-albums, two live albums, and 14 digital singles. 
With Saturday night's performance, they became the second K-pop group to perform at Coachella. BLACKPINK was the first in 2019. 
Why did the K-pop group break up in 2016?
In a 2021 interview shared on AP Entertainment's Twitter account, CL shocked fans when she admitted she found out the group broke up through a media report.
The reporter said, "My colleague interviewed Minzy ages ago, and she said that she found out about the disbandment through media. How did you find out?"
CL responded, "WelI I did too, to be honest." She went on to describe how she found out 2NE1 was done. "I was at a Thanksgiving dinner, and my phone blew up. But yeah, those situations" she paused before saying "That was very heartbreaking for me."
Group members have since talked about wanting to reunite in various interviews. Their Coachella performance not only brought joy to fans around the world, but the four women seemed genuinely thrilled to be on stage together again.
The performance was part of the record label and collective 88rising's main stage show. Head in the Clouds Forever brought out popular Asian acts Rich Brian, Jackson Wang, Minzy, CL, and others to showcase the label's impressive roster. 88rising tweeted a photo of the reunited 2NE1 in the late hours of Saturday evening with the caption "we the best." The moment will go down in Coachella history for K-pop fans worldwide who were able to watch live via Coachella's free YouTube channel.