'Cobra Kai' Cast Member Jacob Bertrand Reveals Xolo Maridueña Didn't Really Catch Koi Fish Without Hollywood Help
Cobra Kai honors the legacy of Mr. Miyagi's unique training methods in The Karate Kid. Miyagi (Pat Morita) taught Daniel (Ralph Macchio) Karate by waxing cars and painting fences. Now that he has his own students, Daniel has to come up with new training methods, like teaching Miguel (Xolo Maridueña) and the others to catch koi fish with his hands. However, there's some movie magic involved, Cobra Kai cast member Jacob Bertrand revealed.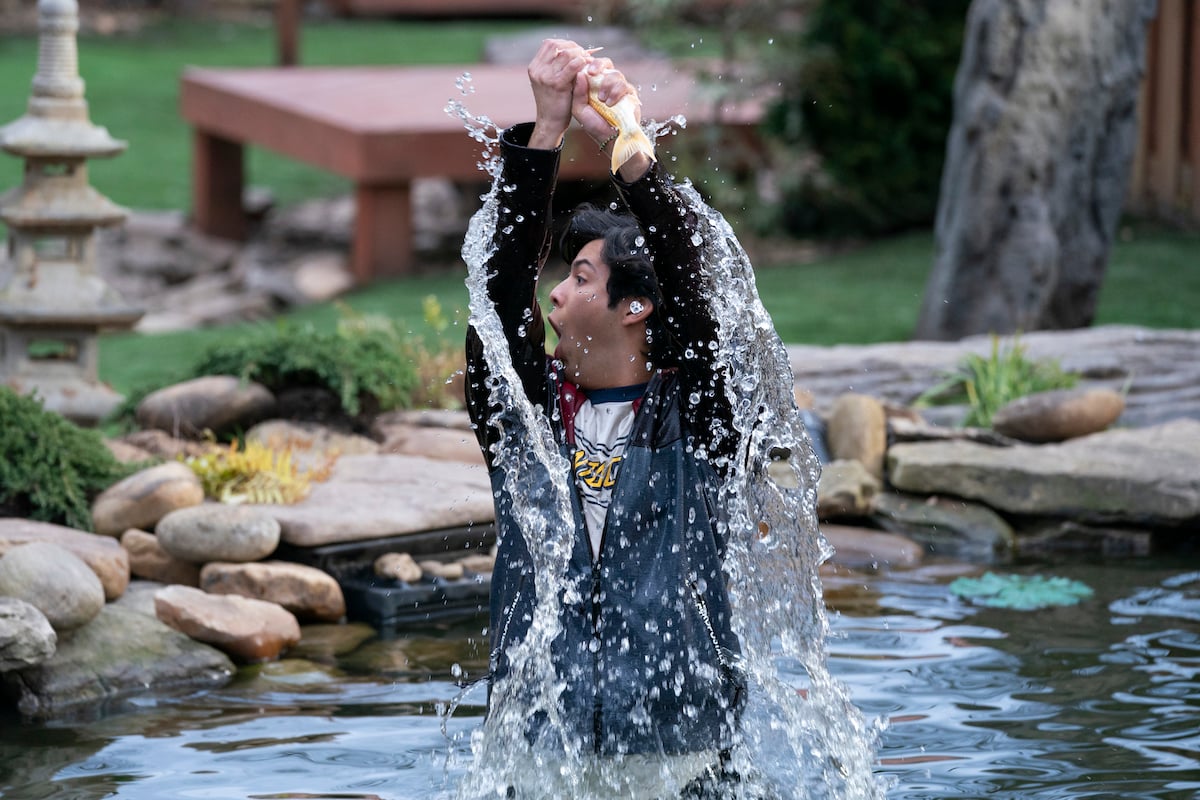 Bertrand spoke with Showbiz Cheat Sheet by phone on Dec. 20 about Cobra Kai Season 4. He revealed how they really did the koi pond training scene. Cobra Kai Season 4 is now streaming on Netflix. 
Xolo Maridueña could not catch koi fish as fast as Miguel could 
In one Cobra Kai Season 4 episode, Daniel tells the kids to wade into the koi pond and catch fish with their bare hands. Miguel figures out how to wrangle the fish into place. However, Bertrand said the Cobra Kai cast got just as wet and slippery as Miguel's first attempts. 
"Oh, that was so much fun," Bertrand said. "That was a really fun day because Xolo kept having to grab a hold of all these fish and they just kept slipping out of his hands. Once they slip out of his hand and go into the pond, they can't really catch them. They're so fast under water."
How the 'Cobra Kai' cast faked koi fish catching 
To expedite production, the crew actually placed koi in Maridueña's hand while the rest of the Cobra Kai cast watched. Through the magic of editing, you'd never know he didn't fish them out of the pond himself.
"So they had a fish wrangler bringing him fish from the truck," Bertrand revealed. "They're in like all these huge dubs of water. It was just so funny. He kept losing so many fish and it took a little bit to do the scene because we're like come on, man, grip the fish already. Stop letting them go. But no, that was really fun. That was a fun thing. I love the little gags when we get to go in water and splash around and get to do fun stuff."
Jacob Bertrand got to do the iconic 'Karate Kid' training 
Daniel and Johnny (William Zabka) combined their Miyagi-Do and Eagle Fang students to team up against Cobra Kai. So, the Cobra Kai cast members playing the Eagle Fangs got to do Miyagi training for the first time. That meant Bertrand finally got to wax on and wax off. 
"It was pretty cool," Bertrand said. "I kind of wanted to be able to do that for a while, just because being on the show, a ton of people have learned it now. So I'm one of the only ones that hadn't. That was super cool. It felt very iconic, especially to learn it from Ralph so yeah, that was really cool. Very surreal."