'Cobra Kai' Cast Member Jacob Bertrand's Girlfriend Caught Him Mocking Her
Jacob Bertrand does bad impressions, and he regrets imitating his girlfriend right in front of her. His 'Cobra Kai' co-star and roommate Xolo Maridueña puts him on the spot.
After four seasons, the Cobra Kai cast has gotten pretty close. Jacob Bertrand and Xolo Maridueña play Eagle Fang students Hawk and Miguel, respectively. Ahead of Cobra Kai Season 4, they launched the podcast, Lone Lobos. On their podcast, Bertrand and Maridueña share personal stories, even if it's unflattering sometimes. Bertrand got in some hot water with his girlfriend recently, and Maridueña was there to give him grief about it.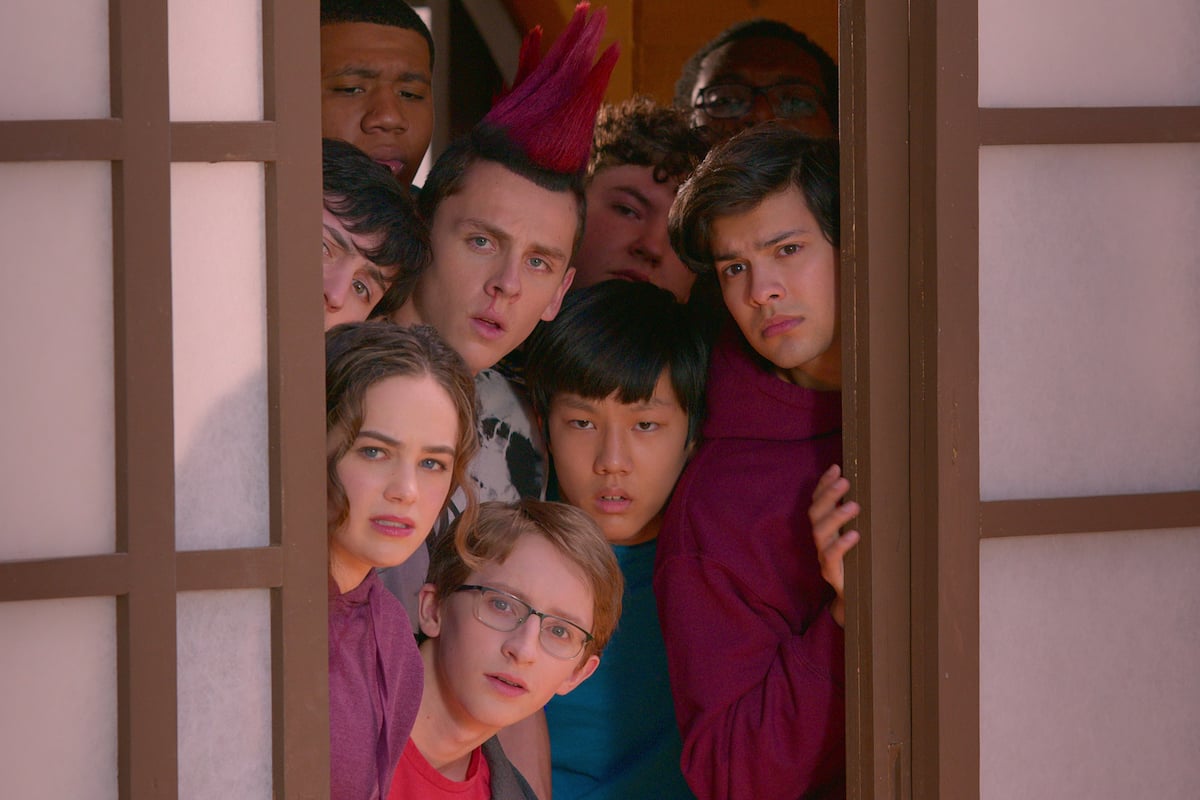 'Cobra Kai' cast members Jacob Bertrand and Xolo Maridueña live together 
Cobra Kai films in Atlanta, Georgia. Bertrand and Maridueña live together while filming, and their third roommate is another Cobra Kai cast member, Joe Seo. Maridueña set the scene where Betrand mocked his girlfriend, Serena Pullen. Maridueña even imitated the voice Bertrand used. 
"This was the funniest thing ever," Maridueña said on the Oct. 12 Lone Lobos. "Jacob's girlfriend comes to our apartment the other day. She goes, 'Oh my gosh, Jacob, you have so much chocolate milk in your fridge' because we have four cartons of chocolate milk in our fridge. And he goes, 'You have so many cartons of chocolate milk.' She's walking out the door and looks back at Jacob with these daggers and she goes, 'So that's what my voice sounds like, huh?'"
Jacob Bertrand's girlfriend didn't leave him over that 
That sounds like something Hawk might do on Cobra Kai. Fortunately, Pullen did not become Bertrand's ex-girlfriend over the voice. 
"Jacob had the most uncomfortable look ever," Maridueña said. "It was like he never does an impression of his girlfriend around his girlfriend. She was like, 'So that's what my voice sounds like sometimes, huh?'"
Pullen knew his penchant for imitations. She just never thought the Cobra Kai star would turn it on her. 
"I've never claimed to be good at impressions," Bertrand said. "Because I was doing an impression of my mom or other people it's like, 'She doesn't sound like that, that's so demeaning.'So when she heard her own, she was like, 'Oh wow, really?'"
Jacob Bertrand and Serena Pullen bonded over 'Squid Game'
Bertrand recalled another incident where he got close to the line with Pullen. They were both admiring Squid Game star HoYeun Jung. 
"We were watching the show," Bertrand said. "She said she was pretty. That's the thing I will say. If I'm watching something, I will never volunteer my opinion of thinking a girl is pretty on a show. I will wait for her to say, 'Wow, that girl is beautiful' and then it's like okay, it's safe to say yes, I agree that girl is quite cute.'"
Bertrand admitted he made that mistake before. 
"I've definitely done that before," Bertrand said. "I'm like man, I think Rachel McAdams is so pretty. 'Oh really, you do? Oh, that's great.'"
Maridueña continued to give Bertrand grief, reminding him that he just committed his relationship strategy to a podcast recording. 
"The great thing about this is this is a lose lose because A, we know that your girlfriend listens to this podcast," Maridueña said. "B, you've now given up your how you do things, your secret."
Bertrand had second thoughts, but they did not edit it out of the podcast.
"You know what's funny, in my head I feel like she doesn't listen to it but then I know she does," Bertrand said.