'Cobra Kai' Star Griffin Santopietro: 'Anthony Was Just Kind of the Worst'
Anthony LaRusso became a controversial character in 'Cobra Kai' Season 4. Even actor Griffin Santopietro calls him out for his behavior.
Cobra Kai Season 4 was a big season for Anthony LaRusso (Griffin Santopietro). Daniel LaRusso (Ralph Macchio)'s younger son had remained in the background for the first three seasons. Anthony's story came to the forefront in season 4 and Santopietro acreets with Anthony haters.
[Warning: This article contains spoilers for Cobra Kai Season 4.]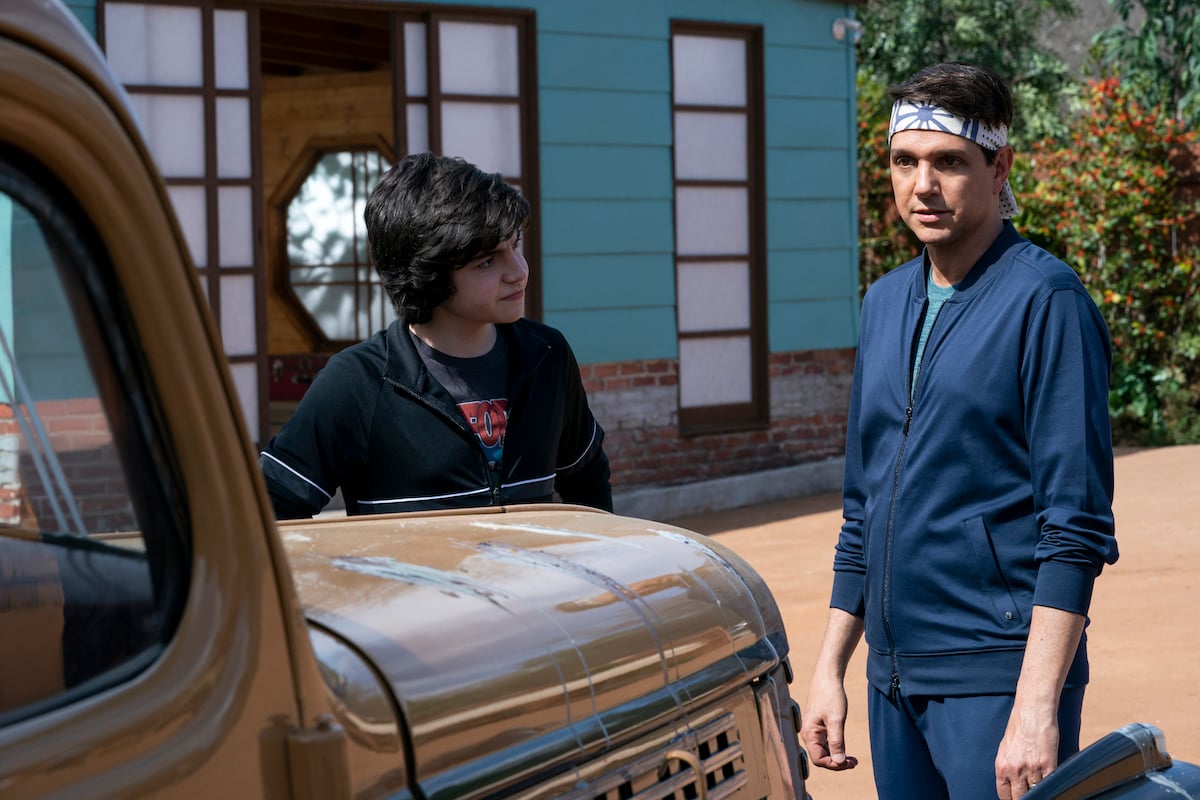 Santopietro appeared at the Cobra Kai: Live and Badass event on May 5. Showbiz Cheat Sheet was there to hear what he had to say about Anthony. We'll have more with the cast and creators of Cobra Kai from the event here on Showbiz Cheat Sheet. Cobra Kai Season 5 premieres Sept. 9 on Netflix.
'Cobra Kai' star Griffin Santopietro calls Anthony LaRusso 'kind of the worst'
Before Cobra Kai Season 4, the biggest things fans discussed about Santopietro was his weight loss. Season 4 gave them reasons to hate Anthony.
"It was interesting because I think for so long Anthony was just kind of the worst," Santopietro said. "But to actually see him feel bad for what he's doing, a little bit, what he's doing to Kenny. Then at the end I guess Kenny gets his revenge."
What Anthony LaRusso did in 'Cobra Kai' Season 4
The son of the Karate Kid became a bully himself. When Kenny (Dallas Dupree Young) comes to school, Anthony and his friends bully him. It begins with teasing and pranks, like catfishing poor Kenny and embarrassing him by recording him in his cosplay from a video game he likes. They get physical though and Kenny feels he's in danger. 
RELATED: 'Cobra Kai' Season 5 Is 'Our Most Untraditional' Says Co-Creator Josh Heald
Kenny goes to Cobra Kai to learn to defend himself and Robby (Tanner Buchanan) takes Kenny under his wing. By the All-Valley Karate Tournament, Anthony apologizes to Kenny but it's too late to undo a whole school year of terrorizing him. Robby tries to teach Kenny better than Cobra Kai, but Kreese (Martin Kove) and Silver (Thomas Ian Griffith) still get to him.
Dallas Dupree Young weighs in on Kenny vs. Anthony LaRusso
Young was also at Cobra Kai: Live and Badass. Young was no newcomer either. He's been acting since 2017, but Cobra Kai was his biggest role with the most dramatic arc. Young discussed Kenny's journey and how Anthony pushed him towards the dark side. 
Playing from light and going completely to dark was so fun. That's something I've definitely never done. It was a completely different change for me. It took a lot mentally just to figure out how to get into that dark place. All the moments that I had with Griffin were so hilarious. We had such a great time with that but I just had to put myself in his situation, put myself in his shoes and imagine if somebody was bullying you and he keeps terrorizing you and ruining your experience at middle school. So going through that change was difficult but I had the most fun, the best time of my life.

Dallas Dupree Young, Cobra Kai: Live and Badass, 5/5/22