'Cobra Kai': Jacob Bertrand Plots Peyton List Relationship Rumors
Cobra Kai stars Jacob Bertrand and Peyton List confirmed they are a real-life couple when TMZ found them traveling together. Now, Bertrand is plotting to mess with the tabloids by planting rumors about his relationship.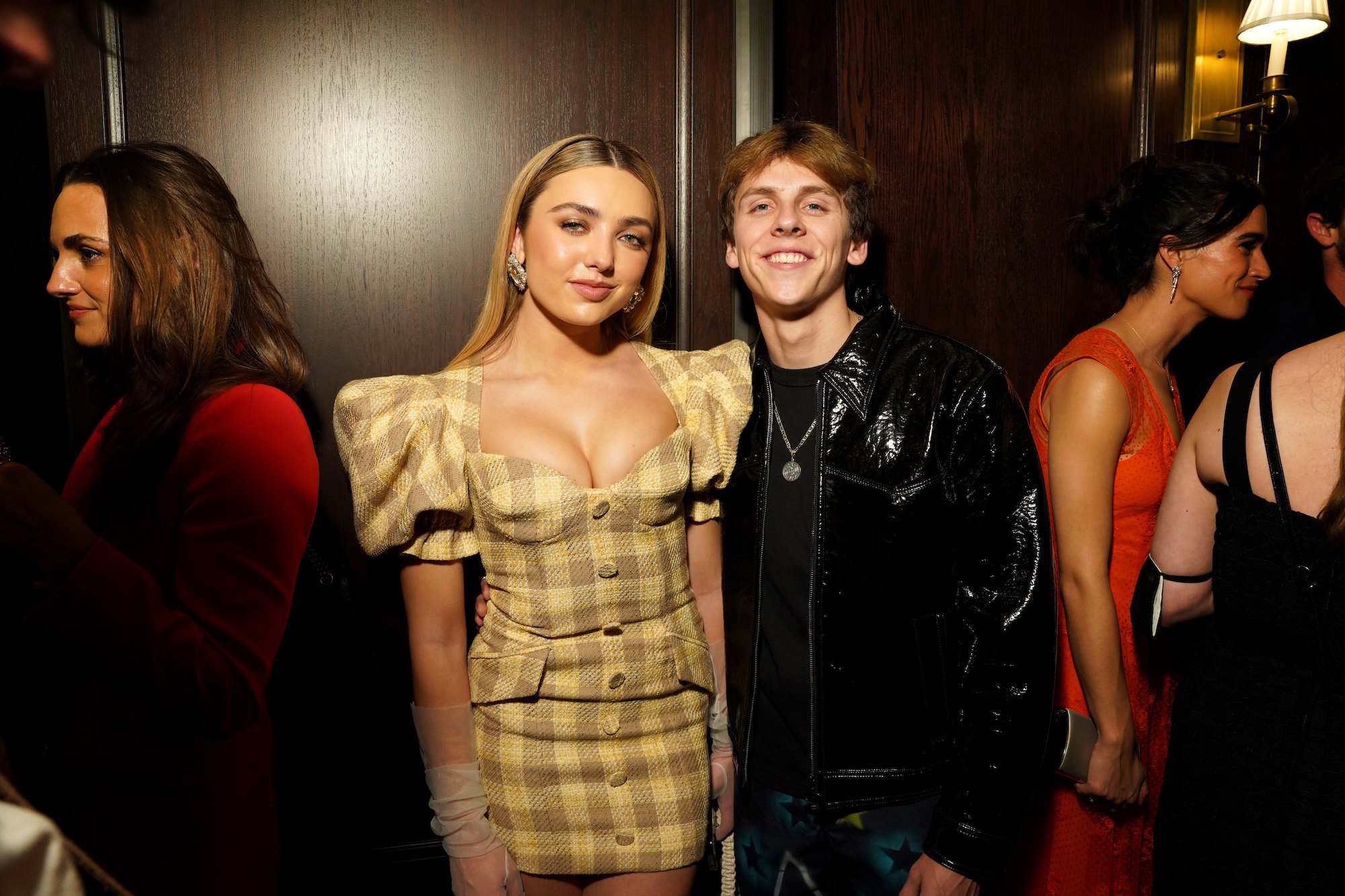 Betrand spoke about List on his Lone Lobos podcast, which he co-hosts with Cobra Kai co-star Xolo Maridueña. Here's how Bertrand plans to have fun with the interest in his and List's personal life. Cobra Kai Season 5 is coming this year to Netflix. 
Don't believe these Jacob Bertrand/Peyton List rumors if you read them
Now that he and List are the targets of paparazzi, Bertrand suggested he might have a little fun with them. If these stories ever come out in the press, you heard it here first. 
RELATED: 'Cobra Kai' Cast Member Xolo Maridueña Says Peyton List's Karate Was 'Pretty Trash' at First
"I already got some foot rumors percolating," Bertrand said on Lone Lobos. "We're going to start off with she's really into feet stuff. Maybe that can cause some problems because it's like oh, he's not into feet stuff. How are they going to get over this huge hurdle? Maybe I'll hop into an entanglement with Jacob Elordi. And then it'll be like the next thing will be are they together? Are they not together? What does the entanglement mean?"
Is a 'Cobra Kai' wedding in the future?
As Betrand riffed on his tabloid plans, his plans seemed to include a future wedding. Is he planning a proposal?
"And then we'll officially end the entanglement, say, 'You know what? No, we're actually still married,'" Bertrand said.
It sounded like he was joking. Surely if Bertrand and List do marry, they won't announce it on a podcast first.  
"All right, TMZ, there you go," Bertrand caught himself. "There's plans to get married."
Going public was hard for Jacob Bertrand
In all seriousness, the interest in his personal life is a new challenge for Bertrand. Although the Cobra Kai fans have interest, it's not like Bertrand put out a press release. 
RELATED: 'Cobra Kai' Hawk Actor Jacob Bertrand Says 1 Fight Was Even Tougher Than the Season 2 High School Brawl
"It was kind of weird," Bertrand said. "I was always of the mindset, and we both agreed on not being super public with our relationship. I think the thing that was the most giveaway-y was we would make birthday posts or something. That's one spot where it could be known."
When TMZ was waiting at the airport, List and Bertrand just went with it.
"I honestly was super caught off guard," Bertrand said. " I had no plans to be like, 'Oh yeah, world, we're dating, I want you to know.' So that was never planned and I guess now that it's a thing, I don't know what it's going to be like. When we go to events, I don't know how different it's going to be because we haven't been to an event yet now that it's out that we are dating."
RELATED: Peyton List: 'Cobra Kai' Birthday Party Kids 'Were Giving Me a Hard Time'