'Cobra Kai': Joe Seo Wished Kyler Could've Hurt Miguel More in the Series Premiere
Cobra Kai is relevant even if you've never seen The Karate Kid. Everyone experiences bullying in one way or another. The show began when Johnny Lawrence (William Zabka) tried to teach Miguel (Xolo Maridueña) Karate to defend himself against bullies like Kyler (Joe Seo). Now on Cobra Kai, Kyler is one of John Kreese (Martin Kove)'s students, but Seo reveals how violent he felt in the series premiere.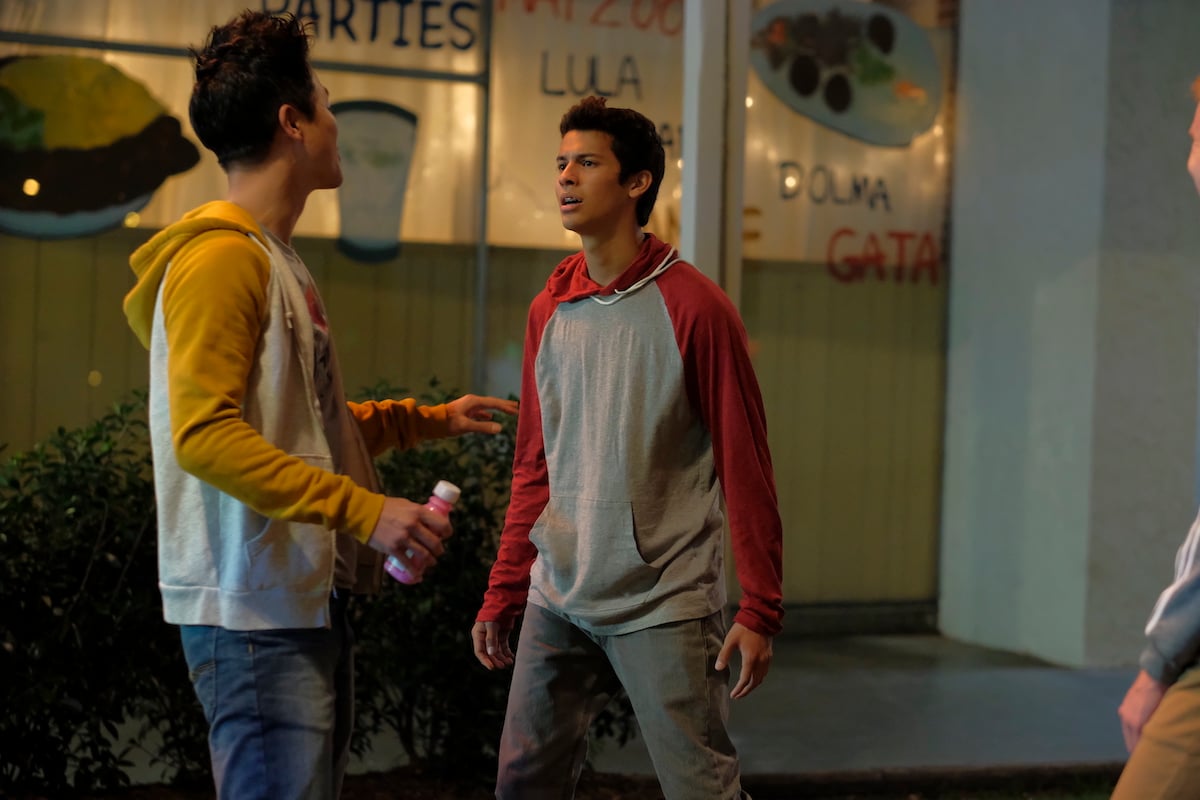 Seo was a guest on Kove's podcast Kicking It with the Koves on April 27. He described his internal motivations in his first confrontation with Miguel on Cobra Kai. Cobra Kai returns for season 5 on Sept. 9.
'Cobra Kai' bully Kyler would've been even more violent if it was up to Joe Seo.
Johnny witnesses Miguel and Kyler fight in front of the convenience store. Miguel got Kyler busted with a fake ID, so maybe he should have known that would only instigate Kyler further.
RELATED: 'Cobra Kai' Season 5: Mary Mouser Prank on Jacob Bertrand Got Unexpectedly Serious
"What went through my mind, I remember, is that I wanted to hurt him even more," Seo said on Kicking It with the Koves. "More because there's no reason for him to instigate him. As in, he's not a cop. He shouldn't be there at the liquor store telling him that I shouldn't be buying drinks because that's my fake ID or something. So I had to give him a reason."
Joe Seo defended Kyler in 'Cobra Kai'
As the actor playing Kyler, Seo explored his character's anger and the personality that made him react with violence. Seo said he couldn't play the Cobra Kai scene just to be a villain, so he came up with the internal motivation.
RELATED: 'Cobra Kai' Season 5: Ralph Macchio Explains Why Daniel Still Can't Convince People Terry Silver Is Evil
"There's no reason for him to do that unless he didn't like me," Seo said. "For me, it was like what the hell is your problem? Why do you have to do that? This is me and my boys. We just wanted to have a few beers before our wrestling meet. It's something that we just wanted to have fun doing, chill, whatever, but you just messed up everything for us. Look what you did. All right then, you want to get into my business? I'm going to get into your business. That was my mindset. I had to think of a reason."
The show is all about giving the bully a chance 
Johnny was the bully in The Karate Kid but Cobra Kai made him sympathetic. Perhaps Kyler will have his day. For now, Seo just made the most of his scenes.
"That was not in the script but that was a reason for me to try to hurt this kid that tried to ruin my fun," Seo said. "I was just like nah, this is not going to happen. Not today. I would've gotten even more violent just thinking about it. It was something that was going through my mind playing and hopefully it came out well."
RELATED: 'Cobra Kai' Season 5: Ralph Macchio on Daniel Teaming up With Chozen (Yuji Okumoto)