'Cobra Kai': John Kreese's Famous 'Karate Kid' Line Almost Wasn't Heard
Cobra Kai brought back all the hallmarks of The Karate Kid, including John Kreese (Martin Kove) himself. Cobra Kai's famous "No mercy" motto is the biggest. Kove still plays the same old sensei who told Johnny Lawrence (William Zabka) to sweep the leg. Looking back at the original film, Kove revealed that he had to redo one of Kreese's famous lines.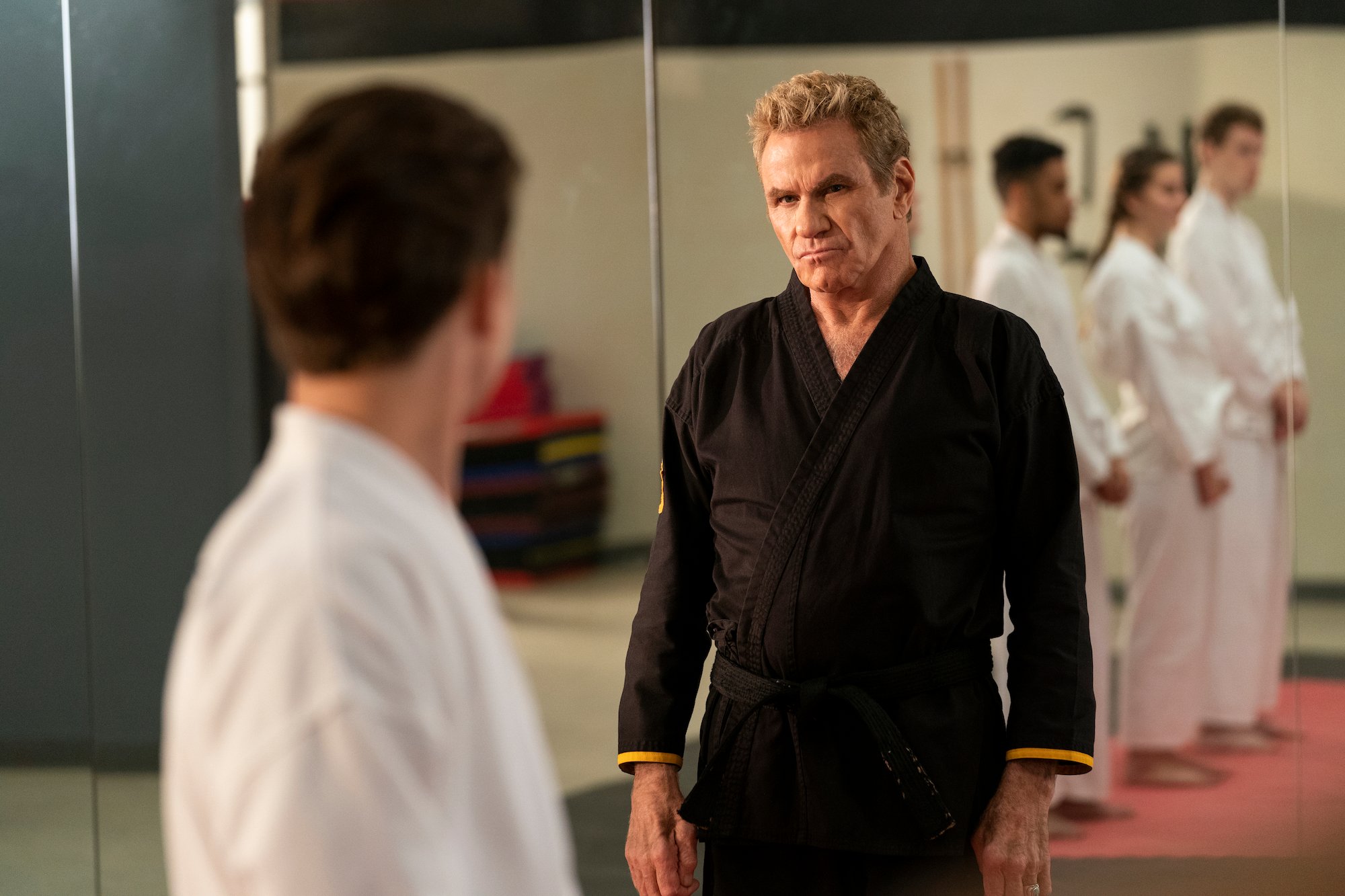 Kove started a podcast called Kicking It with the Koves with his son Jesse and daughter Rachel. On their Feb. 3 episode, Kove discussed The Karate Kid and the problem he had making "Finish him!" as intimidating as it needed to be. Cobra Kai Season 5 is coming soon to Netflix.
John Kreese didn't say this 'Karate Kid' line loud enough
Many of the famous lines in The Karate Kid come from the final tournament scene. One of those is when Kreese tells Johnny, "Finish him!" However, with hundreds of extras cheering the tournament, you couldn't hear Kove.
RELATED: 'Cobra Kai': Martin Kove Hated 'Karate Kid' Movie Title
"When we did it, we actually raised the volume of it so you can hear 'Finish him' on the dubbing stage," Kove said on Kicking It with the Koves. "In other words, 'Finish him' wasn't loud enough. [Director] John Avildsen said, 'It's not loud enough for all the feelings that are going on.' Everybody getting chills and screaming and yelling and yet I said 'finish him,' but it wasn't loud enough because everyone else was screaming at the moment."
John Kreese got a second chance at 'The Karate Kid'
Fortunately, thanks to movie magic, Kove got another chance. Avildsen brought Kove into the recording stage to scream, 'Finish him!' and placed that in The Karate Kid.
RELATED: 'Cobra Kai' Star Martin Kove Didn't Even Recognize This 'Karate Kid Part III' Star Today
"So when we looped it, and we just went back there, I did it a couple times, 'Finish him', loud, to the scene on the screen," Kove said. "Everybody remembers that. It was really dubbed in the stage. When we originally acted it, it was too low. I think it might've been something like finish him, I said it to myself. 'Finish him', like that, gripping your fists. Then ultimately it wasn't loud enough because everybody else was screaming. So John brought me into the stage and said, 'I want this really loud, louder than you did it. What you did was right but I want it to be louder so it's more memorable.'"
John Kreese is still trying to finish him via Cobra Kai
Kreese still holds a grudge on Daniel and Mr. Miyagi (Pat Morita). Season 4 saw him reconnect with Terry Silver (Thomas Ian Griffith) to defeat Miyagi-Do and Johnny's Eagle Fang dojos. 
"Each conflict I think has a certain amount of weight," Kove said. "Last night, watching 'The Conspirator', actually to conspire to bring in Terry Silver, because he feels a little, he does feel he can't afford to lose but he does feel threatened and he needs a partner. Going out and getting Terry Silver after 30 years of absence is a very big challenge for him. Yes, he does have that weight on his shoulders now of having to win this time vs. 34 years ago which he also thought that he would win the tournament."
RELATED: 'Cobra Kai' Stars Ralph Macchio, Jacob Bertrand Vetoed 2 Bad Critics Choice Scripts