'Cobra Kai' Based Julia Macchio's Character on a Completely Different Ralph Macchio Movie
Julia Macchio guest starred on her father's show, 'Cobra Kai.' She sounded less like her father's daughter and more like a character from one of his non Karate movies.
Cobra Kai Season 4 welcomed more Macchios onto the show. Ralph Macchio's daughter, Julia, played Daniel LaRusso's cousin in the eighth episode of the season. Julia is already 29 so couldn't play one of the Karate kids, but she was able to pay homage to another Ralph Macchio movie. 
[Warning: This article contains spoilers for Cobra Kai Season 4.]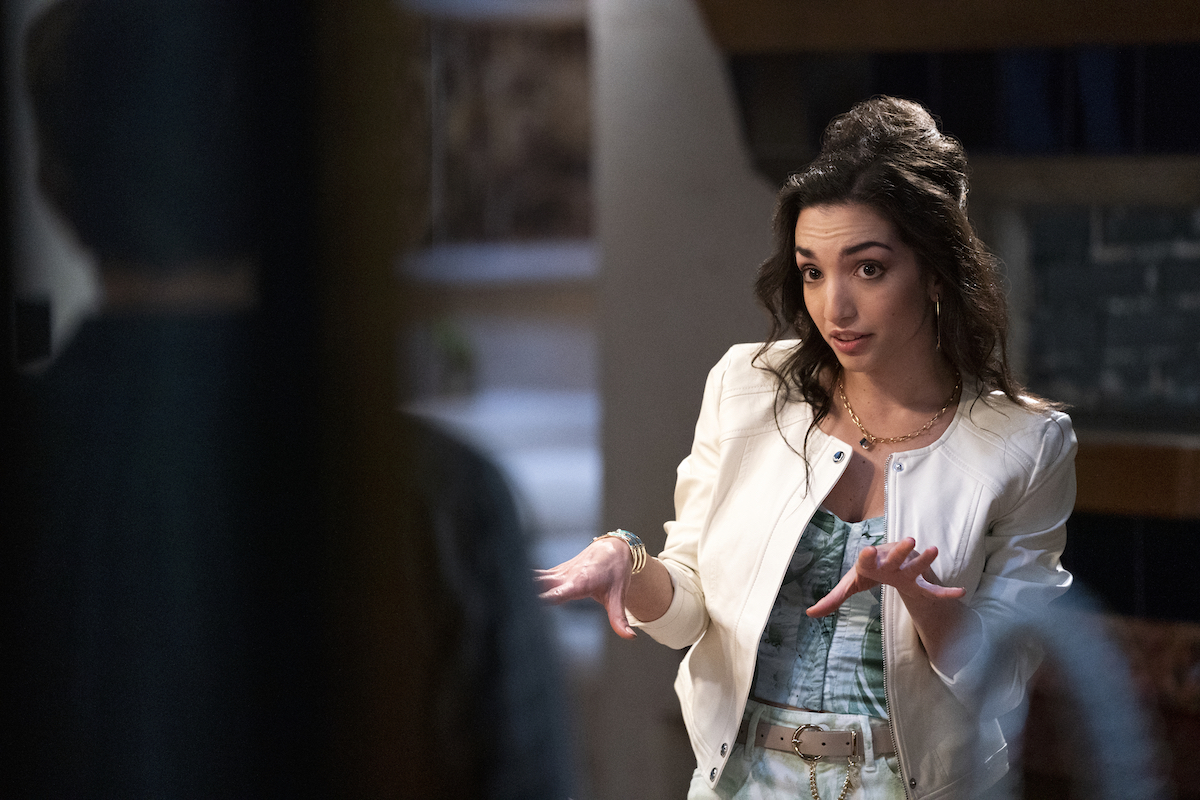 Julia appeared on the Cobra Kai Kompanion podcast on Jan. 4 to discuss her role in the episode. She said she drew inspiration from Marisa Tomei's character in My Cousin Vinny. Cobra Kai Season 4 is now streaming on Netflix. 
'My Cousin Vinny' was also a Ralph Macchio movie 
The Karate Kid is obviously Ralph's biggest role, considering he did three movies and the ongoing TV series. But he was also in the 1992 hit My Cousin Vinny. He's Vinny (Joe Pesci)'s cousin who needs a lawyer. Tomei played Vinny's girlfriend, Mona Lisa Vito, who joins him for the trial. 
"Obviously that's a question more for the writers but I think that was the idea," Julia said on the Cobra Kai Kompanion podcast. "You're taking this stereotype that everyone kind of knows of and you're giving it to your audience on a silver platter and then you're kind of twisting it a little bit, or putting a little surprise in there. That was a reference that we had spoken about."
Julia confirmed that Cobra Kai creators Jon Hurwitz, Hayden Schlossberg, and Josh Heald wanted her to do a thick Italian accent as a fellow LaRusso.
"I got on a Zoom call with the big three, with Jon, Josh and Hayden," she said. "I think it was like the week before I flew to Atlanta to film, because I just wanted to make sure that the way I was hearing and seeing this character was in line with what they wanted. Marisa Tomei's character in My Cousin Vinny was obviously a big reference point but something that we talked about was her accent in that film is so thick, it's actually a little thicker than what I ended up doing."
Julia Macchio studied another 'Cobra Kai' cast member 
Julia played cousin Vanessa, who is Louie (Bret Ernst)'s sister. Daniel and Amanda (Courtney Henggeler) consult Vanessa on their son, Anthony (Griffin Santopietro) because she is studying child psychology. In addition to Tomei, Julia had another reference for Cobra Kai Season 4.
"I just had to match Bret," she said. "They're like, 'You just have to be two peas in a pod with Louie. We have to believe that you guys really grew up together and you've been around each other for years and you interact. It should feel like second nature.' So an inspiration was Marisa Tomei in that film but also what I did, and I don't know if I ever even told Brett this, I just went back and watched scenes of him in the show to listen to him speak."
'Cobra Kai' Season 4 has just a little bit of 'My Cousin Vinny'
Julia was also careful not to completely copy Tomei, or otherwise overdo the accent. 
"You don't want to underdo the accent, but you also don't want to overdo it to the point where you're like, 'Oh, I'm watching an SNL skit of somebody trying to impersonate someone who's from Jersey.' So I ended up using Bret as a reference point for a lot of it because I wanted it to be authentic and believable that these two would've grown up together."
However, you can't go wrong with an Oscar winning inspiration. 
"The Marisa Tomei thing was definitely, definitely weaved in there for sure, without a doubt," she said. "I mean, she won the Oscar for it and rightfully so. There's nothing wrong with it."