'Cobra Kai': Martin Kove Hated 'Karate Kid' Movie Title
Martin Kove is grateful 'The Karate Kid' still continues in 'Cobra Kai,' but he admits he wasn't a fan of the title of the original movie.
Cobra Kai continues the story of The Karate Kid which began with the 1984 film. If it weren't for The Karate Kid, there would be no Cobra Kai. John Kreese actor Martin Kove appreciates The Karate Kid now, but when he made the original film he didn't even like the title.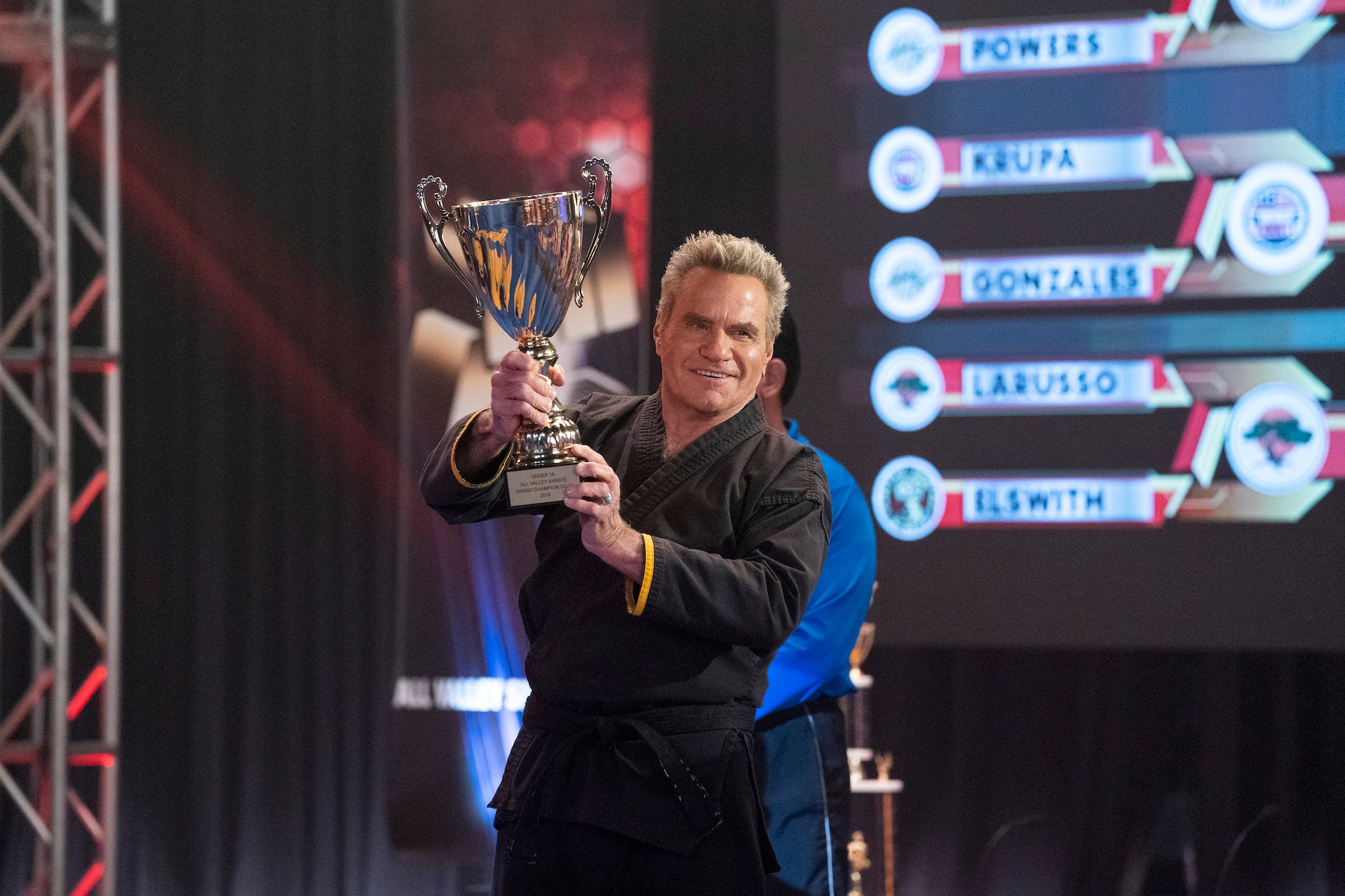 Kove now hosts a podcast called Kicking It With the Koves with his son Jesse and daughter Rachel. In their Feb. 10 episode, Kove explains why he originally objected to the title The Karate Kid. Cobra Kai Season 5 is coming soon to Netflix. 
'The Karate Kid' didn't sound right to 'Cobra Kai' star Martin Kove 
By 1984, Kove had steady work in television. He was a regular on Cagney & Lacey after coming from the soap The Edge of Night. Kove took the job but questioned the title The Karate Kid.
"Karate Kid, we didn't even like the title," Kove said on Kicking It With the Koves. "When we were shooting it, we didn't like the title. It sounds like a Bruce Lee movie."
'The Karate Kid' grew on Martin Kove
The title proved to be memorable as the film was, and Kove already trusted that the film had something to say. 
"What was exciting was that [producer] Jerry Weintraub, may he rest in peace, he saw an article on bullying and came up with this vision and brought in the writer, Robert [Mark] Kamen," Kove said. "Robert Kamen wrote all these lines, 'Wax on, wax off', 'Sweep the leg', 'No mercy.' And we're still saying them today which constitutes such a classic source that these words came from. Just like 'May the Force be with you', 'Play it again, Sam'. So the bottom line is usually those lines that you repeat for decades are from brilliantly written movies."
Martin Kove didn't even go to the premiere 
When The Karate Kid opened in 1984, Kove was busy. He sent his then wife, Vivienne, in his place while he did another job. 
"I was in Eugene, Oregon shooting a movie of the week," Kove said. "It was 1984 in June I think. I just couldn't go."
At the time, Kove didn't feel like he was missing out on anything monumental. The Karate Kid was just another role until it became Cobra Kai for life. 
"I wasn't that upset," Kove said. "Remember, this is another heavy that I did. This is the heavy that I worked for the first movie for two weeks. We didn't know what we had. And John Kreese if you think about it in the movie was one dimensional. He's only multi-dimensional in the series."
Vivienne reported back to Kove on The Karate Kid.
"I said to your mother, 'How was I and how was the movie?'" Kove said. "She said, 'Oh, it was just terrific.' I came right back and said, 'How was I?' She said, 'You were okay.'"