'Cobra Kai': Peyton List Worried Tory Audition 'Was a Waste of My Time'
Peyton List joined the cast of 'Cobra Kai' in Season 2 as Tory. When she was auditioning for the part, List was sure they were going to cast someone else instead.
Cobra Kai gave Peyton List a very different character than she played on Disney sitcoms Jessie and Bunk'd. Now it's impossible to imagine anyone else as Tory. But, when List auditioned for Cobra Kai Season 2, she worried she was just wasting her time.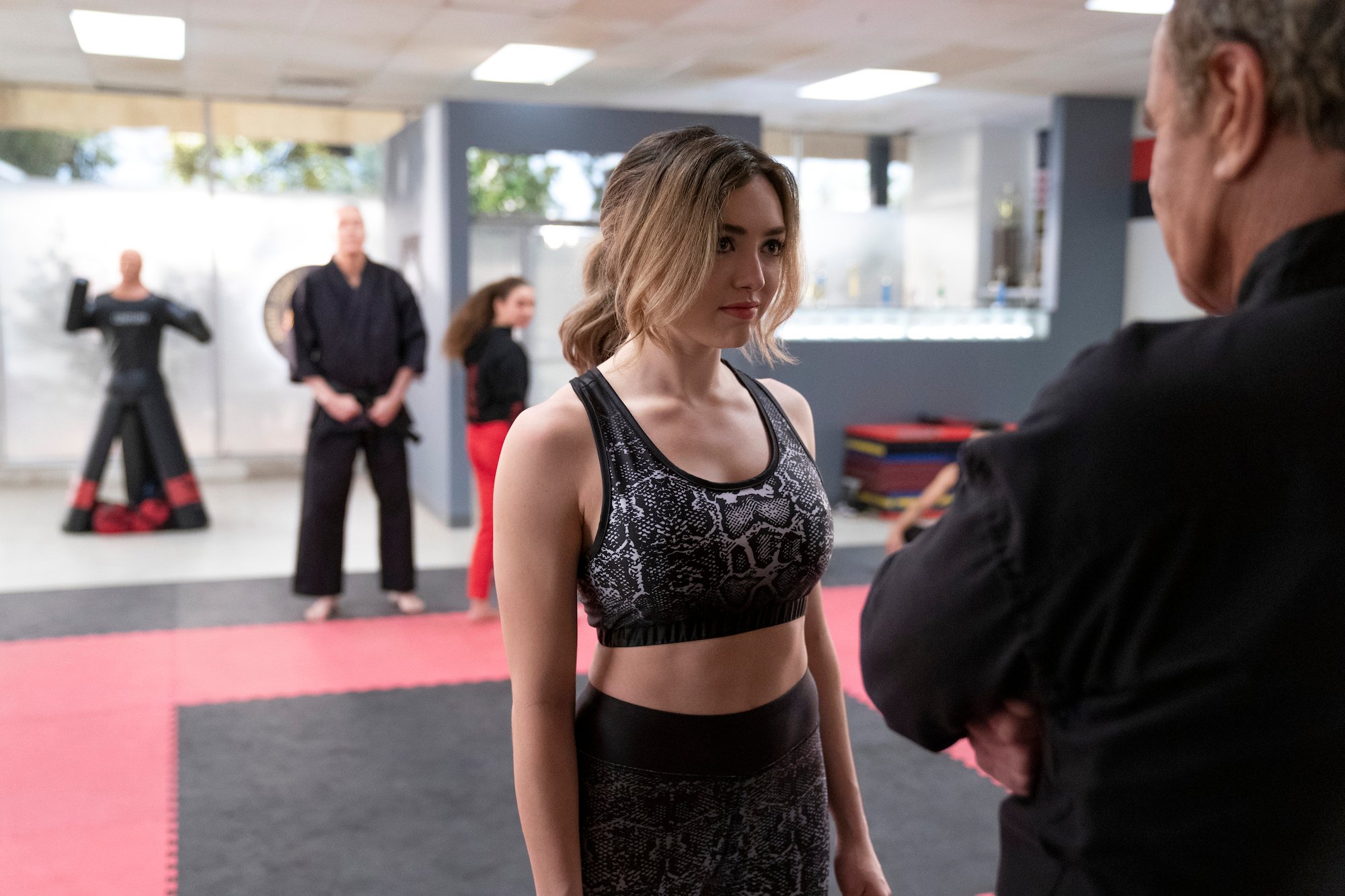 List appeared on Cobra Kai star Martin Kove's podcast Kicking It with the Koves on March 30. Looking back on her audition, List explained why she thought she wasn't even in the running. Now she's going to return when Cobra Kai Season 5 premieres on Netflix. 
Tory actor Peyton List worried the 'Cobra Kai' competition was too tough 
Given Tory was such a change from List's previous characters, she did not imagine she was right for the part. Indeed, when she saw the Cobra Kai competition, they looked much more like Tory than List imagined herself. 
"I saw these tough looking girls in the waiting room and I was like, 'All right, this is a waste of my time.'" List said on Kicking It with the Koves. "Then I went in, they saw me and they were like, 'That was phenomenal.' I just pretended, I was like, 'Oh, thanks.' Acting really confident."
List also admits she didn't have a lot of time to prepare for her audition. So if they had chosen another tough girl to play Tory on Cobra Kai, she would have understood.
"The night before I was supposed to go in, I had a friend's premiere," List said. "So I didn't get to study it as much as I wanted to. And I also read the breakdown. Reading the scene, I'm a tough character who's willing to fight anyone. The sides I got were the scene I have with Xolo [Maridueña] where we're on our first date where I'm telling him, 'Make a move. Do your thing.' I just thought all right, I'll go for it. I'll do it but this doesn't really seem like me."
The 'Cobra Kai' audition was a tough crowd, too
List remembers the other contenders for the role of Tory psyching her out. Also, List was rushing to learn her lines.  
"I thought they were dressed decently tough but they also just looked strong, intense and intimidating," List said. "No one was really talking in the waiting room. There sometimes are people willing to chat. Not that I tried either. I was desperately trying to memorize and get ready. I thought that they seemed more right. The worst is when you can hear people in the room. You don't want it to influence your audition. Or when people come out and they're wiping their eyes after a crying scene, they're like 'Good luck.'"
It came down to two possibly Torys
By the time it came down to List and one other actor, she was surprised she had even made it this far. 
"It was pretty shocking," List said. "It was down to me and another girl for a while. Yeah, they waited until the last second to cast me. I think they were really making their decision and the amount of people it has to go through to approve it and  clear it. I guess the girl that was opposite me was just a very different feel. It was a complete opposite."