'Cobra Kai' Creators Explain Why Johnny Lawrence is Banned from Applebee's, but There's Still More
'Cobra Kai' creators Jon Hurwitz, Josh Heald and Hayden Schlossberg tell the story of why Johnny Lawrence got banned from Applebee's, but tease even more.

Cobra Kai found Johnny Lawrence (William Zabka) 35 years after the end of The Karate Kid. The show has made Johnny a hero in his own right. Part of his backstory is that Applebee's banned Johnny for life. That has been one of the mysteries of Cobra Kai, but the creators are spilling the details now.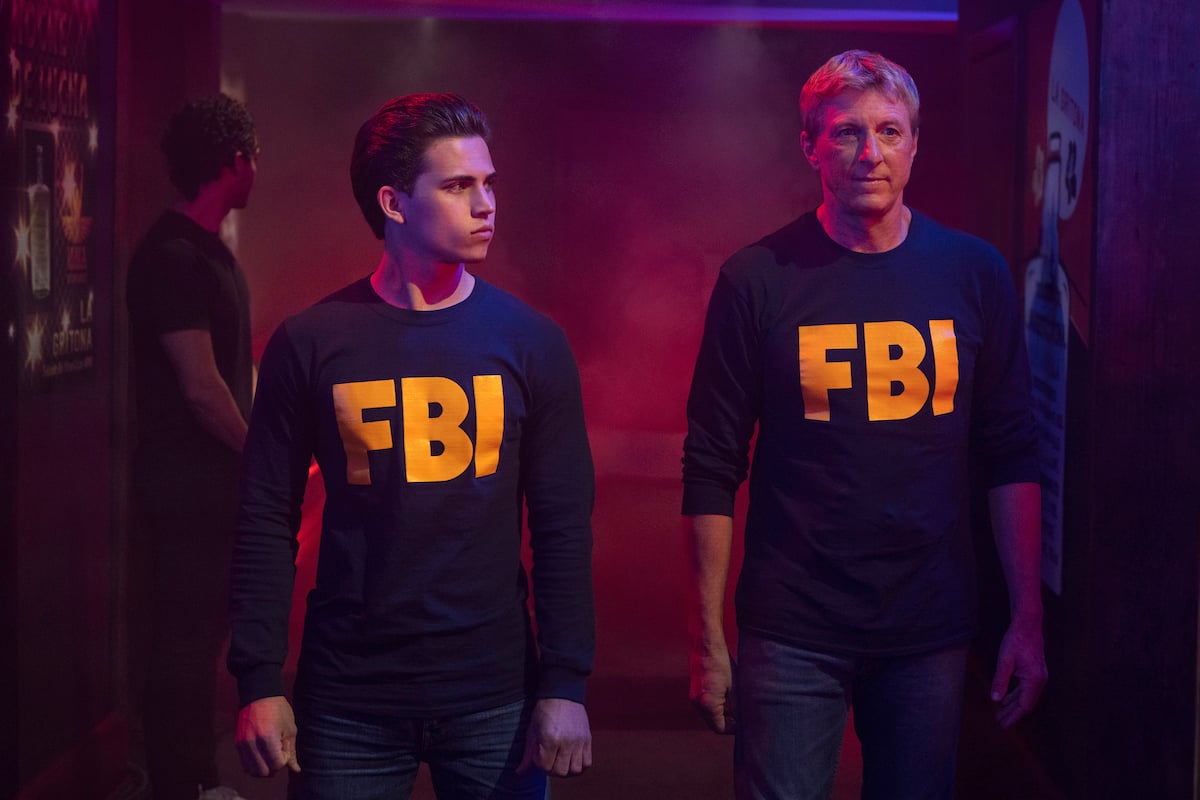 Jon Hurwitz, Josh Heald and Hayden Schlossberg were on stage for Cobra Kai: Live and Badass on May 5. Showbiz Cheat Sheet was there to see them tell the story of Johnny's Applebee's ban. Cobra Kai Season 5 returns Sept. 9 on Netflix.
'Cobra Kai' wrote a backstory for Johnny Lawrence getting banned from Applebee's
Hurwitz began the story. With dramatic flair and plenty of pauses, he set the stage for Cobra Kai mythology. 
"You know that Johnny got kicked out of Applebee's for life," Hurwitz said. "What you didn't know is that it was happy hour. Two for one Banquet night, Johnny had a few, a few too many. Then he ordered his favorite dish on the menu, the loaded baked potato soup."
Heald picked up the Cobra Kai tale from there. 
"As we all know, Happy Hour is supposed to be happy," Heald said. "Now we've all had the loaded potato soup at Applebee's. And you know it's served at a temperature just above the surface of the sun. Johnny didn't know this so he's dealing with this scalding cauldron in front of him that's prepared to slough off the roof of his mouth and do a peanut butter Cap'n Crunch number on it like he's never seen coming and he's making his peace with it."
The conflict that provoked Applebee's to ban Johnny Lawrence 
Keep in mind this all happened before Cobra Kai Season 1 began. Johnny was in a much more volatile place then. 
"He's making his peace when in walks a couple and they ask for the wine list," Heald said. "We're in Applebee's, ladies and gentlemen, we're not at a Buca di Beppo, we're not at an Olive Garden. Apple Bees. Now look, he's had a day. He's trying to be the bigger man so he turns back to this boiling cauldron of loaded potato deliciousness and prepares to dig in. At that moment, he hears them ask for a vegan menu."
Heald shared Johnny's distaste for this hipster couple at Applebee's.
"Now there are times in life when you need a hero," Heald said. "Johnny Lawrence was prepared to be the hero we didn't ask for but we needed. Now, 12 things were about to happen in short order that would define the very fabric of the soul of the man you would come to know as Johnny Lawrence. So he gets up from his seat at the bar."
The rest of the story could end up on 'Cobra Kai' Season 6
Before Heald could go any further, Schlossberg interrupted him. 
"You know what I'm just realizing right now," Schlossberg said. "This is a scene that we're planning to use as a flashback in season 6. I think we're entering spoiler territory here. I'm sorry."
Now, it's very possible Schlossberg was joking and this was all an elaborate bit for the live Cobra Kai crowd. If he's joking, now they have to do it. They owe it to all the Cobra Kai fans to complete the story of Johnny Lawrence banned from Applebee's. It pretty much writes itself anyway.